Heads up! We're working hard to be accurate – but these are unusual times, so please always check before heading out.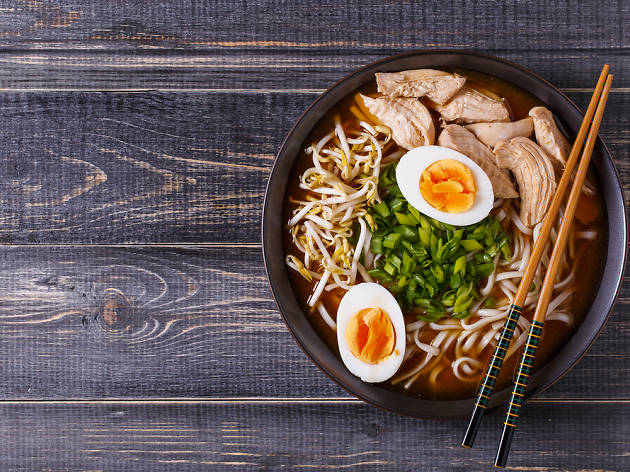 Our 3 Favorite Ramen Bars in Tel Aviv
Head to these Tel Aviv hotspots for a warm way to beat the winter blues.
Ramen soup, a Chinese original turned Japanese delicacy, has exploded in popularity in the last few years leaving no room for escape from the trendy city of Tel Aviv. Apparently there is something about digging through fresh noodles submerged in a warm bowl of soup that is incredibly satisfying. Maybe it's the just sake speaking, the unique chance to eat duck, or the feeling of experiencing Japanese street food from the comfort of Tel Aviv, but one thing is for certain: we can never get enough ramen.
Ramen Bars
Ramen master and Tokyo native, Makoto Okazaki has over a decade of experience perfecting the Tongara broth, with is still proudly served at Men Tenten and nowhere else. Men Tenten is probably the most authentic Japanese restaurant in Tel Aviv, which boasts its reputation for using its own house-made soy sauce and ramen dough. The Men Tenten menu represents the traditional Japanese kitchen with sushi, izakaya and of course, ramen. There are 8 different types of ramen on the menu, including 2 vegan options and 2 cold ramens as well -a great option for summer. An authentic Japanese vibe and a surprisingly affordable menu make MenTenten a must-stop destination for any ramen lover.
With an open-kitchen feel, Hiro Freestyle Ramen Bar is the perfect spot to witness the magic of chef Israel Aharoni. ​As with anything by Chef Aharoni, perfectionism is the key—and everything at Hiro is made with meticulous attention to detail and focus on flavor. The featured and most sought-after dish is their ramen soup, composed of a warm bowl of savory broth, rich pieces of ground meat, bok choy, shiitake mushrooms, pickled daikon, sprouts, a soy-marinated soft-boiled egg, a generous portion of noodles and hints of ginger. New ingredients have been introduced, like the duck ramen with a tamago pancake neatly rolled into the soup and pillowy bites of fried egg alongside pickled turnips, chestnuts and tender pieces of duck. Also on the menu is a multitude of buns with slow-roasted pork, gyoza dumplings and a vegetarian eggplant salad that is somehow equally meaty. If you even find yourself trapped in Sarona Market at least there is always one thing to look forward to.
Known as one of the best Asian eateries in Tel Aviv, this popular spot nestled in the Levinsky Market lures you in with its intoxicating aromas and keeps you coming back with eccentrically colorful dishes, rich flavors, and charming aesthetics. A small and intimate space provides an authentic experience that will have you questioning if you're still in Tel Aviv or Japan. Fifi's chef -who goes solely by Fifi- doesn't identify her menu as being exclusively Japanese, Chinese or Korean, but rather a mix of the three with a heavy influence from her Israeli roots. A fiery passion for food invigorates Fifi to cook the entire menu herself from scratch with no extra help from a sous-chef or kitchen hands, an impressive feat that should not go unnoticed. This is the reason why Fifi's is only open 3 days a week; a fair tradeoff for such hard work by a single person. The menu is small but specific, changes regularly and is always flawlessly executed. No reservations are taken at Fifi's, so get there early to avoid a hungry line.