Sharing is caring: five Tel Aviv restaurants to bring a group
Five places to feast with friends or family in the White City
Hanukkah is a time for sharing: sharing presents, sharing gelt—both chocolate and real, and sharing indigestion from all that deep-fried oily goodness. Why not get in the holiday spirit and share a meal with your friends and family at one of these five family-style spots:
Fun food for friends and families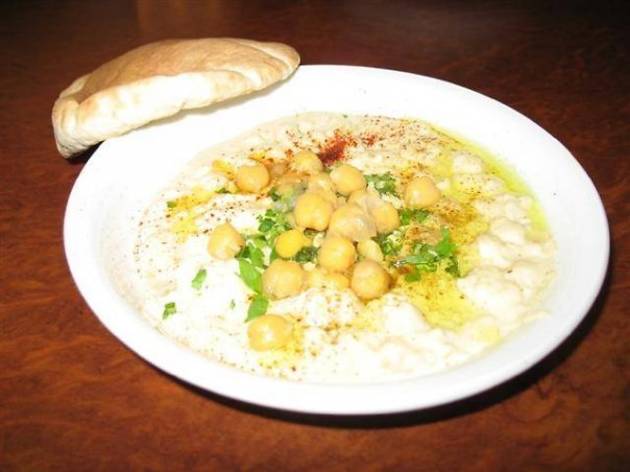 Hands down the best hummus in the city, don't miss Abu Hassan, the go-to place for a plate of creamy chickpea goodness. With towering bowls of hummus and all the pita and fixings to match, this hummus hotspot is the perfect shareable and careable joint for a family outing. Bring the family and an appetite, because the winning plate at this Jaffa establishment is "the triple": a portion of hummus, "ful" (fava beans), and "masabacha"—an authentic version of hummus, topped off with fresh chickpeas in their natural juices and drizzled with other trimmings. You'll be licking the bowls clean—a true family bonding experience.
Abu Hassan (Ali Karavan), 1 HaDolfin St, Jaffa (03-6820387)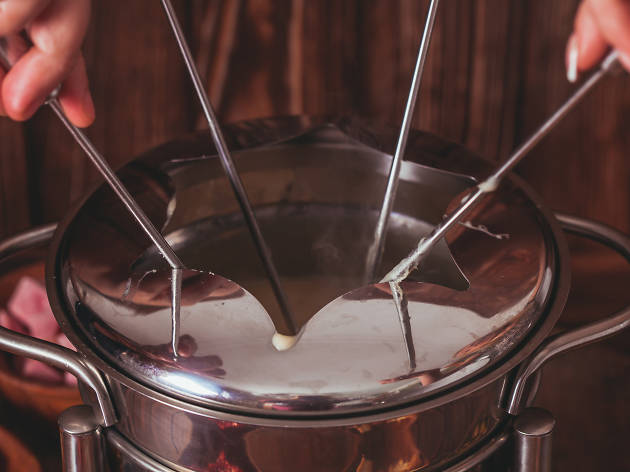 © Shutterstock
During the work day, we may look like adults, act like adults, speak like adults, but deep down inside, we're all children. And after a hard day at the office, there's nothing better than unleashing your inner child at the next best thing to Willy Wonka's chocolate factory: Max Brenner. Experience their "chocolate love story" with a romantic fondue for two. This chocolate fondue isn't just any dessert; it comes from their sharing menu and lets you choose two of three delicious options: milk, dark, or white chocolate. A plethora of fruits, muffin bites, and marshmallowy goodness arrive at your table. It may be messy, it won't be pretty, but it sure will be delicious. The tined forks are perfect for dipping, nibbling and sharing in good company. After all, sharing is caring.
Max Brenner, multiple locations across Israel (http://www.max-brenner.co.il/)
© Shutterstock
No walk through Mahane Yehuda market is complete without a stopover at this glorious bakery. The walls are lined with miniature pastries and enough ridiculously chocolaty rugelach to send you into cardiac arrest. But, with an assortment this mouthwatering, how do you choose? Little Joshie wants berry-filled pastries, while Mimi's begging for cinnamon rolls, and you're craving the star of the show: chocolate rugelach. Thankfully, Marzipan offers boxes so that you can mix and match yourself to make your own individualized assortment. Everyone wins at this pastry paradise.
Marzipan, Mahane Yehuda, Jerusalem (02-5671414)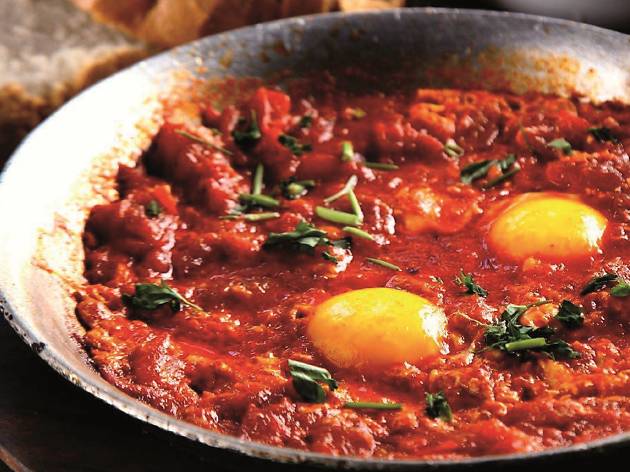 © Picasa
This hearty spot, located in the Jaffa Flea Market, is the brainchild of Bino Gabso, aka Dr. Shakshuka. For many years, people have flocked to this restaurant for Gabso's signature shakshuka (the tomato-and-egg based Middle Easter delicacy). As the waiters plop the huge cast-iron pans down on your red-checkered tablecloths, you'll be glad you brought friends to help out. This dish is no yolk. Make sure to order their many different renditions; try it with mushrooms, or shawarma, or a selection of other amazing add-ins. While definitely not a place to bring a first date, getting primal with your closest acquaintances is a rite of passage. No utensils necessary, rip off a piece of crusty bread and dive into the yolky, tomatoey, ooey-gooey goodness. Doctor's orders.
Dr. Shakshuka, 3 Beit Eshel, Jaffa (03-5185660)
© PR
Known as the "cocktail pharmacy," don't get confused when you see a sign for "The East Jaffa Perfume Company" dangling above the Dizengoff doorsteps of Spicehaus. With a happy hour from 18:00-21:00 that offers 1+1 on all cocktails, it is definitely worth it to pop in a bit early for a deal. Not only does the happy hour pertain to individual cocktails though; all sharing portions are double the liquid, double the fun. Choose from the L (serves 2-4) or XL (serves 4-8) and catch up with your friends over a towering purple beaker of "Test Tube Baby Got Back" or an oversized antique teapot, teeming with a sweet and spicy brew called the "Woodstock."
Spicehaus, 117 Dizengoff St, Tel Aviv (054-2286200)