The Inside Scoop on Tel Aviv's best vegan ice cream
No more settling for strawberry sorbet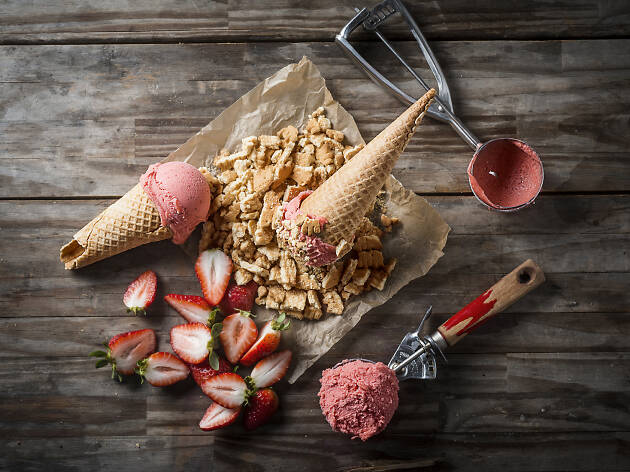 Long gone are the days when vegans wandered into Tel Aviv ice cream shops, only to find a few basic sorbets. Quality ice cream is practically a basic human right during the balmy days of a Tel Aviv summer, and the city's growing number of vegans aren't going without: dairy-free bases now range from avocado to hazelnut, infused with imaginative seasonal flavors. Even the city's cafes now serve lactose-free scoops, so add these spots to your frosty bucket list.
The Inside Scoop on Tel Aviv's best vegan ice cream
Restaurants, Ice cream parlors
The corner of Pines and Shabazi streets might as well be called Anita Junction. Cone-toting pedestrians spill onto the sidewalks morning till night, careful not to spill a single drop of their creamy scoops. If that isn't endorsement enough, we recommend the luscious coconut sorbet.
Restaurants, Ice cream parlors
Da Vinci's Vitruvian Man is the logo for this artisanal ice cream shop, for good reason: the Italian duo behind Arte aims for unadulterated natural perfection. Fresh ingredients are whipped into unusual flavors daily, and the dairy-free section gets its fair share of love. You'll find distinctive sorbets here, like tamarind and lemon cardamom, plus all-vegan Sicilian granitas.
Restaurants, Ice cream parlors
Soy is the base for most vegan ice creams, but not at Iceberg. Hazelnuts are blended into a frozen Nutella-like chocolate flavor, and almond milk is churned into velvety halva with salted almonds. The sorbets here are not the usual suspects, either: look for tarragon-spiced berry and boozy Campari grapefruit.
To sip your espresso and eat your vegan ice cream, too, visit this popular Shuk Levinsky café for the ever elusive vegan affogato. For a more traditional treat, order one of their vegan sundaes topped with chocolate syrup and crushed peanuts.
Restaurants, Ice cream parlors
The vegan scoops at this decadent small-batch ice cream shop are all sorbets, but the 69% dark chocolate flavor deserves an honorable mention. Add a dollop of melted dairy-free chocolate to the bottom of your cone from one of Otello's three chocolate fountains as the ultimate last-bite treat.
Restaurants, Ice cream parlors
For a lighter frozen dessert, head to one of Leggenda's three Tel Aviv locations for perfectly tart and soy-based frozen yogurt (a rarity in most yogurt shops). Or just go full decadence and order one of the pea protein-based vegan flavors, like banana crème brulee or Lotus caramel cookie.
Restaurants, Ice cream parlors
Half of the prismatic freezer at this Jewish-Arab owned ice creamery is vegan, with flavors that are far from yawn-worthy. Buza will launch a vegan cappuccino flavor made from cold brew coffee and almonds this summer, and even its waffle cones get the plant-based treatment.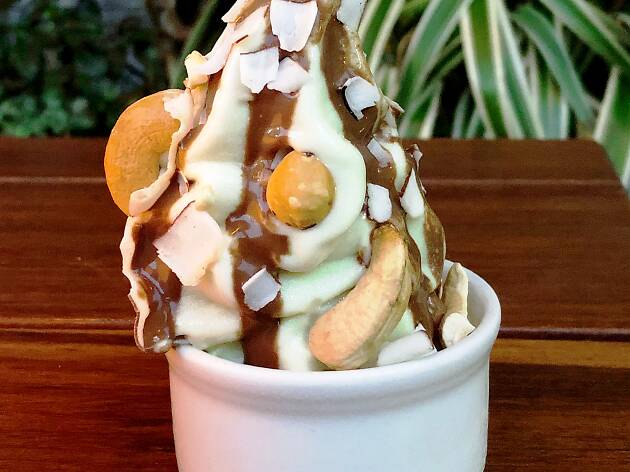 Avocada © Chen Shoshan
Avocado is the staple ingredient for the entire menu of this hipster Lilienblum Street cafe, and the flavor of its almond and rice-based soft-serve ice cream (chocolate syrup and toasted coconut chips optional).
Avocada, Lilienblum St 39, Tel Aviv, 03-9291988
Restaurants, Ice cream parlors
When it comes to concocting ice cream with an Israeli twist, Golda's watermelon mint and halva sorbets are masterful. There's always a delectable dairy-free selection at this spot, crafted from decadent ingredients like cocoa butter and tahini.
Stefan Gelato © Anatoly Michaello
The 15 flavors filling Stefan's freezer are freshly made each morning from 100% natural and seasonal ingredients, a wink to the produce stalls of nearby Shuk HaCarmel. A winter visit may turn up avocado-orange sorbet, during the summer you might find pear-beet-ginger. If ice cream isn't your thing, ask for the vegan fudge.
Stefan, Tchernichovsky St 21, Tel Aviv, 03-6799788