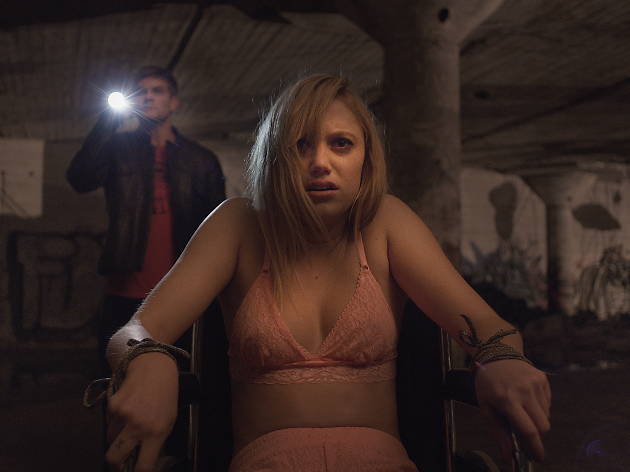 Time Out diyor ki
İşkence pornolarının ve şiddet görüntülerinin günlük yaşamın bir parçası haline geldiği bir zamanda, sinema hâlâ gerçek anlamda korkutucu bir deneyim sunabilir mi? 'It Follows' bu sorunun cevabı niteliğinde. ABD'li senarist-yönetmen David Robert Mitchell 'The Myth of the American Sleepover'ın (2010) ardından çektiği ikinci uzun metrajında, son yılların en şaşırtan, en asap bozucu filmine imza atıyor. Öncüllerinin gittiği yoldan ilerleyen film, türüne yeni bir bakış açısı katmayı da başarıyor.
'Halloween' serisinin ünlü kötü karakteri Michael Myers'ın mesken tutabileceği bir mekânda, endamlı genç kadınların ve onlara hayran, seks düşkünü erkeklerin yaşadığı köhne bir banliyö mahallesinde geçiyor 'It Follows'. Jay, bir gün o erkeklerden biriyle beraber olunca, yavaş hareket eden, gizemli bir yaratık tarafından takip edilmeye başlıyor.
'Candyman' (1992) ve 'The Ring / Halka' (2002) filmlerinden esinlendiği aşikâr olan 'It Follows', şehir efsanelerinin folklorik basitliğini alıp ona oldukça kabaca, fakat bir o kadar da zekice yerleştirilmiş bir cinsel yolla bulaşan hastalık metaforu ekliyor. Filmin asıl çarpıcı tarafı ise tedirgin edici rüyavari estetiği ve başarılı oyunculukları. 'It Follows'ta Terrence Malick ya da Harmony Korine sinemalarının estetik yaklaşımını görmek de mümkün.

'It Follows'un çarpıcılığını hakkıyla tasvir edebilmek çok zor. Sessizliği bir erdem olarak kullanan, kanlı cinayet sahnelerinin arasında gölgeli mekânlarda gezinerek öyküsüne nefes aldıran bir film olduğunu söyleyebiliriz 'It Follows'un. Tıpkı gizemli yaratığı gibi, edilgen ama acımasız, tanıdık ama korkutucu, sıradan ama şok edici; etkisini üzerinizden kolay kolay atamayacağınız bir film. Tom Huddleston
Ayrıntılar
Sürüm detayları
Yayın tarihi:
8 Mayıs 2015
Süre:
100 dk
Oyuncular ve ekip
Yönetmen:
David Robert Mitchell
Senaryo:
David Robert Mitchell
Oyuncular:
Linda Boston
Caitlin Burt
Heather Fairbanks
Maika Monroe