Heads up! We're working hard to be accurate – but these are unusual times, so please always check before heading out.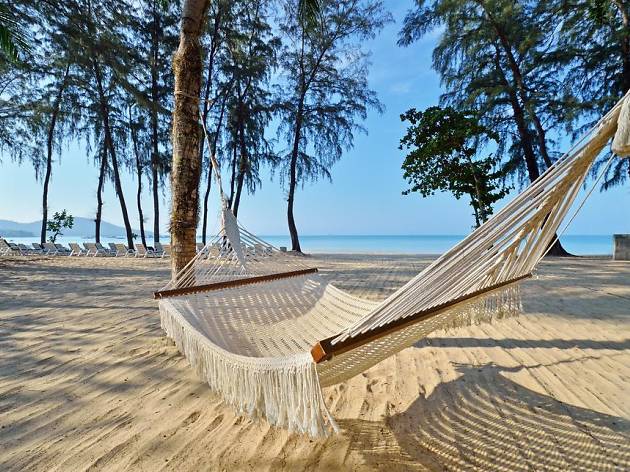 The 10 best hotels in Krabi
The sooner you book a stay at one of the best hotels in Krabi, the sooner you can be sunning yourself on a sandy shore
The Andaman sea gently laps the shores of the 120km of coastline and 154 islands that make up the southerly Thai province of Krabi. We've focused on the province in our pick of Krabi's best hotels because its less visually impressive capital goes by the same name – but is little more than backpacker central. Sadly, the secret of this gorgeous stretch of Thailand is out in some places, where the noise from the armada of long-tail boats competes with the sound of bucket-swilling backpackers.
However, it's still possible to find some remote spots from which it would be very easy to forget to leave – particularly when they include the jaw-dropping beauty of iconic limestone karst formations and cliffs rising up regally from the shore. Not forgetting those dazzlingly white beaches such as Railay and Ko Phi-Phi Leh (yep, the one made famous by The Beach), and plenty of things to do whether you're looking for adventure or relaxation. From the wide range of hotels spanning the gamut of styles and prices throughout the region, here are our favourites.
By Richard Howells
The best hotels in Krabi
Booking.com
1. Railei Beach Club, West Railay Beach
With its omnipresent limestone scenery, crystal azure water and whiter than white sand, West Railay Beach is totally picture postcard. On it, and only accessible by boat, sits the equally picturesque Railei Beach club, a community of private individual homes marketed and rented out on behalf of their owners. The 24 Thai-style houses and guest wings blend in perfectly with the seven acres of forest and can accommodate between two and eight people. Only six, houses have air-con but all have fans and bags of character. Blissfully sip a passion-fruit margarita in the intimate bar as the sun goes down.
Booking.com
2. Dusit Thani Krabi Beach resort, Klong Muang Beach
If your pockets are deep and you're looking for some peace and tranquillity, head 45 minutes from Krabi to Klong Muang Beach. You'll only see limestone formations in the far distance, but you will find empty, sandy beaches and clear water. It's a large resort, with 240 rooms and suites, but never feels crowded thanks to expansive grounds that take in two pools, vast tropical gardens and private beaches. Too relaxed to walk to the fitness centre or spa? No worries, the staff can whisk you about in golf buggies.
Booking.com
3. Oon Lee Bungalows, Koh Jum
Only 25km south of Krabi, the wild and green island of Koh Jum still manages to frequently find itself in the top of the unspoilt-island pops. Friendly Franco-Thai hosts Valerie and Oon will pick you up by longtail boat and deposit you in one of the nine spacious and home-crafted bungalows (Oon is a carpenter as well as a chef). Steady as you descend the steep steps to the beach bar below, if you can even make it out of your hammock after a fantastic Thai-European fusion dinner.
Booking.com
4. The Houben Hotel, Koh Lanta
Forget the brashness and noise of Koh Phi-phi and head to this southernmost part of Krabi province for 30 kilometres of mainly sandy beaches and a winning cultural melting pot comprising a mainly Muslim community, Thai-Chinese and stilt-house-living former sea gypsies. Where to make the most of it? At this stylish child-free boutique hotel set in the cliffs. The attentive Belgian family behind it will try hard to make your stay as perfect as possible, but really it would be hard not to love it here. Just 15 cool, elegant rooms overlook a red pool and have stunning views, and a spa, gym and restaurant complete the very pretty picture.
Booking.com
5. Layana Resort & Spa, Koh Lanta
Another child-free destination, this five-star luxury resort has prime position on a wide stretch of near-empty beach. Attention to detail is everything; whether it's updates about turn-down service, excursion or choice of pillow, you will feel truly spoilt. Rates can be high in the peaks but look out for offers for the low and shoulder season. There's a 'resort casual' dress-code for dinner, but you'll be too busy enjoying the beachside barbecued snapper to let it bother you.
Booking.com
Definitely worth the (included) 2-hour transfer from Krabi airport (mini-van and speed boat), the original aim of this 100+ room estate was to blend in with lush hilltop vegetation of an untouched southern corner; it's succeeded. Tasteful chic but understated pool villas sit above more regular suites which in turn lead down to a stunning stretch of unspoilt sand. Expect to rub shoulders with families and European couples or even a local elephant off to a bath (if you're lucky). Three restaurants and a delightful spa offer the usual (and excellent) luxury experiences.
Booking.com
7. Ban Sainai Resort, Ao Nang
Tucked away next to limestone cliffs 1.5km from the main touristy drag of Ao Nang, this fairly recent addition brings a solid 4-star standard to Krabi, at a reasonable price. Perfect for families, the 40 thatched cottages which make up the resort are set in six acres of lush gardens and are simple yet modern and far enough apart to offer privacy. It's Muslim-run so you won't find pork or booze on the menu, but they do offer a frequent shuttle into town if you're thirsty for a Chang or two. The outdoor saltwater pool and poolside massages are first-rate.
Booking.com
8. Red Ginger Chic, Ao Nang
Located in the far western end of Ao Nang between two beaches, this colourful and stylish 63 roomer is set around a very decent-sized pool. Expect rooms with arty tiles, natty wallpaper and modern furniture, and if it's a special occasion, push the boat out and upgrade to a deluxe pool-access room or a 'sassy' duplex club room. If you don't fancy the comfort food-style in-house eatery, there are heaps of restaurants nearby – as are the night market and its street food. Before you set off for them though, swim up to the Splash bar for great happy hour deals.
Booking.com
9. Pak-up Hostel, Krabi Town
Krabi town, situated on a mangrove-lined estuary, is nice enough but not much more than a working provincial capital and transport centre, with guesthouses a-plenty but not much at the higher end of the scale. This modern hostel in the town stands out for its spotless and large communal bedrooms and bathrooms, all tastefully kitted out and mainly aimed at fun-loving youngsters. It's always popular, and unsurprisingly its two on-site bars can get rowdy, but with not much in the way of local nightlife, fill your buckets and join in!
Booking.com
Compact and bijoux, cheap and cheerful, this 10-room hotel was renovated a few years ago and is now awash with polished concrete and abstract art, giving it something of an industrial feel with very few windows – but who needs windows when your doors open onto your own private balcony? The sunny laidback café serves great juices and proper coffee, making it a perfect place to swap tips with other travellers or chat with the welcoming and friendly owners. It's super-central so expect some noise, but on the upside, the Maharaj market is directly opposite.