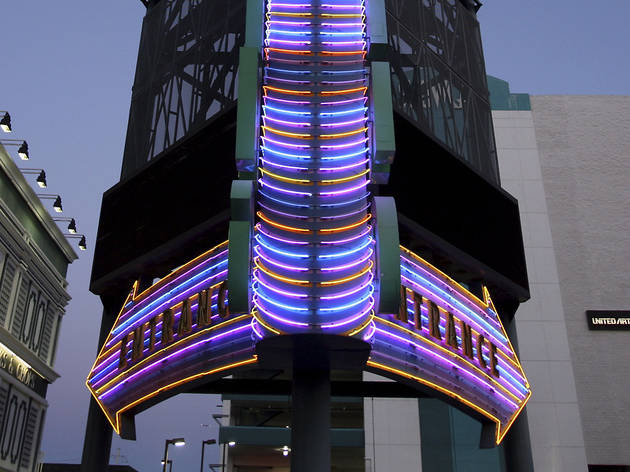 The best movie theaters in Las Vegas
Grab a tub of popcorn and get your cinephile fix at one of Vegas' more civilized movie houses and drive-ins
Are you a dyed-in-the-wool movie buff? If so, you won't have to travel far to find a movie theater in Las Vegas. The city is teeming with cinemas, and many off-Strip hotels have theaters inside them.
Most theaters in Las Vegas feature the current crop of big-studio releases, so finding independent or offbeat films can be a bit of a challenge. A couple of movie houses, however, deviate from the usual program, including Regal Village Square Stadium 18 on the west side of town. The Brenden Theater inside the Palms also occasionally sprinkles its lineup with lesser known films; alternatively, you can simply head to its IMAX Theater to see a larger-than-life new release.
But if you want to watch a movie in true style—and with a brew in hand—head straight to the Galaxy Luxury+ in the southern end of town. Galaxy's oversized reclining chairs are comfier than your living room, and the screens are gigantic. Plus, the fact that you can buy beer or wine to wash down your popcorn makes this the go-to theater in Las Vegas.
The best movie theaters in Las Vegas