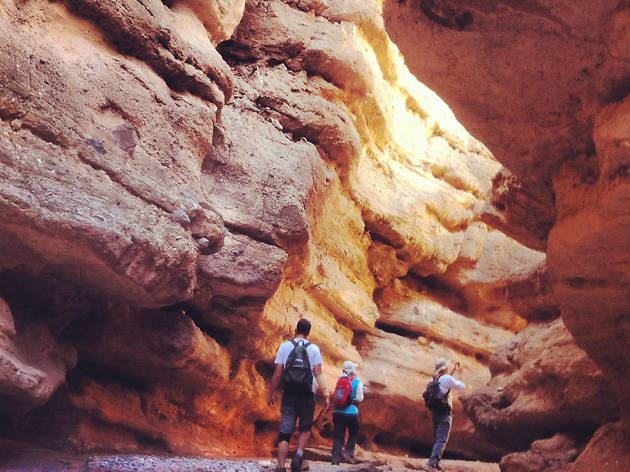 The best spots to go hiking near Las Vegas
Wear your sneakers, grab some water and get ready to exercise: These are the best spots to go hiking near Las Vegas
Visitors to Las Vegas often marvel at the mountains that ring the city, scrappy hills to the east, rocky peaks painted red in the west and snow-capped summits north of town, covered in forests of hearty pine. Yes, Sin City is about much more than the best Las Vegas casinos (just check out our list of the best things to do in Las Vegas for some more inspiration). Despite sweltering summers, the city is a hiker's paradise, where trails for every fitness level and adventure appetite await within a quick drive. Whether you want to navigate slot canyons or sand dunes, explore hidden forests or hot springs, here are the best spots to go hiking near Las Vegas. Just be warned: You'll want to make an appointment at the best spas in Las Vegas to recuperate your strength after all that exercise.
Best spots to go hiking near Las Vegas
Photograph: Travel Nevada
Pick a trail, any trail. It's hard to go wrong at this spectacular state park, where ancient petroglyphs, natural rock arches, slot canyons and outcroppings of crimson sandstone vie for your attention. Most of the trails here are relatively short treks across sandy ground to rock formations sculpted over millions of years by wind and water. No matter which you choose, you're bound to be awed by the views, but we'd be remiss if we didn't give a special shoutout to the Fire Wave trail. Just across from parking lot no. 3, this mile-long route leads to an undulating rock "wave" with candy cane stripes that's particularly enchanting in the warm light of dawn or dusk.
Photograph: Sydney Martinez/Travel Nevada
2. Mount Charleston Summit
Rising nearly 12,000 feet above sea level, Mount Charleston is the tallest sentinel of the Spring Mountains, and just north of Las Vegas it's a magnet for serious hikers and aspiring mountaineers hungry for a challenge. The North Loop is a strenuous 10.8-mile journey that travels through forests of twisted ponderosa pine and white fir before breaking free of the tree line to reach the summit. On a clear day, the view from the peak covers hundreds of miles, including glimpses of Mt. Whitney to the west. For a shorter adventure, the first three miles of trail deliver you to the Raintree, a mighty bristlecone pine believed to be more than 3,000 years old.
Photograph: NPS Photo
Death Valley isn't technically in Las Vegas, but the hottest/driest/lowest nation park is due west of the city, just two hours away. Hiking season in this bizarre and fascinating landscape is November through March, before the heat reaches life-sucking levels, and there's a wide range of routes to consider. For short excursions, hit the Mesquite Flat Sand Dunes, a natural playground of rolling sand hills, or Badwater Basin, 282 feet below sea level, where the ground is blanketed in a salt crust as far as the eye can see. For a totally different experience, try the two-mile trail to Darwin Falls, a lush break from the harsh environment, or head to Wildrose for a mountainous respite from the swelter below.
Photograph: Sydney Martinez/Travel Nevada
4. Goldstrike Hot Springs
Strictly a cold weather hike, this 6.5-mile roundtrip desert scramble sends trekkers through a narrow canyon, past boulder fields and over steep drop offs and inclines—some light climbing and rappelling required. Helpful souls have affixed ropes to the trickiest sections to ease your journey, which is rewarded by a series of natural hot springs along the way and a small beach on the Colorado River at the turnaroundL A perfect spot for a picnic lunch and a cool dip before you start the trip back home.
Photograph: Courtesy Yelp/Keith Schurr
5. Clark County Wetlands Park
This is Las Vegas? That's the inescapable thought inside this nearly 3,000-acre park in East Las Vegas less than 30 minutes from the Strip. Here, all the concrete and stucco gives way to ponds and marches where turtles, fish and birds thrive and the sound of water plays in the background. A 210-acre nature preserve is the heart of the park and the best place to wander. Three miles of paved walkways intersect with dirt paths and wooden boardwalks where you might spot an egret or great blue heron resting among the reeds.
Photograph: Andrew J. Cattoir for National P
6. Historic Railroad Tunnel Trail
Less about breaking a sweat than taking in the scenery, this trails is a stroll through time via five former railroad tunnels drilled into the hillside in the 1930s to support the building of Hoover Dam. The tracks and trains are long gone, but the massive hollows—each about 300 feet long and 25 feet in diameter—remain and have earned this walk national historic trail status. Views of Lake Mead and occasional cameos by bighorn sheep are the icing on the proverbial cake, which in this case is a flat trail suitable for kids, dogs and unathletic types.
Photograph: Courtesy Yelp/Andrew
7. Mary Jane Falls, Kyle Canyon
Don't let the distance fool you. This three-mile hike makes for a strenuous day in the mountains thanks to a leg-burning 1,100-foot ascent over just 1.6 miles at elevation. The forested trail is an impressive one, surrounded by soaring limestone cliffs with views of snow-capped peaks across Kyle Canyon. Climb the switchbacks and you'll land at the base of Mary Jane Falls, a 50-foot sprinkler that's at its most dramatic during spring snow melts but is often reduced to a trickle during drier months. Either way, it's worth exploring past the falls where a large cave is an ideal place for a mid-hike break.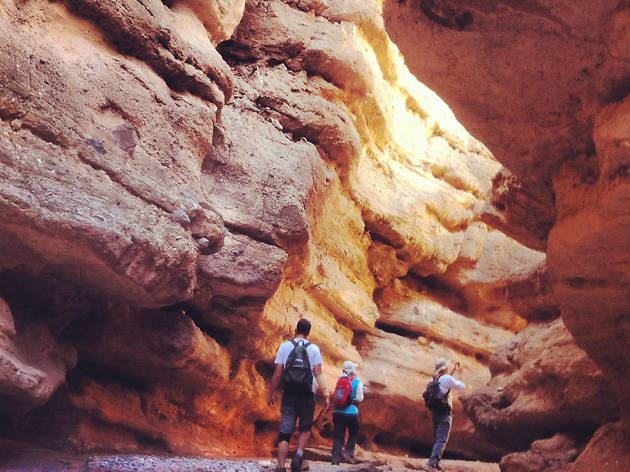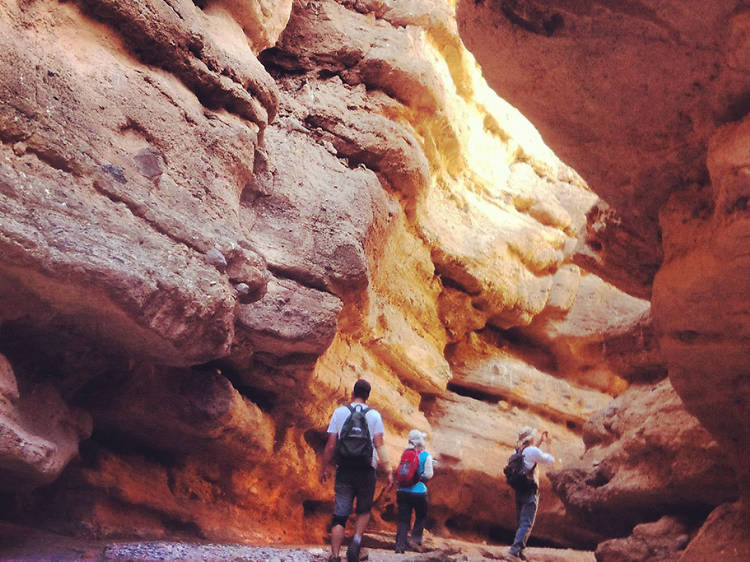 Photograph: Sarah Feldberg
8. White Owl Canyon, Lake Mead National Recreation Area
There's a special magic inside a slot canyon, where water has sliced through solid rock and carved a pathway wide enough for just a person or two to wander through. It feels like a place of communion, a quiet spot to pause and reflect. But you don't have to drive all the way to Zion to walk through a rocky narrows. Inside Lake Mead National Recreation Area, White Owl Canyon offers that slot canyon magic at a fraction of the scale on this two-mile desert hike. Bring lots of water, take your time within the canyon walls and keep an eye out for its namesake owls. Then head back to town in time for lunch.
Photograph: Bob Wick/BLM
9. Basin and Range National Monument
No entrance fee, no trails, no facilities. This new national monument two hours north of Las Vegas was signed into existence by President Obama in 2015, protecting 700,000 acres of BLM land. Visiting requires some planning—there's no drinking water, for example—but, in exchange, it offers ancient archaeological sites, modern art, beautifully stark desert terrain and the opportunity to explore in utter solitude. There are no trails, so you'll have to pick your own path, but we'd recommend aiming toward the White River Narrows archaeological site for an impressive gallery of petroglyphs, Leviathan Cave to wander a massive sinkhole (30-foot rappel required) or Michael Heizer's "City," a mile-and-a-half-long "earthwork" built into the remote desert landscape that was inspired by pre-Colombian rituals.
Photograph: NPS Photo
10. River Mountains Loop Trail
Does it count as hiking if the trail is paved? If that trail is the River Mountains Loop, which connects Lake Mead, the Clark County Wetlands Park, Henderson and Boulder City in a 34-mile circle, then we say yes. Completed in 2012, this popular route is a destination for cyclists, walkers and equestrians, who break off into sections of which many connect to other local trails. Conquer a few miles near Lake Mead, where you might spot bighorn sheep or a desert tortoise, then reward yourself with cold beers and a bite in Boulder City.
Show more