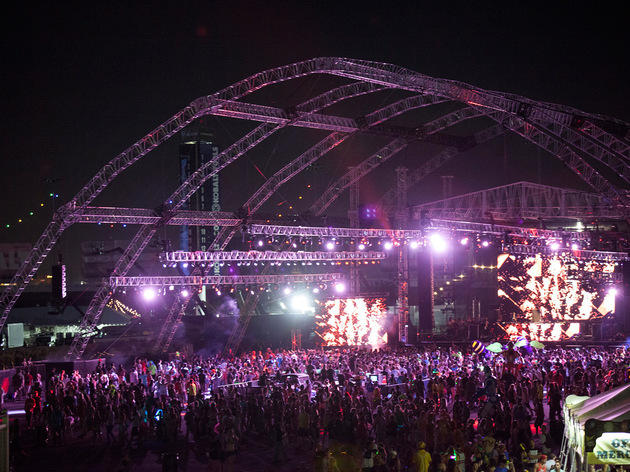 Las Vegas events calendar
Plan ahead with our guide to the biggest and best annual Las Vegas events, festivals, concerts and celebrations
Consult our Las Vegas events calendar to find the best things to do in Las Vegas. It's fitting that the spiritual home of gambling should host the World Series of Poker (held each summer), but there are also plenty of worthwhile events outside the casinos, including concerts and arts festivals. Those looking for an adrenaline rush won't be disappointed: Venture beyond the Strip for races, rodeo competitions and other events involving extreme sports, fast cars and beer.
Spring
NASCAR Weekend Las Vegas Motor Speedway
One of the biggest auto-racing weekends of the year, the Vegas leg of NASCAR's appearance sees thousands of enthusiasts descend upon the city. Visitors should book accommodation well in advance.
Date early Mar.
7000 N Las Vegas Boulevard, at Speedway Boulevard, North Las Vegas (1-800 644 4444, lvms.com).
Bring out your inner 13-year-old with this feast of automotive carnage, featuring an array of giant trucks with enormous wheels; the 2013 champion, known as Grave Digger the Legend, was a 1,500-horsepower beast with 66-inch wheels. The pit party is also worth a look.
Date
mid Mar.
Sam Boyd Stadium 7000 E Russell Road, at Boulder Highway, South-east Las Vegas (1-702 739 3267, monsterjam.com).
Vegas more than makes up for its lack of Irish heritage on St. Patrick's Day. There's a parade in downtown Henderson and a three-day party at New York New York's Nine Fine Irishmen bar, which sprawls on to the casino's mini-Brooklyn Bridge. Elsewhere, Hennessey's Tavern on the Fremont Street Experience celebrates with music, drink and "Irish nachos."
Date
17 Mar.
Around Las Vegas.
Extreme sports, such as skateboarding, BMX and wrestling championships feature here, along with extreme body modification, chiefly piercing and tattoos. And extreme music: punk, lots of it. Expect teenage aggression.
Date
late Mar.
Desert Breeze Skate Park 8275 W Spring Mountain Road, at S Durango Drive, South-west Las Vegas (1-702 455 8200, extremething.com). Bus 203.
In order to dance to old-school rockabilly bands from all over the world, check out the burlesque competition and shop for the perfect 1950s cocktail dress at the swap meet, you'll have to buy a ticket. However, the breathtaking hot-rod car show is worth the price of admission. Wear Sailor Jerry tattoos and Brylcreem to blend in.
Date
Easter weekend.
Orleans Hotel & Casino, 4500 W Tropicana Avenue, at S Arville Street, South-west Las Vegas (1-562 496 4287, vivalasvegas.net). Bus 103, 201.
More than 100 international wine-growers participate in this fundraiser for UNLV. There are auctions of wine-themed art and vintage crates, but the real treat is chatting with the growers and sampling the wines. Designated drivers are thoughtfully provided.
Date
mid Apr.
Paris Las Vegas 3655 Las Vegas Boulevard South, at E Flamingo Road (1-702 946 7000, unlvino.com). Bus Deuce, 202.
Clark County Fair & Rodeo
For a taste of hometown Southwestern life sans glitter, drive north for all kinds of ropin', ridin', country music and carnival fun.
Date
mid Apr.
Clark County Fairgrounds, on I-15, Logandale (1-888 876 3247, ccfair.com).
Great Vegas Festival of Beer
Nevada and national breweries unite in displaying their boozy wares at this one-day event. Sample suds from locals such as Triple 7 Brewery, or national craft beer-makers like Anchor and Goose Island. Enjoy your beer with a soundtrack from local and regional musicians, along with gastropub food from several eateries. Designated drivers are thoughtfully provided for a nominal fare.
Date
late Apr.
Sunset Park 2601 E Sunset Road, at S Eastern Avenue, South-east Las Vegas (1-888 718 4253, greatvegasbeer.com).
Local restaurants unveil their latest attempts to outdo each other in this industry festival of culinary hedonism. Expect a full-blown onslaught on the senses from exotic food, drink and spectacle.
Date
late Apr/early May.
Location varies (1-702 878 2313).
The city's Mexican community comes together in a show of pride with all-day dancing, mariachi bands, fireworks and traditional cuisine. Festivities also take place at the Fremont Street Experience.
Date
weekend closest to 5 May.
Lorenzi Park, 3333 W Washington Avenue, at N Rancho Drive, North-west Las Vegas (1-702 229 6718). Bus 106, 208.
Instituted in 1935 to attract tourists to the area after the completion of the Hoover Dam, this revived celebration of Las Vegas's beginnings plays up the city's Western roots while also including golf and poker tournaments, trap-shooting contests, rodeos, art auctions, trail rides and a Downtown parade.
Date
mid May.
Various locations (1-702 870 1221, elkshelldorado.com).
Winter
Cowboys and girls from far and wide set Vegas ablaze for nine days as part of this massive annual event. Tickets are distributed by lottery a year beforehand, but you can watch proceedings on TV at the Gold Coast. Stock up on Western duds during the event, and then party at
Sam's Town
after.
Date
early Dec.
Thomas & Mack Center 4505 S Maryland Parkway, at E Tropicana Avenue, University District (1-702 260 8605, nfrexperience.com). Bus 109, 201.
The most spectacular festive event in the region is the annual Light the Night display in the cactus garden at
Ethel M Chocolates
in Henderson. The space is dotted with millions of lights, while carol-singers reel off all the festive favorites. Be sure to get yourself into the factory before 7pm for free chocolate samples. Other events around the city bring good cheer in similar ways during December. A drive-through trail called A Gift of Lights winds through the whole of Sunset Park (E Sunset Road, at S Eastern Avenue, East Las Vegas). The Magical Forest at Opportunity Village (6300 W Oakey Boulevard, between S Jones Boulevard & S Torrey Pines Drive) contains a castle, giant candy canes, a forest of decorated trees and two million lights. And numerous watercraft sail around Lake Mead as part of the Parade of Lights.
Date
Dec.
Around Las Vegas.
Las Vegas Boulevard and Fremont Street become absolutely rammed on New Year's Eve, a night filled with parties, one-hit celebrities, air displays, fireworks and general chaos. Room rates soar. To be honest, the whole thing is probably best avoided.
Date
31 Dec.
Around Las Vegas.
African-American History Month
The West Las Vegas Library houses a permanent collection of artifacts, photographs and documents relating to African-American history in the West. During February, its theater hosts a celebration of African-American community and culture in the region, with spoken word, dance, theater and music.
Date
Feb.
West Las Vegas Library 951 W Lake Mead Boulevard, at Concord Street, West Las Vegas (1-702 507 3980, lvccld.org). Bus 210, 214.
Chinese New Year Celebration & Asian Food Festival
The Chinese New Year celebrations in Vegas are actually pan-Asian; they also celebrate Japanese, Tahitian and Thai culture. Expect traditional lion and dragon dances and a feast of Eastern delicacies.
Date
late Jan/mid Feb.
Las Vegas Chinatown Plaza, 4255 Spring Mountain Road, between S Valley View & S Decatur boulevards, South-west Las Vegas (1-702 221 8448, lvchinatown.com). Bus 103, 104, 203.
High Rollers Scooter Weekend
Rockers on motorbikes had better steer clear: This weekend of mod rock and showing off is for sharp-looking multi-mirrored scooters and the aficionados who love them.
Date
mid Feb/early Mar.
Various locations (lvscooterrally.com).