7 unmissable things to do in Terceira
It is São Miguel's greatest rival, but don't let this influence you. Check out these seven unmissable things to do in Terceira - you won't regret it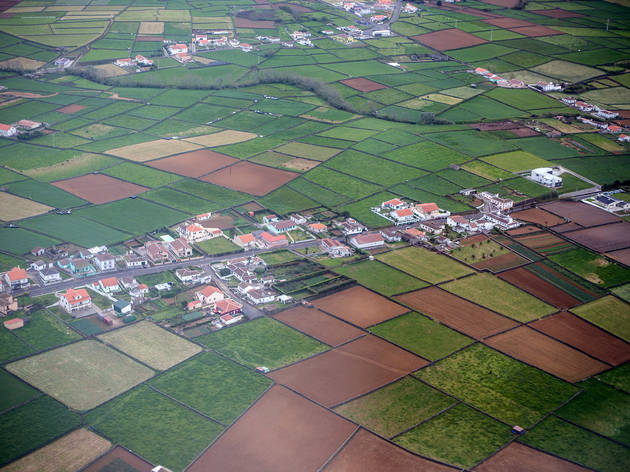 It's the second most populated island in the Azores, but it is number one in terms of nightlife. Terceira is a mandatory pitstop for whoever goes to the Atlantic in search of surprising landscapes - or of a place to organise the invasion of Iraq. Whatever your intentions, we've got you covered.
7 unmissable things to do in Terceira
1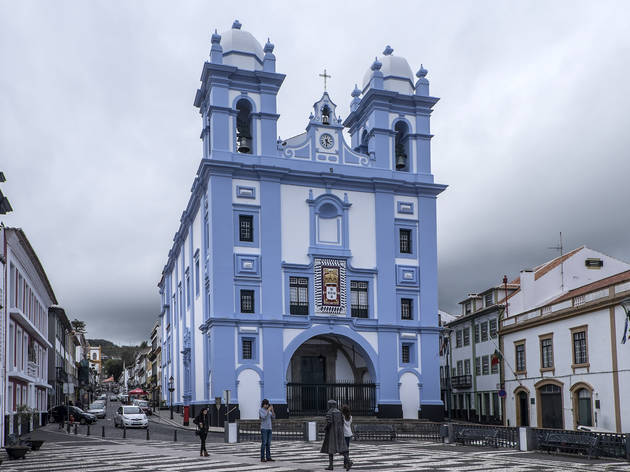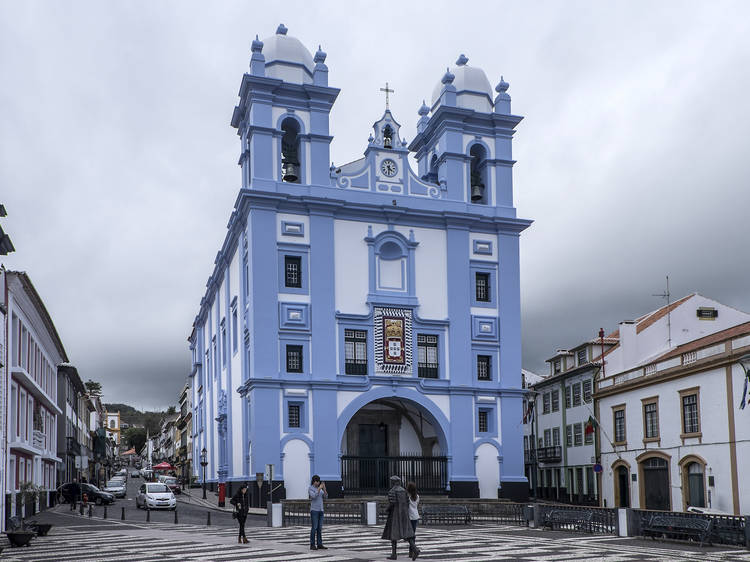 Fotografia: Rui Soares
Walk around Angra do Heroísmo
Suffice to say the city has been a UNESCO World Heritage site since 1983. So go ahead: walk around the cobbled streets, admire the old houses, watch the marina, go up Monte Brasil, and so forth. But add these three must-sees to your list.
Loja Basílio Simões e Irmãos: a time capsule of sorts where you can buy seeds, sweets and teas in bulk. Like a Vida Portuguesa store, but authentic. Located on Rua Direita.
O Forno: a top bakery to try the famous D. Amélia, a very sweet and, how can we put it?, filling, queijada (Portuguese cheesecake).
Jardím Público de Angra: also known as Jardim Duque da Terceira. A classic garden, spread on several levels, next to Angra's Museum and the Alto da Memória, an obelisk erected in honor of King Pedro IV of Portugal's visit to Terceira.
2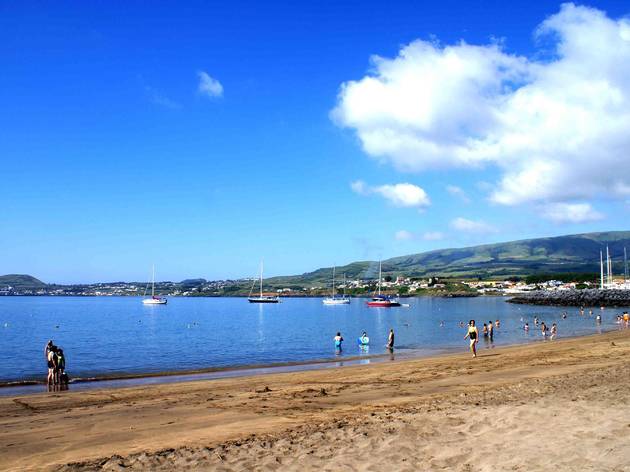 © José Luís Ávila Silveira/Pedro Noronha e Costa
Go to the beach in Praia da Vitória
This long sandy beach has nothing to envy to its Algarve counterparts, and in the summer, it gets "busy". The bars and restaurants have adapted to the demands of tourists and to the friendly invasion from the local American military base. As a result, they serve is piri-piri chicken, hot dogs and hamburgers.
3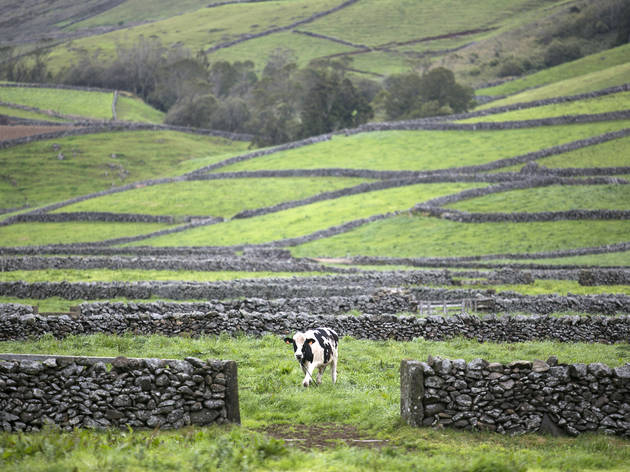 Fotografia: Rui Soares
Terceira island has the largest flat surface in the archipelago. The plateau covers most of the interior and can be seen from the Serra do Cume viewpoint. Still, one of the best ways to experience this landscape is by taking a ride along the regional road that link Angra to Biscoitos and Altares (EN3- 1A). Ask for directions to reach the village of Canada João Borges. Take your time to observe the cows and bulls, and don't be surprised if they force you to stop in the middle of the road. So drive slowly.
4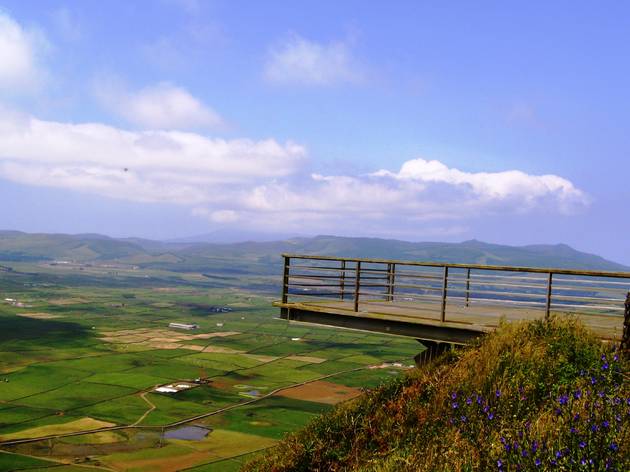 ©Carlos Luis M C da Cruz
Don't miss the view at Serra do Cume
Even if the only reason you came to Terceira was to plan the invasion of an oil-rich Arab country, make some time to go up to Serra do Cume (a strange name that literally means "mountain of the summit"). The view from up there will either remind you of Lord of the Rings, a green bedspread, a moss plantation, or the largest concentration of football pitches in the world.
5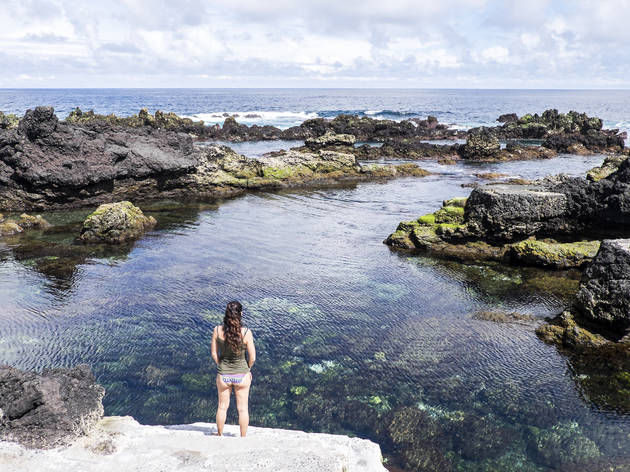 Fotografia: Rui Soares
Spend an afternoon at Biscoitos' natural swimming holes
When we say an afternoon, we mean a day. Or several. These natural swimming pools were carved by lava flows and are full of nooks and crannies to swim or soak in - there's also a Bart Simpson drawing and other post-volcanic art pieces. Various kiosks sell local specialities: give the queijadas and jams a try.
Tip: Biscoitos' famous vineyards, which started as early as the first human settlement on the island and were recently revived, are right there next to the sea. Look for the "magma" and "muros de magma" white wines, of the verdelho grape, which were launched in 2017.
6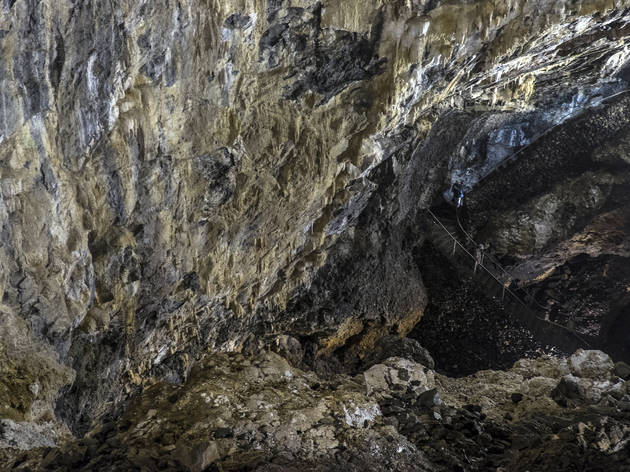 Fotografia: Rui Soares
Visit the entrails of a volcano
Algar do Carvão is a monument erected by Mother Nature some 3,200 years ago, with the help of lava from a volcano that is now long dormant. This is the closest you will get to a reenactment of Jules Verne's Journey to the Centre of the Earth. The Mountaineers Association manages this and other geological points of interest. Entrance costs €6, but there's also a €9 ticket that gives access to the Christmas Cave.
7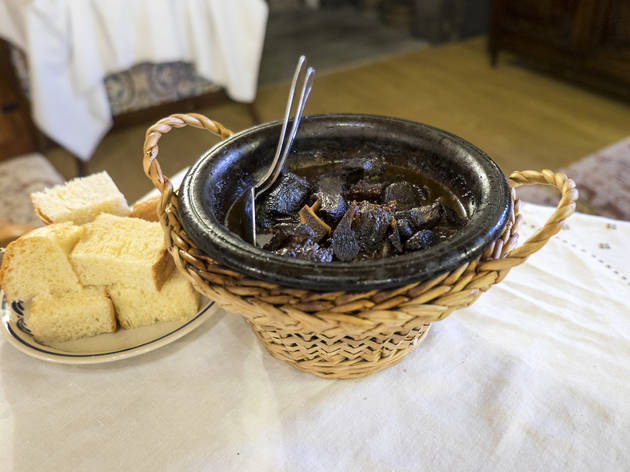 Fotografia: Rui Soares
You won't leave Terceira without trying an alcatra, right?
This is the island's signature dish and a must-try for anyone who sets foot on Terceira. The name "alcatra" does not designate the beef cut, but rather the dish itself, cooked 12 hours in a clay pot. There are meat and beef alcatras, always served with Azorean sweet bread (massa sovada) - acting as a sponge for this sauce-rich dish. Before being used in the kitchen, the clay pot spends hours in the oven, filled with nothing but sauce. This is how it gets its colour and how, later, the food gets all its flavour.
Exploring Azores
It's the island of trails and extreme sports, of tinned tuna and island cheese (the real queijo da Ilha). But it's also, and perhaps more importantly, a paradise of fajãs, these stretches of land formed by lava on the coasts of the Azores Islands. You don't have a fear of height, we hope?