The 13 most ridiculous 'Fast & Furious' moments
From afros to ejector seats, here are the 13 nuttiest moments from the 'Fast & Furious' franchise
Last week, we responded at length to Vin Diesel's heartfelt claim that his latest petrolhead action epic, 'Fast & Furious 7', was a shoo-in for Best Picture at the Oscars. But there's really only one reason why these films aren't awards-bait: they're incredibly silly. This is not a criticism. If you're looking for grand spectacle, insane stunts and good old-fashioned violence, the 'Fast & Furious' series serve 'em up better than just about any other franchise. Here are our favourite over-the-top moments.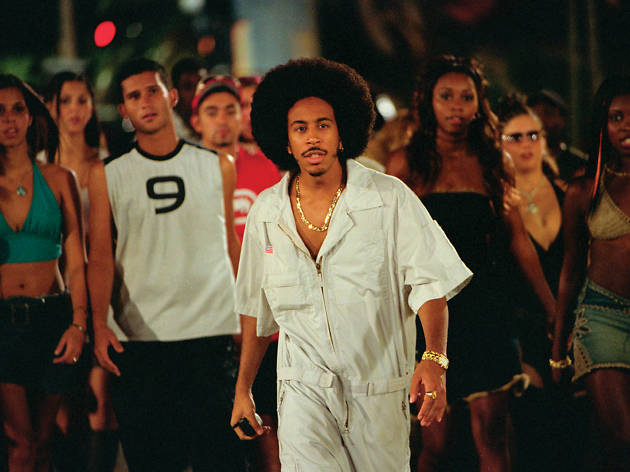 13. Ludacris's afro in '2 Fast, 2 Furious' (2003)
Everything about the first 'Fast & Furious' sequel is pretty laughable: silly cars (Tyrese Gibson drives an electric purple convertible), silly dialogue ('Stay your ass off my homeboy's boat!') and silly stunts (see elsewhere on this list). But there's nothing more – ahem – ludicrous than the sight of Chris 'Ludacris' Bridges in an afro roughly three times the size of his head.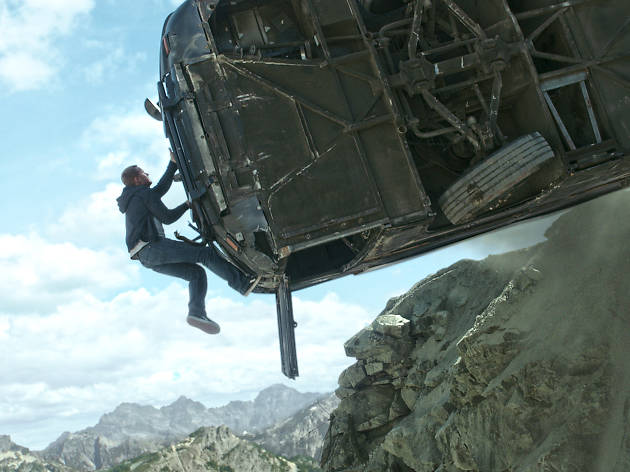 12. The bus stunt in 'Fast & Furious 7' (2015)
Much-missed star Paul Walker goes out on one heck of a high in the latest 'Fast & Furious' instalment. In this scene, he finds himself dangling from the back bumper of a bus balanced, 'Italian Job'-style, on the edge of a sheer cliff. At the screening we attended, the entire crowd broke into spontaneous applause as he executes a nifty parkour-style escape.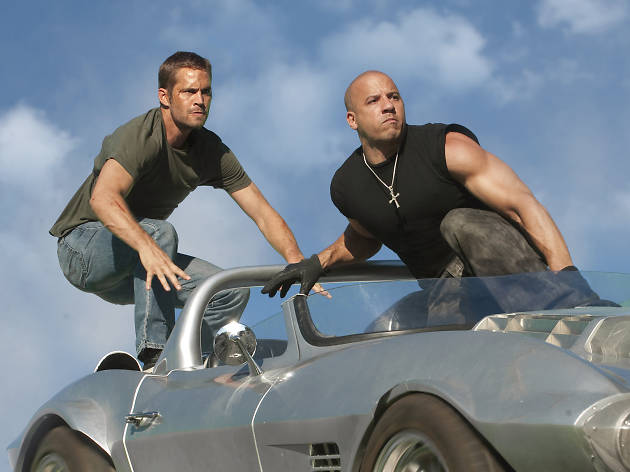 11. The train heist in 'Fast Five' (2011)
The most impressive movie in the franchise, 'Fast Five' offers myriad pleasures, from The Rock's misjudged goatee to the climactic safe-hauling action sequence (see number four). The action first gets going when the gang steal a boxcar-load of high-end cars from a speeding train using a funky hydraulic racer, before trashing the locomotive and flying off a cliff into a nearby gorge. All in a day's work, really.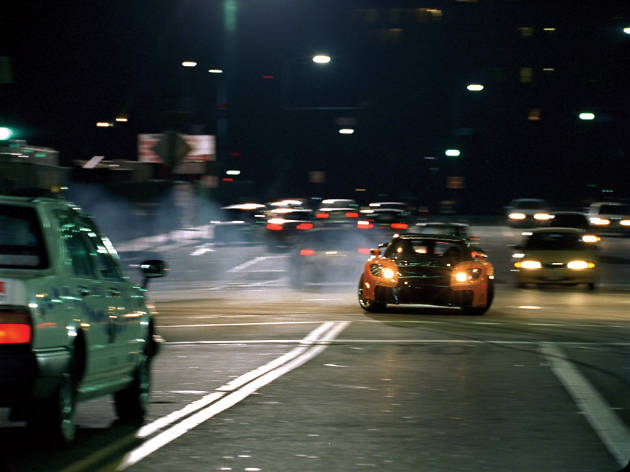 10. The car park race in 'The Fast and the Furious: Tokyo Drift' (2006)
The un-silliest of all the 'Fast & Furious' movies thanks to its dour industrial Tokyo backdrop, glowering Yakuza villains and general lack of Vin Diesel, 'Tokyo Drift' does contain one ridiculous element – and it's right there in the title. The racing technique of 'drifting' – pulling the handbrake and letting the car glide into steep bends – is inherently daft, as is the scene where jumped-up American high-schooler Lucas Black takes on the local 'drift king' and, naturally, wins.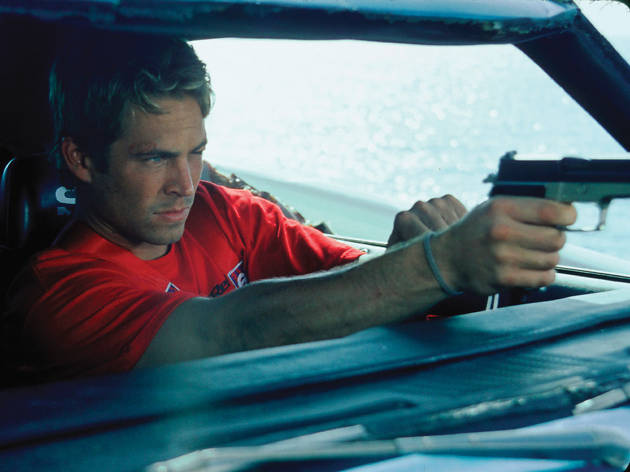 9. The boat jump in '2 Fast, 2 Furious' (2003)
More outrageous silliness from the moronic '2 Fast', as Paul Walker tracks the sneering bad guy to his luxury yacht, only to find it sailing off into the Miami sunset. There's only one thing for it – rev that throttle, fire up that nitro tank and find a conveniently up-sloping jetty. The resulting stunt doesn't, as physics would seemingly dictate, sink both boat and roadster to the bottom of the bay.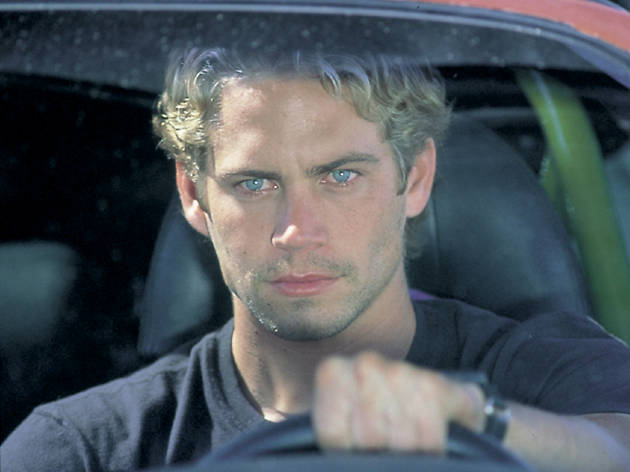 8. The train dodge from 'The Fast and the Furious' (2001)
Back when the 'Fast & Furious' series first began, it was more about racing, heisting and vigorous male bonding than, say, landing a truck on a military-grade drone at 150 miles per hour. But the first film does contain one moment of top-flight daftness, as cop Paul Walker and crook Vin Diesel express their star-crossed man-love by racing into the path of an oncoming locomotive.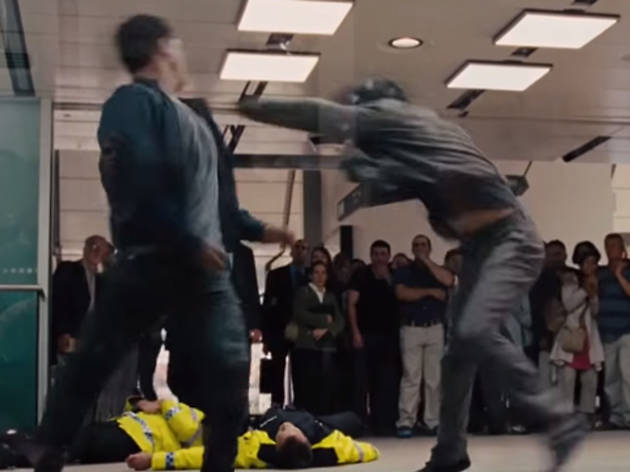 7. The tube fight in 'Fast & Furious 6' (2013)
It's easy to forget that the 'Fast & Furious' franchise doesn't just do high-speed stunts – there are some pretty tidy punch-ups, too. In the otherwise drab, London-set sixth instalment, the highlight is a two-front smackdown in an underground subway, surrounded by rubber-necking commuters who just stand about like they're witnessing the latest trend in extreme busking.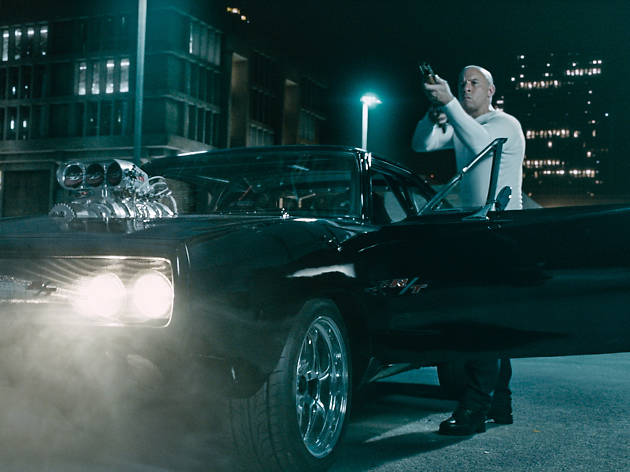 6. The wrench fight in 'Fast & Furious 7' (2015)
Matters get seriously medieval in this glorious mano-a-mano smackdown. When weary hero Vin Diesel and villainous Cockney scrapper Jason Statham meet in a darkened car park, we know things are bound to get feisty. Then Diesel pulls out a grimy socket wrench the length of his arm, Statham responds with a three-foot iron bar, and it's on.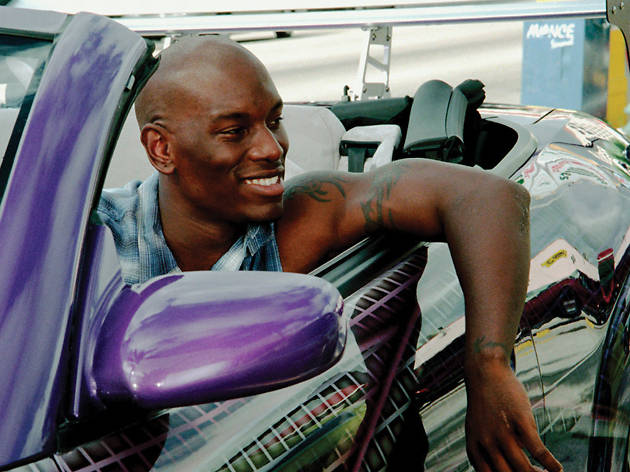 5. The ejector seat in '2 Fast, 2 Furious' (2003)
As previously mentioned, Tyrese Gibson spends most of '2 Fast, 2 Furious' tooling about in a shocking purple convertible that wouldn't look out of place on a fairground carousel. The car briefly achieves coolness, however, when it turns out the passenger seat has a bespoke flip-up ejector mechanism, perfect for ejecting dull, pesky and/or psychotically murderous fellow travellers.
4. The safe chase in 'Fast Five' (2011)
Without a shadow of a doubt the greatest action scene in the entire 'Fast & Furious' franchise, this madcap climactic car chase sees our heroes towing a full-size bank vault through the streets of Rio de Janeiro. All the elastic possibilities of this berserk scenario are lovingly explored, from ploughing up the concrete to shattering glass bus stops, from scattering crowds of terrified pedestrians to pancaking enemy cars. Sheer joy.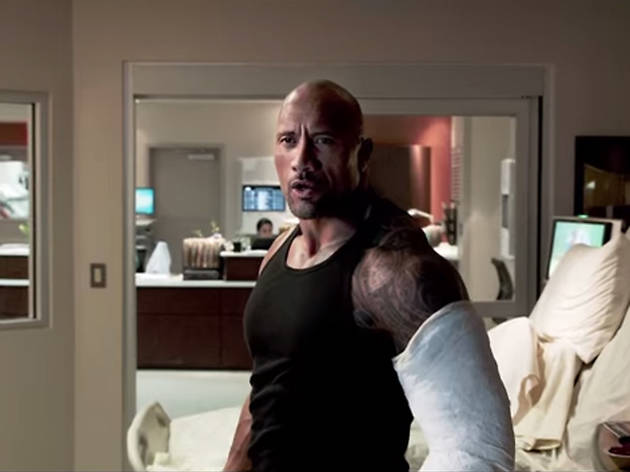 3. The Rock's hospital visit in 'Fast & Furious 7' (2015)
This mindblowing moment can only be fully appreciated by readers who choose to see 'Fast and Furious 7' on an Imax screen. We've known for a while that Dwayne 'The Rock' Johnson is a hefty dude – he used to be a wrestler, after all. But you have absolutely no idea of the true, terrifying vastness of the man until you've see him in a hospital gown, chest exposed. The effect is unsettlingly akin to standing at the foot of Everest – if the entire mountain was made of raw meat.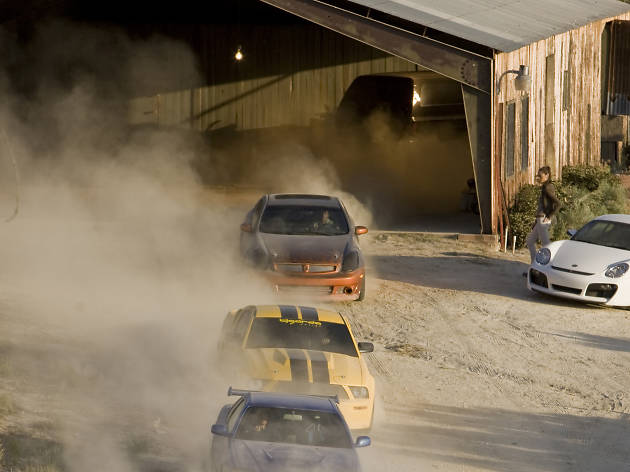 2. The mine chase from 'Fast & Furious' (2009)
Things you'd expect to find in an old Mexican copper mine: deep shafts, narrow tunnels, low ceilings, dust, darkness, donkey skeletons. Things you wouldn't expect to find in an old Mexican copper mine: wide corridors, a flat sandy floor, well-maintained roofs, racing cars. This 'Temple of Doom'-ish action sequence marks the point where the franchise abandoned logic entirely, in favour of daft thrills and impossible spills. Not that we're complaining.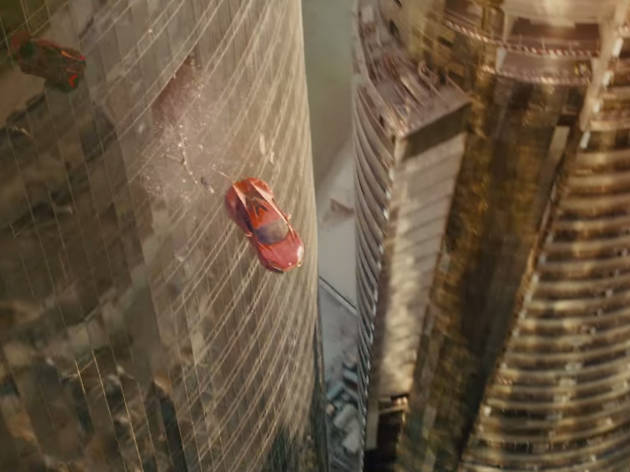 1. The skyscraper jump in 'Fast & Furious 7' (2015)
James Bond, eat your Aston Martin-loving heart out. Tom Cruise, keep on climbing. For the big centrepiece stunt in the new movie, Vin and the gang have blown all competitors out of the water with one of the maddest, daftest stunts in movie history. It essentially involves tearing around a party on the hundred-and-something-th floor of the central building in Abu Dhabi's Etihad Towers, before smashing through the window and executing a vertiginous leap into the adjacent tower. It doesn't stop there – but we don't want to completely ruin it. All we'll say is that this one deserves the biggest screen you can find.
Read our 'Fast & Furious 7' review
James Wan shoots every automotive action sequence in such juddery, relentless close-up that it's often impossible to tell what's going on. The effect can be like having your face shoved into a fan belt, and not necessarily in a good way. But the face-to-face punch-ups are a lot more fun.