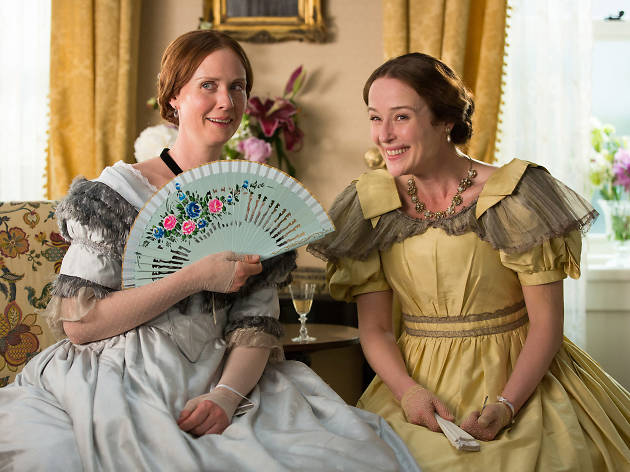 Great British filmmaker Terence Davies turns his attention to great American poet Emily Dickinson in this remarkable biopic
This delicate and thoughtful film – small in scale but brimming with the quiet passion of the title – imagines the life of the nineteenth-century American poet Emily Dickinson, played with brittle, red-eyed intensity by 'Sex and the City' star Cynthia Nixon. It takes some commitment to adjust to the dialogue and manners of the era. But once you do, you'll find that this is a film with endless wit, wordplay and wry observation hidden under its bonnet. Like Dickinson, it finds humour in pompousness, and it finds subtle ways – often through playing with light and time – of making us feel, strongly, how Dickinson ached with the joy and pain of her world.
Written and directed by British filmmaker Terence Davies ('Distant Voices, Still Lives'), 'A Quiet Passion' is set almost entirely within the Massachusetts home where Dickinson, who grew increasingly unwell and solitary in adulthood, was raised and lived until her death in 1886. We hear Dickinson's poems, few of which were published in her lifetime, mostly in voiceover, while we witness the intensity of her relationship with her parents (Keith Carradine, Joanna Bacon) and siblings (Jennifer Ehle, Duncan Duff).
The talk is pointed and careful in a household that savours the power and meaning of words, but it's as much the imagery that makes this film such a painterly joy. A scene where we watch the Dickinson family, one by one, grow old in front of a photographer's lens, is one for the ages. It's rare to see a film that makes such subtle sense of an artist's life and mind.
Release details
Rated:
12A
Release date:
Friday April 7 2017
Duration:
125 mins
Cast and crew
Director:
Terence Davies
Screenwriter:
Terence Davies
Cast:
Cynthia Nixon
Jennifer Ehle
Keith Carradine

Rating Breakdown
5 star:

2

4 star:

2

3 star:

0

2 star:

1

1 star:

0
Since I saw "Distant Voices, Still Lives" nearly 30 years ago, I have eagerly followed the great director Terence Davies's work. Regrettably his feature films have been few and far between, presumably because Davies insists on doing his own thing without any external meddling.
Fortunately for us, in his early '70s, he has now directed possibly his best ever movie which covers the life of American poet, Emily Dickinson.
The movie is, as is usual with Davies, gorgeous to look at, the dialogue is sparkling and sometimes unexpectedly funny in view of such a serious and eventually tragic theme.
Dickinson lived in the mid-19th century at a time when women were very definitely second class citizens although early signs of emancipation were there. She ffinds great encouragement in the writings of the Brontes and George Sand.
She lives in a wealthy but suffocatingly religious household and early on enraged her parents with atheistic and irreligious beliefs. nevertheless, the family is happy, caring and there is often a joyful atmosphere.
The director (who also wrote the screenplay) lets her poetry speak for itself in voice-over but it is always in balance with the dialogue and settings which are almost totally set in the family home.
The poet had to fight serious illness, prejudice and mockery and did so courageously although her writing never reached a wide audience until after her early death.
In my view, this is Davies's masterpiece of a film. I fervently hope it reaches as large an audience as it deserves but as there are no car chases, murders or graphic sex that is probably wishing for the moon…
A film of quite brilliance.Nixon is outstanding.However the real hero is the writer who filled the mouths of the actors with exquisite wisdom and sadness.This film is how British films were in a previous era where intellect and learning predominated over fantasy and action.l have no interest in poetry,but it did not damage my enjoyment of this exceptional film 5 stars