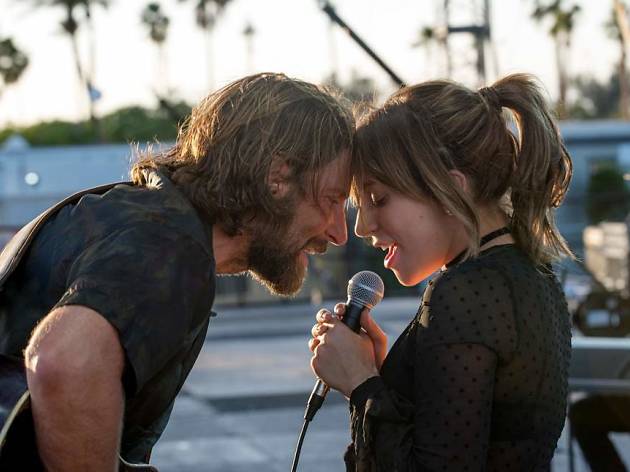 Time Out says
Lady Gaga is a full-on revelation in the rebooted fame tragedy, supercharging the material with soulfulness and vulnerability.
Calling the new A Star Is Born a "valentine" from its star, Lady Gaga, to her fans sounds a bit coy and delicate, so let's call it what it really is: a hot French kiss (with full-on tongue), filled with passion, tears and a staggering amount of chutzpah. Generously emotional and all the more fun for it, the movie functions as something like a Marvel-esque origin story, with Gaga's own mythology vamping it up at drag cabarets subbing in for her character's background. It's more than smart to have cast her; it's essential to the movie even working.
But to watch her character, Ally, become a star—especially onstage during the film's live moments, which feel frightening, massive and deafening—is an incredible piece of evolution. Gaga is really acting here: shy, somehow smaller, trembling with excitement. Slowly, she blooms in the spotlight, proudly waving around that Streisand schnozz, the big voice completing the transformation. She's extraordinary, and you root for her to go supernova per the scenario's time-honored trajectory.
Director-co-star Bradley Cooper has something else in mind, though. Just as his own performance—as Jackson Maine, this film's rocker on the downslide—ends up being one of those grumbly beard chews (if you remember the 1976 version, you might describe it as Kristoffersonian), his steering of the drama is understated: modest and unshowy. He's trying to make a "real" version of this glitziest of stories (whatever that means), and you love that Cooper seems to have learned more from his unassuming American Sniper director Clint Eastwood than from American Hustle's hyperactive David O. Russell.
The result is a Star Is Born that injects its interactions with plain-spoken rawness and believability—you see that not only in the skittish romance at its heart, but via concerned looks from Jackson's father-figure-manager (a terrific Sam Elliott, booming and righteous during his showdowns) or check-ins from Ally's limo-driving, coulda-been-a-contender dad (Andrew Dice Clay, still on the dramatic upswing post–Blue Jasmine). The movie becomes a sad drug-addiction story, percolating with updated musical tensions between Jackson's Neil Young-ish canyon lifestyle and Ally's slick pop reinvention.
On that last point, and it's more than just a quibble: Gaga and Cooper keep things so grounded and real, it's almost a missed opportunity that Ally always seems recognizably human (hearkening back to Janet Gaynor's heartbreaker in the 1937 original), instead of becoming the sharp-edged plastic creation we know Gaga is capable of. It's a slight timidity that robs the movie of some of its central irony: Ally arrives at fame's door but at what cost? Regardless, more showbizzy actors like Judy Garland couldn't pull off what Gaga is doing here, so overall, this is a net gain. Is there an "Evergreen," though—a barnburner of a ballad? Perhaps: A swooping final number, "I'll Never Love Again," is the stuff that Oscar telecasts are made of.
Follow Joshua Rothkopf on Twitter: @joshrothkopf
Details
Release details
Release date:
Friday May 18 2018
Duration:
135 mins
Cast and crew
Director:
Bradley Cooper
Screenwriter:
Bradley Cooper, Eric Roth, Will Fetters
Cast:
Bradley Cooper
Lady Gaga
Sam Elliott
Dave Chappelle
Andrew Dice Clay

Find a cinema
1 cinema showing 'A Star is Born'
Average User Rating
4.1 / 5
Rating Breakdown
5 star:

4

4 star:

2

3 star:

1

2 star:

1

1 star:

0
Stylishly done but did the world really need another version of this well-worn tale? And at 2 hours and 15 minutes the tale felt even more well-worn by the end. The emotion and the passion are there - but there is something out of key about the feel of the movie that doesn't quite work. Enjoyable but all rather soul-less.
Lady GaGa quite simply is a revelation. She's almost unrecognisable as Ally & gives her a raw, natural & loveable presence. I don't think her voice has ever sounded better & several times I was sat there thinking "wow"! Her relationship with Jackson has palpable chemistry & is at times goofy/charming & at others controlling & hurtful. Bradley Cooper has done a sterling job as leading man & director. His Jackson is grizzled, authentic & ultimately tragic. The music is great. I felt pretty emotional after this film & that melancholy lasted long after the closing credits rolled...
Probably unnecessary remake of umpteen remakes, this version still manages to add some extra detail to the by now musty story of a star on his way down as his missus goes all stratospheric.
Apart from some rather egregious, disgusting self-promotion of the cult of Lady Gaga, this is a very moving and affecting film. For more: http://bit.ly/starborn2018