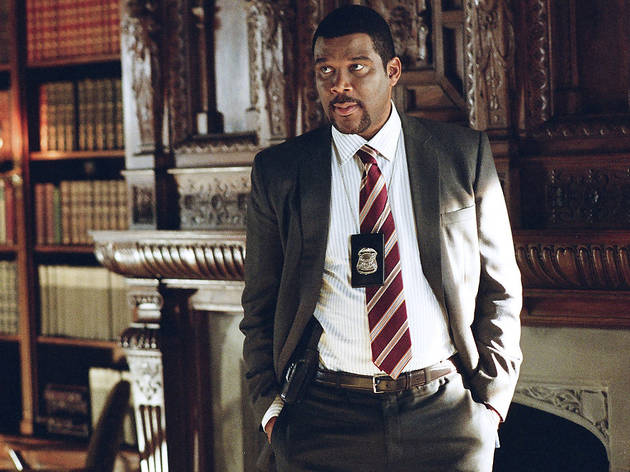 Box-office grosses in the US suggest there's an endless appetite for movies featuring actor Tyler Perry as the character of Madea, an oversize African-American woman: as seen in films like 'Meet the Browns' and 'Madea Goes to Jail'. But were audiences clamouring to see Perry as a cross between Sherlock Holmes and Charles Bronson? Alex Cross is the profiler and hero of James Patterson's novels and is described as a guy who can tell what you ate for breakfast from 100 yards away. This sensory genius meets his match in a 'stimulus-seeking, sociopathic narcissist' killer (an emaciated, lizard-like Matthew Fox) who's targeting corporate bigwigs. After Cross takes a stab at psychoanalysing him during one of their sporadic phone chats, things gets personal. In drag or out of it, the soft-spoken star has rarely been less convincing than when locking and loading from his home arsenal or dangling from a decaying Detroit edifice.
Release details
| | |
| --- | --- |
| Rated: | 15 |
| Release date: | Friday November 30 2012 |
| Duration: | 101 mins |
Cast and crew
Director:
Rob Cohen
Cast:
Tyler Perry
Matthew Fox
Rachel Nichols

Average User Rating
2.5 / 5
Rating Breakdown
5 star:

0

4 star:

1

3 star:

0

2 star:

1

1 star:

0
This has to up there with dross like Open Wallet (Water) or Aghast (Adrift) From strat to finish it is the most awful rubbish. Perry just isn't credible as an angry Cop. He comes across as a mildy irritated customer returning beans at Tesco. Even with Matthew Fox kills his wife. In fact, his laughable attempts an agry face are just that. Funny. Not in the least dramatic. There is nothing to suspend disbelief in this movie. You are always waiting for it to start. Which it never does. No suspense. No real Action. No Drama. No character development. And most annoying. No refund for having to watch it. Painfully and One Star at best.
Love crud like this so will have to av. it score wise. The most disasterous adult lead since Daniel Radcliffe turned 18, a villain who's OTT facial tic's would be totally at home in any panto, a "much loved and respected" cop killed in a dreadful fashion but no real impact shown bar Cross flinching like he's got a mild whiff of a fart.....and so on (& on) add up to much hilarity so ***, but I can't keep forgiving such inept drek on unintentional gwaffs, so, as an action thriller, *. If you have an unlimited card and want a good chortle, don't miss. If not & want an edge of seat nail biter, do miss.
Having read all of James Patterson's Alex Cross Books, & I have watched both "To catch a Spider" - Kiss the Girls" featuring Morgan Freeman as Alex I look forward to watching this film immensly