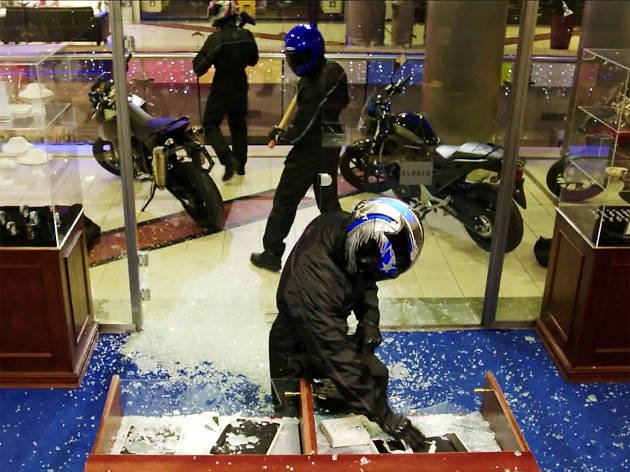 Just what we were crying out for, another fa-a-h-kin London gangster film. This one, directed by Reg Traviss, is the story of two bruvvas. Top geezer Marcus (Josh Myers) is an armed robber. Dee (played by Gregg Sulkin, lovely to look at but as convincingly cockney as George Osborne) is a Banksy-ish street artist who's starting to get some art world love. The film's point, made with Jeremy Clarkson levels of subtlety, is that both brothers are sticking it to The Man – that'll show the pigs! And like an episode of 'The Bill' trying to 'do Hoxton', there are some unintentionally hilarious scenes in which Dee and his model girlfriend drink champers at Fashion Week parties.
What 'Anti-Social' has going for it is some likeable acting. But the script is blunt and the heist scenes have all the energy of a dead battery. (In one, Marcus's gang pull off a smash-and-grab on what looks like a branch of H Samuel – which is a lot of effort for a few gold-plated watches and cubic zirconia earrings). You can see where the story is going from space – will Marcus pull Dee into a life of crime and crap tattoos? Worst of all, it's vile about women ('Shut up you old slut or I'll stab your arse'). Performances aside, it's all a bit pony and trap.
Release details
Rated:
15
Release date:
Friday May 1 2015
Duration:
116 mins
Cast and crew
Director:
Reg Traviss
Screenwriter:
Reg Traviss
Cast:
Gregg Sulkin
Meghan Markle
Josh Myers

Rating Breakdown
5 star:

0

4 star:

0

3 star:

1

2 star:

0

1 star:

0
Cath Clarke is way off the mark, as usual, with her facetious and misleading review. This is actually a refreshing entry in to the London urban crime genre. Not everything works, particularly Dee`s forays into the European art scene, but with a bit more fine tuning, this could have been something special. Three and a half stars.