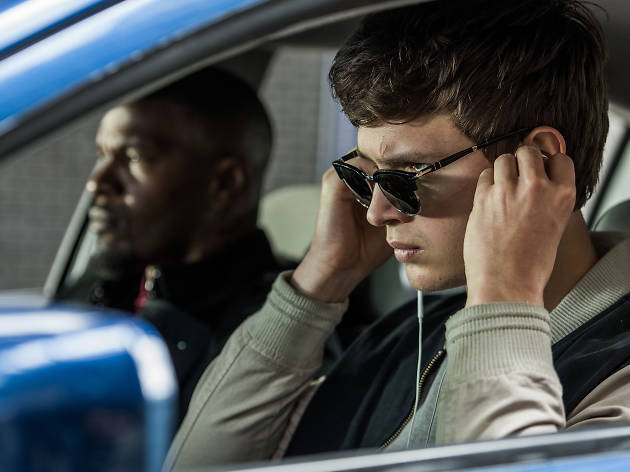 A music-obsessed young getaway driver falls for a waitress in this frenetic and hugely entertaining action flick from 'Shaun of the Dead' director Edgar Wright
Music sounds better when you're on the road. In 'Baby Driver', 'Shaun of the Dead' director Edgar Wright takes the car-chase action film – loaded with tyre squeals – and weds it to a cracking jukebox playlist. The result is the most supercharged piece of motorised choreography since John Landis destroyed a fleet of cop cars in 'The Blues Brothers'.
Wright's hero, Baby ('The Fault in Our Stars' actor Ansel Elgort), still has a hint of peach fuzz on his cheeks, but he's a genius with a gearstick. A getaway driver with dreams of going straight, Baby needs music to drown out the tinnitus-induced buzz in his head. Unlike the more violent and existential vehicular visions seen in 'Drive' or 'Bullitt', 'Baby Driver' is sweet fantasy.
That means its two-bit thieves and criminal masterminds (Jamie Foxx, Jon Hamm, Kevin Spacey) are enjoyably cartoonish; the same goes for Baby's waitress crush, Debora (Lily James), the kind of broad-smiling cutie that filmmakers always seem to dream about. Their romance is nourished with doe-eyed looks and Beach Boys-scored dreaminess, but the movie doesn't know what to do with it, except hatch a plan to 'head west and never stop'.
The chances are you won't mind: the action sequences here, imbued with humour and break-on-a-dime timing, are the most beautifully sustained and jaw-dropping of Wright's career. You'll be rewinding them in your head for days.
Release details
| | |
| --- | --- |
| Rated: | 15 |
| Release date: | Wednesday June 28 2017 |
| Duration: | 113 mins |
Cast and crew
Director:
Edgar Wright
Cast:
Lily James
Kevin Spacey
Jon Bernthal
Ansel Elgort
Jamie Foxx
Eiza González

Average User Rating
3.9 / 5
Rating Breakdown
5 star:

4

4 star:

11

3 star:

3

2 star:

2

1 star:

0
Cartoonish, yes, but not enjoyably so. The repetitive action sequences underline the fact that Baby's tactics for eluding the police just draw more attention. The acting was all right, but even Kevin Spacey couldn't save the script.
I was wishing for more. I was left thinking of John Boorman's wonderful sortie into American Cinema with the classic, 'Point Blank'. In a way I was hoping Edgar Wright would achieve a similar result. But his limitations were evident & revealing in his unoriginal direction & in the editing of the film. Spacey is poorly cast & handed a terribly sarcastic, somewhat annoying script. Jamie Foxx is menacing enough. The cast are mere cardboard (except Baby). The drive sequences are impressive but one should look to the film Drive or even earlier to the superior 70's works that influenced the geeky Wright into making this film; Gone in 60 Seconds, Vanishing Point, The Driver. I was disappointed. It is also a few scenes too long with far too much data, not enough consideration & therefore is quite tedious.
An entertaining piece of cinema that takes an American fairy tale / cartoon approach to its narrative and (stock) characters - it's certainly a thrilling ride at times but it's never quite as cool as Tarantino, especially in some of its musical choices, the love interest is fairly banal, and the third act loses its way, with a dénouement that left me disappointed. Still, nice to see a movie with no CGI packing them in - and always nice to hear a bit of T.Rex, even if their lyrics needed to be explained for an American audience...