Batman v Superman, the ultimate superhero battle
Which superhero comes out on top in Time Out's pitched battle?
As we wait to discover who comes out on top in new movie 'Batman v Superman: Dawn of Justice', we put Batman and Superman through ten rounds to find out who really kicks ass. From Superman the musical to George Clooney's nipples, we comb the archive to see which costumed character has the historical advantage.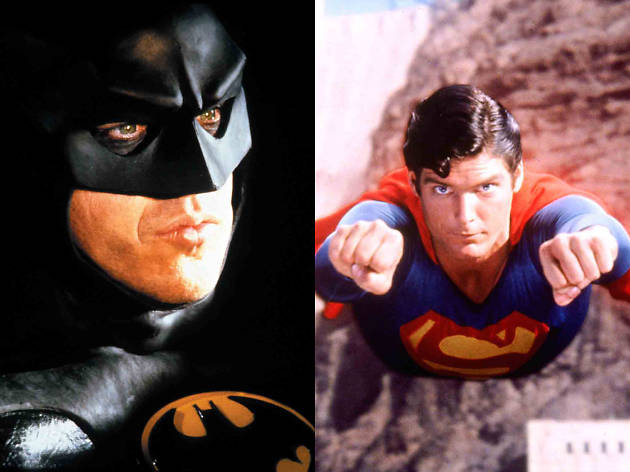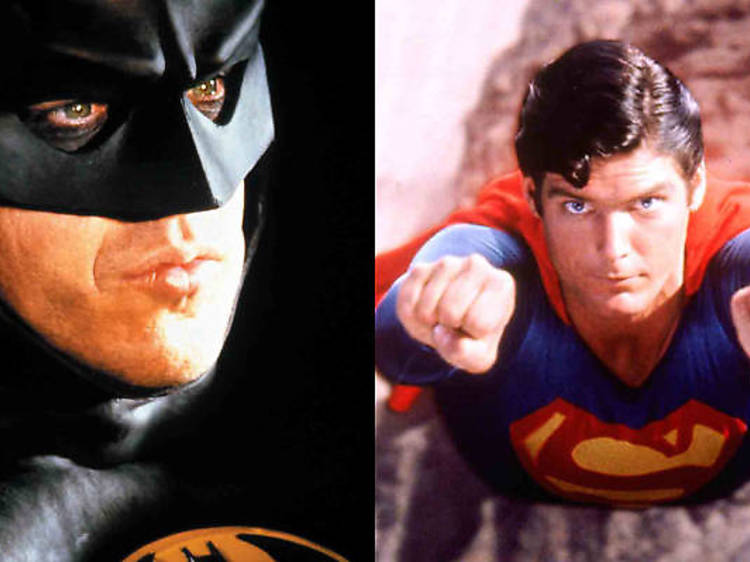 'Batman' (1989)
The first dark 'n' soulful Batman on screen, Michael Keaton underwent extensive kickboxing training to take on The Joker in Tim Burton's first movie. His take on Batman was explosive and obsessive, and shocked audiences by killing more than 20 people on screen.
'Superman' (1978)
The archetypal live action Superman, Christopher Reeve's hair had a perfect curl and his suit was so tight it showed off his muscular torso. Reeve's pilot training came in handy when he had to be strung up on wires for the flying scenes.
WINNER: Superman

The first – and, for over a decade, the only – truly modern superhero, Reeve's clean-cut, all-American Superman remains the gold standard for cinematic caped crusaders.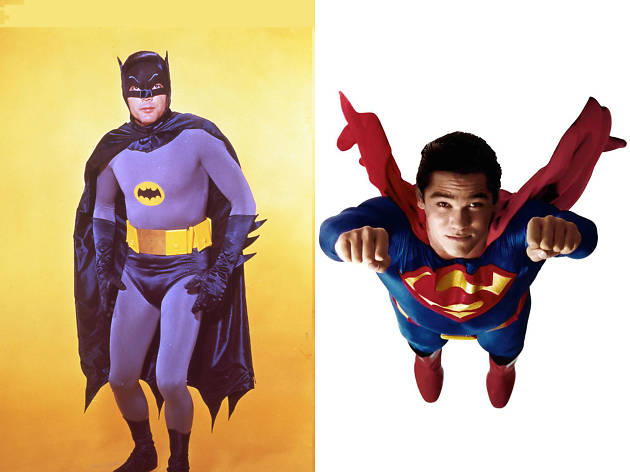 Alamy
Round two: The TV heartthrob
'Batman' (1966–1968)
For decades, Adam West was the only Bat in town: a campy, upbeat, quipping hero in a form-fitting cotton suit. As well as fighting bad guys, he encouraged young fans to wear seat belts, do their homework, eat vegetables and always drink milk – but always with a wry smile and tongue firmly in cheek.
'Lois & Clark: The New Adventures of Superman' (1993–1997)
This '90s series featured Dean Cain as an unabashed hunk in very silly trunks. His sparkly-eyed Superman looked as good in a sharp suit as he did in Lycra, and had a habit of hovering outside the window of his love interest Lois Lane.
WINNER: Superman
We love smoothie Superman – but camp-as-Christmas Adam West is our square-jawed hero.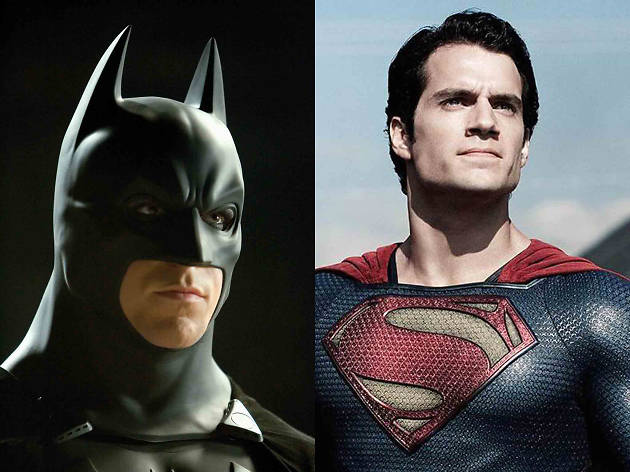 Alamy
Round three: The modern movie hero
'Batman Begins' (2005)
Christian Bale's Batman was an anti-hero with a voice so gravelly it sounded like a JCB pulling into a driveway. He faced arguably the best comic-book movie villain ever, Heath Ledger's Joker.
'Man of Steel' (2013)
Henry Cavill tries to out-brood 'Batman' with a hero who's happy to punch people through buildings. This is without doubt the most muscular, aggressive take on the character, as he deals with the trauma of being the last son of Krypton.
WINNER: Batman
Christian Bale's Batman is iconic, and however hard Cavill tries he'll never be this badass.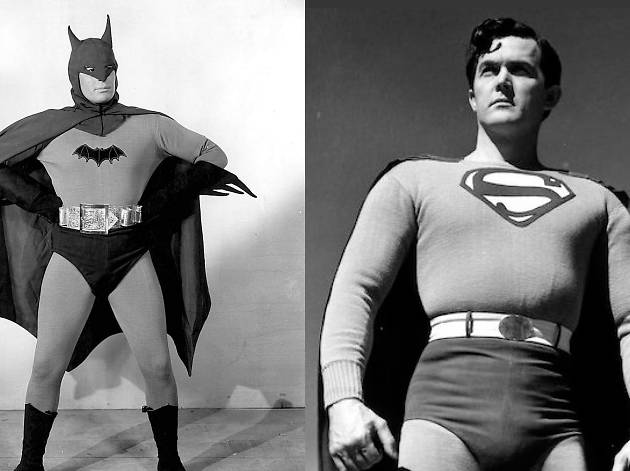 Columbia Pictures
Round four: The first-timer
'Batman' (1943)
The first ever filmed Batman appeared in a 15-part series in 1943, played by actor Lewis G Wilson. His bat ears looked more like devil horns, his suit was baggy and he looked like he was trying to flaunt his curves with a glittering waist belt. He was also sporadically racist to Japanese characters (well, there was a war on).
'Superman' (1948)
When dancer and Broadway actor Kirk Allen got the part as the first filmed Superman in 1948, TV producers claimed they 'hadn't been able to find an actor so they'd cast the real hero!' He appeared in a 15-episode serial as a scaredy-cat Clark Kent whose voice dropped two octaves when he put on his suit.
WINNER: Superman
Superman for wearing a suit that fits and not being a racist.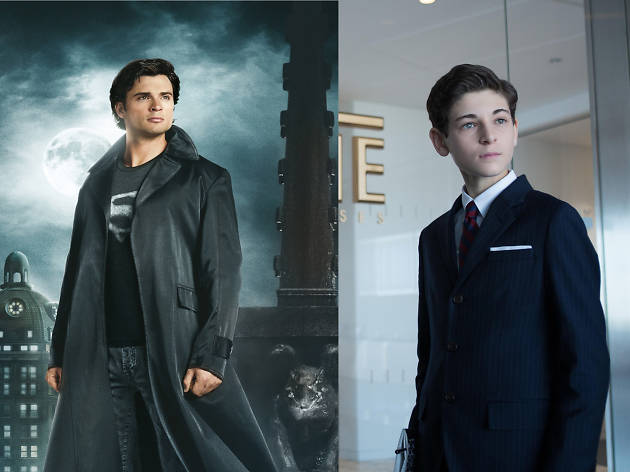 Television Entertainment
Round five: The youngster
'Gotham' (2014–present)
This new, Fox-produced series flashes back to the early days of Gotham City Police Department, as detective James Gordon befriends a pre-teen Bruce Wayne. Played by David Mazouz, this Bruce grieves the still-fresh murder of his parents by listening to heavy metal and self-harming.
'Smallville' (2001–2011)
For Brits, Tom Welling became the Superman of hungover Sundays thanks to this show's heavy rotation on T4 in the early noughties. His Superman is a lonely Kansas schoolkid who discovers he's an alien with super-powers, but just wants to be a normal teenager, man.
WINNER: Superman
Purely for getting us through many a bleak Sunday morning, Superman!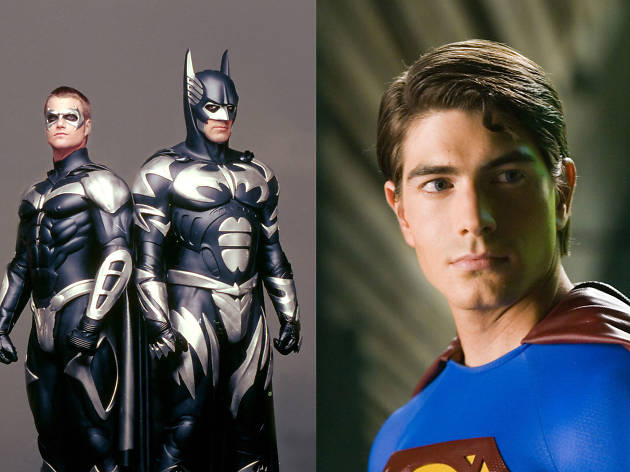 Alamy
'Batman & Robin' (1997)
George Clooney was so camp that his costume had nipples – and he had an achingly homoerotic relationship with Chris O'Donnell's Robin. Cheeky!
'Superman Returns' (2006)
Brandon Routh's Superman isn't just a hero with a heart, he's a hero with a son. His performance in Bryan Singer's poorly received reboot focuses on the fate of a hero when society has learned to live without them. Turns out audiences wanted something more macho.
WINNER: Batman
Clooney's Batman gets our vote for his S&M costume.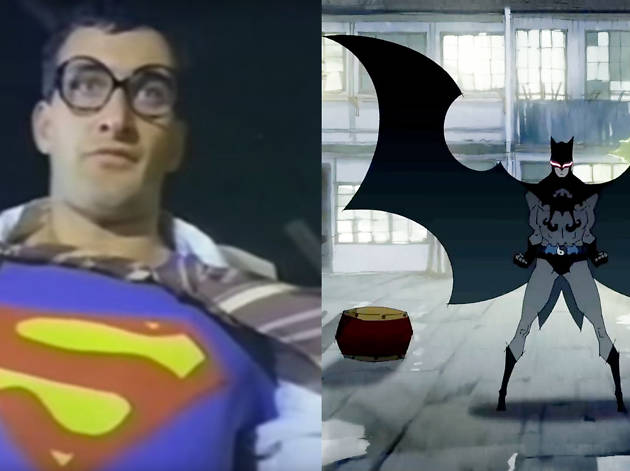 Round seven: The international entry
'Batman of Shanghai' (2012)
Voiced by Kirk Thornton, this was an anime character with rippling muscles, spindly legs and yin and yang symbols on his belt. He appeared in a series of shorts for Cartoon Network set in 1930s Shanghai.
'The Return of Superman' (1979)
In 1979,Turkish director Kunt Tulgar made an unauthorised Superman adaptation starring actor Tayfun (pronounced Typhoon) Demir. His superhero had a penchant for Deirdre Barlow glasses and terrible special effects.
WINNER: Superman
If only for the director's name, it's gotta be Superman.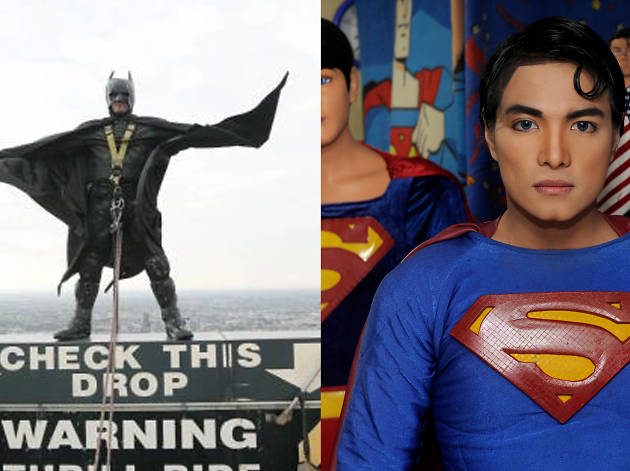 Getty
Round eight: The real-life superhero
The Bromley Batman
This south-London vigilante shot to fame when he saved a city worker from being mugged last year. He's never been identified, but other Londoners have described being rescued by the same bearded vigilante with a bandana covering his face.
Plastic surgery Superman
Who needs super powers when you can have £4,400 worth of surgery to look like Clark Kent? Filipino Herbert Chavez had nose jobs, lip liposuction, jaw realignment and pec implants to look (somewhat unconvincingly) like the man in the red cape.
WINNER: Bromley Batman
He's a genuine hero, while the other guy is… not.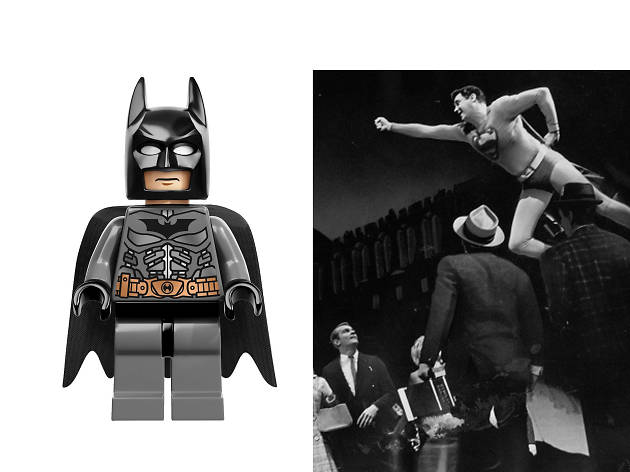 Round nine: The wild card
LEGO Batman (2014)
Will Arnett's animated Batman in 'The LEGO Movie' was so popular, the character's getting his own big-screen spin-off. He's a husky-voiced, smooth-talking dude with a penchant for subwoofers. Let's hold hands, babe.
'It's a Bird…It's a Plane…It's Superman' (1966)
This 1966 musical ran for just 129 shows on Broadway before it closed. It starred Bob Holiday as an all-singing, all-dancing hero who performed jazz-hands numbers like 'Doing Good', 'The Strongest Man in the World' and 'Pow! Bam! Zonk!'.
WINNER: LEGO Batman
LEGO Batman's charm has paid off.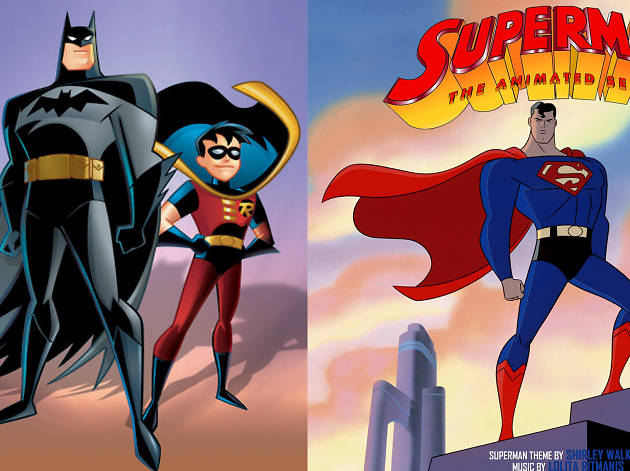 Cartoon Network
Round ten: The cartoon crimefighter
'Batman: The Animated Series' (1992–1995)
For '90s kids, this hyper-stylised cartoon hero is the archetypal Batman. Voiced by Kevin Conroy, he was the first animated Batman to speak differently in his super suit to when he was Bruce Wayne. He also has glowing white triangle eyes, which is cool.
'Superman: The Animated Series' (1996–2000)
A spin-off of the aforementioned Batman series, this cartoon featured a weaker Superman than in the comics. He was voiced by Tim Daley, who was later nominated for an Emmy for his work as a drug-addicted screenwriter in 'The Sopranos'.
WINNER: Batman
The animated Bats – the original and the best.
Superhero movies: 30 defining moments