Birds of Prey (and the Fantabulous Emancipation of One Harley Quinn)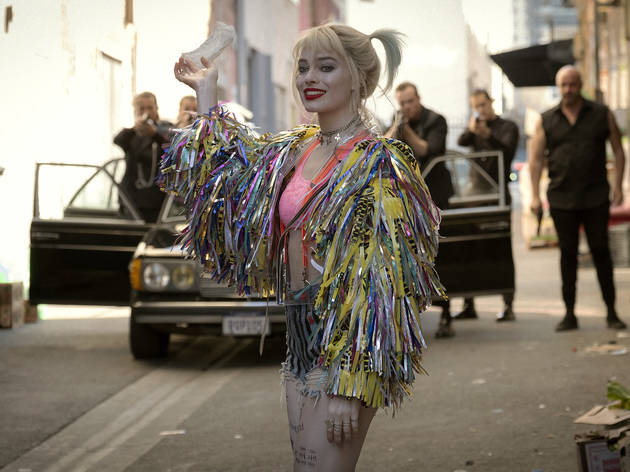 Time Out says
Against the odds – and thanks to the charisma of Margot Robbie – this unlikely 'Suicide Squad' spinoff is pretty close to fantabulous.
Little good came out of 2016's 'Suicide Squad', but one of its few bright points was Margot Robbie's anarchic Harley Quinn. Now she gets another shot at the spotlight in this spin-off directed by Cathy Yan ('Dead Pigs'), who lets her heroine's mania guide her through a story that's scrappy, weird and ultimately fun as hell.
Quinn has broken up with her long-time beau, the Joker, and now faces a seething Gotham underworld unprotected. She must scramble to survive her enemies, particularly crime kingpin Roman Sionis (Ewan McGregor), aka Black Mask, and his right-hand man (Chris Messina), introduced via a scene of shocking sadism. She makes a deal with Roman that should keep her alive but it puts her up against disillusioned cop Renee Montoya (Rosie Perez) and the idealistic Danah Lance/Black Canary (Jurnee Smollett-Bell), a singer at Roman's club. They're all after a young orphan (Ella Jay Basco as the character who, in the comics, becomes Batgirl). Oh, and someone's shooting mob guys with a crossbow. The mysterious Huntress (Mary Elizabeth Winstead) may or may not be involved.
You'll need that deep breath you just took, because the film's first act mirrors Harley's incoherent, time-hopping narration in its explanations of who's who and what's what. But once that is untangled, 'Birds of Prey' is wildly entertaining. McGregor goes full psycho as Black Mask, a foppish 'trustafarian fuckwad', all Elton John suits and Skeletor masks. But it's really the ladies' show. Robbie's turn alone warrants this dubious-looking spin-off: her eccentric and unpredictable Quinn is quick to cause destruction but just as instinctive with her affections. She sometimes lapses into psychobabble to remind you that, yes, she's a trained psychiatrist, but she's also vulnerable in all sorts of endearing and relatable ways. Winstead has a ton of fun, too, effortlessly mixing menace with cool.
More importantly, Yan steps up to the plate without a trace of the nerves you might expect of a first-time big-budget director. The film's costumes and design are flamboyantly conceived and the action scenes impress. It takes a long time to get all these heroines to the same place, and some of the violence feels gratuitous and upsetting, but 'Birds of Prey' isn't interested in hitting all the usual superhero movie beats. It works because we haven't seen this story a thousand times before, and because it leaves behind the grim-dark posturing of 'Suicide Squad'. It's nice to see a joker who doesn't take herself too seriously.
Details
Release details
Rated:
15
Release date:
Friday February 7 2020
Duration:
109 mins
Cast and crew
Director:
Cathy Yan
Screenwriter:
Christina Hodson
Cast:
Margot Robbie
Rosie Perez
Mary Elizabeth Winstead
Ewan McGregor
Chris Messina
Ella Jay Basco

Rating Breakdown
5 star:

1

4 star:

0

3 star:

0

2 star:

0

1 star:

0
The article is fascinating. The article is titled as Terrace, housetop, houseboat: 3 spots to drink and move under the stars in Paris. Do you think about the spots in Paris to make the most of your days off or end of the week? Perusing the entire article will assist you with knowing about the 3 spots to drink and move under the stars in Paris.