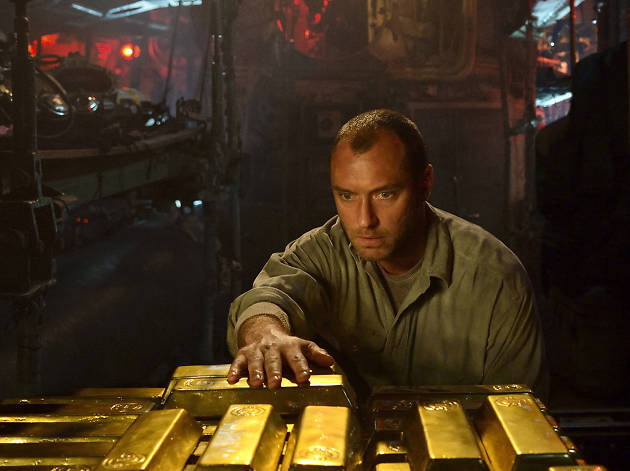 They're such scary places that it's hard to make an absolute hash of a submarine movie. The challenge lies in coming up with a fresh take on the (sorry) sub-genre that doesn't tread on familiar World War II territory, or tepidly reheat Cold War hostilities.

Kudos then to writer Dennis Kelly (also behind C4's Emmy-winning 'Utopia') for this engrossing modern tale. Here, a group of disgruntled former employees of an ocean salvage company hire a clapped-out Soviet sub to retrieve lost Nazi gold from the bottom of The Black Sea. The grizzled Anglo-Russian crew are all on equal shares, which seems straightforward enough. But then they begin to clock that the loss of one or more of their shipmates would mean a fatter payday for everyone else. So we're all set up for an undersea 'Treasure of the Sierra Madre', where languishing in a rusty tin can 350 metres below the surface might be the least of everyone's worries.

The story's the real star. But Jude Law brings unexpected gravitas and a treacly George Galloway-style burr to his role as the embittered Scots captain whose desire to wreak revenge on his heartless bosses may yet cloud his judgement. The excellent supporting cast vividly realise the script's escalating inter-crew animosities: volatile diver Ben Mendelsohn lends some credibility to an over-pitched resident psycho part; financier's minion Scoot McNairy is in appropriately weaselly form; and the ever-winning Michael Smiley provides a steady supply of Ulster-accented gallows humour. The detailed set design also contributes to the oppressive claustrophobia.

With the next bulwark-creaking crisis never far away, it's sweatily effective stuff, even if director Kevin Macdonald tends to ease off just when things are getting dangerously intense. He does, however, plot a course through to a satisfying outcome, balancing the men's own greedy foibles with their understandable struggle against the money men who've treated them as disposable fodder.

Overall, 'Black Sea' runs a few fathoms short of classic status. But its blend of old-fashioned storytelling values and zeitgeisty relevance make it a worthy addition to sub-aquatic cinema's nerve-juddering legacy.
Release details
Release date:
Friday December 5 2014
Duration:
115 mins
Cast and crew
Director:
Kevin Macdonald
Screenwriter:
Dennis Kelly
Cast:
Jude Law
Michael Smiley
Scoot McNairy

Average User Rating
1.5 / 5
Rating Breakdown
5 star:

0

4 star:

0

3 star:

0

2 star:

1

1 star:

1
Things I learned from this film: 1. All scots are psychopaths 2. You can't deep fry a Mars bar 20,000 leagues under the sea 3. A uboat stuck under the sea for 70 years can still work! 4. The amount of gold stored on sunken nazi submarines is more than the current world supply, this is going to have serious repercussions for the precious metals market in 2015. Sell gold now while you can, as it'll be worth less than a tin foil hat in a few months!
Disappointing submarine movie which starts promisingly but fails to maximise its setting`s claustrophobic potential. The characters are resolutely two-dimensional and the twists and turns are clumsy. Two and a half stars.