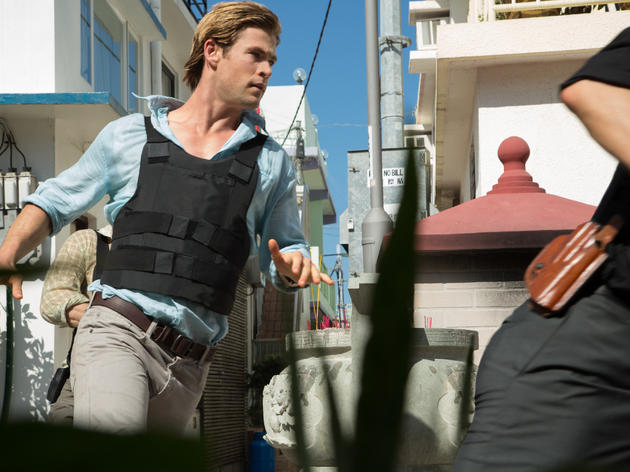 'The Insider' and 'Collateral' director Michael Mann tackles an unusually timely topic with his latest thriller: computer hacking. And he wants us to take it seriously, as 'Blackhat' begins with a series of those tired shots that cruise along wires and through flashing microchips until we see a nuclear reactor's cooling fans go belly-up. The resulting disaster deserves its own Bond villain to cackle at the mayhem while stroking his cat.

But instead, Mann reverts to what he does best – ladling on the tech talk and creating the impression of something profoundly grown-up.

A 'remote-access tool' is suspected, and we're off to an American prison, where a criminal programmer (Chris Hemsworth, looking more like a layabout than a guru) languishes in his cell. They need him to crack some code. And if 'Thor' star Hemsworth sometimes has to take off his shirt and please the Marvel fanbase, so be it.

Go ahead and call 'Blackhat' silly, but that's missing the point. The movie is high-grade kids stuff, loaded with frantic keyboard poundings, an unlikely love affair (with Wei Tang) and shoot-outs in Asian markets. With this film Mann doesn't tease out the unhinged performances he did from Al Pacino in 'Heat' and 'The Insider', but he's back on familiar ground after the misfire of 2009's 'Public Enemies'.

Style is hardly a side dish with Mann – it's the main course. No one captures city lights at night or luxury cars slinking down the highway like the creator of 'Miami Vice'. Synthesisers twinkle, phones vibrate and Mann's pioneering conversion to digital video continues to yield breathtaking results.
Release details
Release date:
Friday February 20 2015
Duration:
135 mins
Cast and crew
Director:
Michael Mann
Screenwriter:
Morgan Davis Foehl
Cast:
Chris Hemsworth
Viola Davis
Manny Montana
Wei Tang
Leehom Wang

Average User Rating
2.7 / 5
Rating Breakdown
5 star:

1

4 star:

0

3 star:

0

2 star:

1

1 star:

1
I usually watch a movie in full particularly if I've treated myself and friends to a posh seat with cashmere blanket and all the trimmings. But Blackhat proved too hard for us to make it till the end. Thoroughly disappointing. Chris Hemsworth is really bad.
Cold, unengaging cybercrime "thriller". The script is undeserving of a director with Mann`s pedigree, the characters are entirely one-dimensional and Hemsworth acts like a handsome, mobile mannequin.
It's a return to form for Mann. His digital experiment finally delivered proper results. Hemsworth lives up to the promise from Ron Howard's Rush and eventually Mann finds a way to wrap this up on a visceral and cathartic note. Don't believe the initial counter-hype. In a time when Taken became the norm for the non-comic bool action film Mann delivered an arty paraphrase of Red Heat and Black Rain which got the US critics confused. And yet I rely on European moviegoers to fully appreciate what he did in this one.