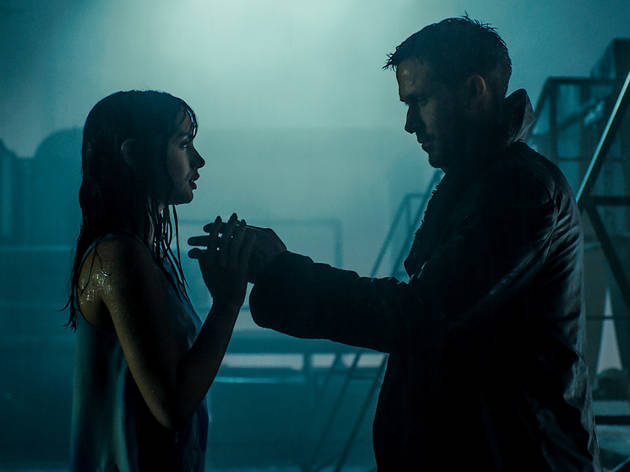 Time Out says
'Arrival' director Denis Villeneuve pulls off the dare of the decade. His sequel to the 1982 sci-fi classic – starring Ryan Gosling – is a bold triumph
It's still raining in Los Angeles and those same dark synth sounds swirl in 'Blade Runner 2049', a colossal piece of retro-futuristic gorgeousness that follows on thirty years after the events of Ridley's Scott 'Blade Runner'. At well over two-and-a-half hours, the movie impresses: sometimes it's an orgy of neon-coloured street life; elsewhere it's an existential thumbsucker that Russia's Andrei Tarkovsky would have been proud to sign. Always, it's in thrall to the stylishly downbeat vision that Scott hatched back in 1982. 'Blade Runner 2049' is the thinking-person's sci-fi event of the year.
Scott's landmark was a '40s noirish mystery and this sequel (co-scripted by Michael Green and a returning Hampton Fancher) follows suit. Much like 'Star Wars: The Force Awakens', it's a reboot cloned from beloved DNA, with similar action beats and a dramatic skeleton that's meant to be a bridge for fans. A stubbly Ryan Gosling plays 'K,' a trenchcoated hunter of wayward 'replicants.' Gosling's 'La La Land' fans shouldn't hold their breath for a song-and-dance number – or even a smile – yet the actor's performance is fascinatingly physical as he struggles with existential dilemmas.
Staring down his police boss (Robin Wright), K submits to scary white-room debriefings and is eventually on the trail of mysterious unearthed bones. He's sent to one of those gleaming megastructures, where a blind tech tycoon, Wallace, likes to talk about his own godliness. As Wallace, Jared Leto acts up a storm behind cloudy contact lenses.
None of this is remotely boring. It's almost touching to see Hollywood upgrading one of its weirdest properties with a generous budget. But the best parts of 'Blade Runner 2049' are when it's pushing its setup into new territory. K has an affecting, sexually complex relationship with a hologram who pretends to make house with him (Ana de Armas). There's an interlude in a radioactive Las Vegas, filled with the Elvis-and-Marilyn detritus of a long-vanished culture. And it's no spoiler to say that we do re-meet the grizzled blade runner of yore, Harrison Ford, who reminds us that these movies were always about the most human of inventions, love, even if manufactured by machines.
With films like 'Prisoners', 'Sicario' and 'Arrival', director Denis Villeneuve has brought an alien strangeness to the film's intimate moments. This time, he's infusing soulfulness into a story that could have felt hollow. He's flirting with metaphysical ideas on a grand scale. The new 'Blade Runner' – human or replicant, it's hard to tell – is a strange hybrid, and for that, it's worth cherishing. It's a unicorn in the fog.
Details
Release details
Rated:
15
Release date:
Thursday October 5 2017
Duration:
163 mins
Cast and crew
Director:
Denis Villeneuve
Screenwriter:
Hampton Fancher, Michael Green
Cast:
Ryan Gosling
Harrison Ford
Jared Leto
Ana de Armas
Sylvia Hoeks
Robin Wright

Average User Rating
3.3 / 5
Rating Breakdown
5 star:

1

4 star:

7

3 star:

9

2 star:

2

1 star:

1
Visually impressive and with a great cast.
Those that are fans of the original will enjoy this sequel.
Slow but engaging from start to finish.
Beautiful and stylish - but so much so that it almost forgets that it's a movie with an audience. An objective outsider should have been brought in to cut half an hour - but still if you like beauty and style then you won't be disappointed. The visuals and the soundscapes are breath-taking and the recreation of the original Blade Runner aesthetic is pitch-perfect. Gosling is great to watch (as always). But a great movie should feel effortless - and it was clear that many in the audience at the showing I was at found it all a tad laborious. The editing was just too self-indulgent. But no doubt an instant timeless classic on DVD for sci-fi fans...
This is one of the most visually stunning films I've seen in a very long time. But unfortunately, the fantastic CGI/sets/etc don't make up for the slightly confusing story. (Even my sci-fi-fan friend was dissatisfied with the storyline.) I think I read one of the newspapers described Blade Runner 2049 as 'having a beginning, middle, and end, but not necessarily in that order', with which I wouldn't disagree. It'd be hard for Gosling, as a replicant, to display such a broad range of human emotions that you feel he'll walk away with 'Best Actor' many times over during awards season. Glad I saw it, but once was enough. And I agree with everyone else - too long. Three stars.

Without the risk of spoiling the film for those who have not seen it, I would have to say that I was pleasantly surprised, even impressed by this sequel. The first Blade Runner was not a particularly good film anyway, lauded as it was by film students of that period and later. Ridley Scott has made two excellent movies; The Duellists & Alien. Blade Runner is very watchable, but it was not worth the disappointment displayed by many cinema goers after seeing this Gosling upgrade. Strong performances throughout & perhaps a few scenes could have been clipped. But an intelligent script keep it from being dull. Too long by 30mins......I felt its length.
I adored the original "Blade Runner" (1982). The movie had a full set of excellent features - brillant director (Ridley Scott); terrific cast spearheaded by Harrison Ford; great storyline adapted from Philip K Dick's sci-fi novel; mesmerising music from Vangelis.
I could go on and I can only say that that film has been included in my all-time top 10 movie masterpieces since I first saw it 35 years ago.
So any sequel would have to be superb to satisfy me and this one definitely did not; I realise that I am in a minority here after a veritable barrage of eulogies from the critics.
At least Ridley's film had a discernible plot - robots revolt against mankind; disguise themselves as humanoids; blade runners hunt them down; and so on. The 2049 version plot is so convoluted and mysterious that I was totally lost after the first few scenes.
Heading the cast is Ryan Gosling, an actor who has somehow become a top Hollywood choice with his characteristic facial expressions ranging from blank to sneering. He runs the gamut of emotions from A to B, as the old saying goes.
Harrison Ford, who the makers proudly boast alongside Gosling as joint star, appears in what is almost a cameo role towards the end (and the end is a long time coming after nearly three pretentious and confused hours).
Ford (the same character as in the original) is now a grizzled ex-blade runner living, after a post-nuclear disaster, in a ghostly casino/hotel (replete with flickering holograms of Marilyn and Elvis), and even that scenario is shamelessly nicked from Kubrick's "The Shining".
It would pain me to go on any further so let's just say that I am truly grateful we didn't go, as originally planned, to the South Bank IMAX. At least we saved ourselves a goodly wedge for seat tickets.