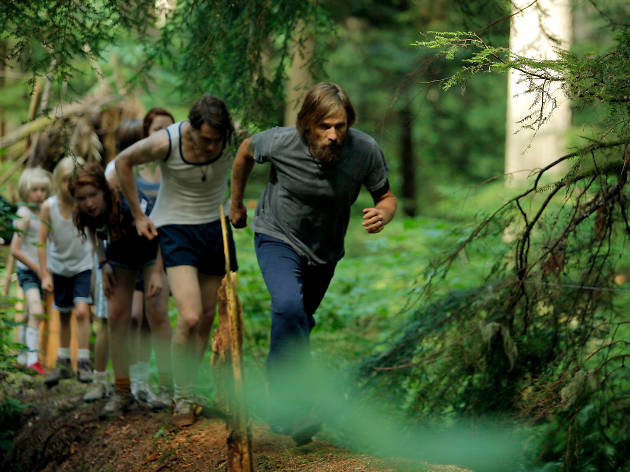 Living off the grid has its pros and cons in a domestic drama touched by a wayward spirit
Viggo Mortensen will always be our Aragorn, charging the Black Gate and stirring Middle-earth spirits: 'This day, we fight!' But there has always been a soulful, hippyish side to the actor (in real life, too) and 'Captain Fantastic', an unusual anti-domestic drama, captures something brainy and bullheaded about him that feels true.

He plays Ben, an off-the-grid survivalist and intellectual blessed with six kids whom he's raising in the forests of the Pacific Northwest. We get to know the children like the animals on Noah's ark: a pair of surly almost-men, a pair of beautifully confident teenage girls; a pair of blond tykes. All of them are proficient in hunting, knives and high-level literature, but their Noam Chomsky-adoring mother has just committed suicide, and Ben dreads the inevitable confrontation with society and its expectations.

The movie works best in the clan's private world (even if rock climbing in the rain seems like poor parenting). But then it deflates: Frank Langella, normally a welcome presence, is clownish as a mean grandfather, and the plot wraps up far too abruptly.
Release details
| | |
| --- | --- |
| Release date: | Tuesday September 6 2016 |
| Duration: | 118 mins |
Cast and crew
Director:
Matt Ross
Screenwriter:
Matt Ross
Cast:
Viggo Mortensen
Frank Langella
Kathryn Hahn
Steve Zahn

Average User Rating
4.2 / 5
Rating Breakdown
5 star:

5

4 star:

4

3 star:

1

2 star:

1

1 star:

0
I didn't do my homework & assumed this was a popcorn super hero flick. How wrong I was!! Although the opening scenes utterly horrified me & nearly caused a swift exit once I got over the shock I loved this film. It's quirky, clever, heart wrenching & ultimately uplifting. Exploring themes of family & mental health it tackles difficult issues with humour & sensitivity. Kudos to the entire cast. A brilliant & original film just see it!
This is a truly awful film.Contrived sentiment,artificial scenes in order to get a political point across..The script is clunky and this leads to some poor performances from the actors.It tries to be a dark version of the Waltons or Little house on the prairie.The left wing family sneer at everything looking down at their noses at others who chose to have different life styles to them.Yet the sanctimoniousness does not prevent them from stealing,breaking the law and lying.The whole film is just one pathetic ruse.Very young people might be taken in but the rest of us might regard it as naff
Just home from the Time Out Card preview screening. This film really worked for me. Highly unlikely storyline, but man does it champion some great causes - and raises lots of interesting questions about social and family norms . Its beautifully shot. I want to go drive those roads in the Rockies . I may just ask for my ashes to be disposed in the same way and hope my children will pay the same disrespect for the ridiculous mainstream Christian traditions so beloved of god-fearing America. Great stuff