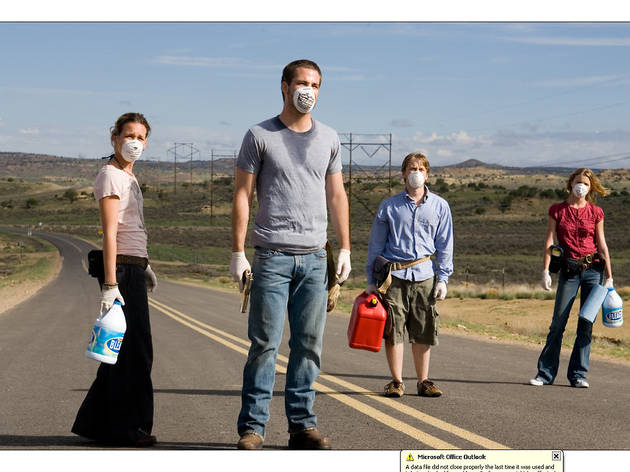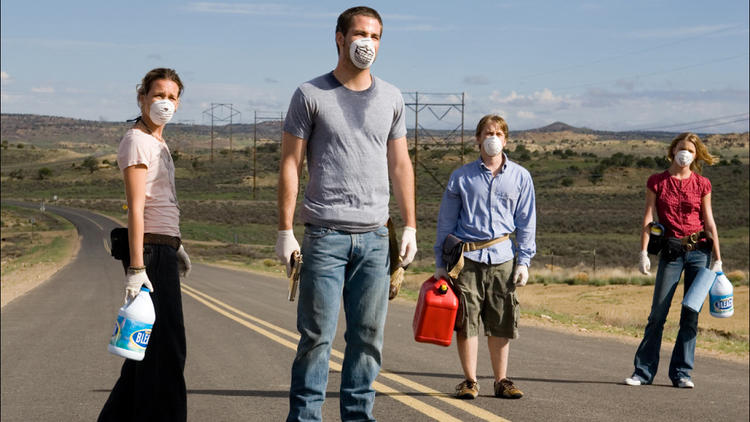 Consistent in its themes but uneven as a drama, this post-pandemic road movie follows a quartet of twentysomething survivors as they drive across the desert en route to a virus-free Mexican beach where two of them – macho hard-case Brian (Chris Pine from JJ Abrams's 'Star Trek') and his sensitive, educated brother Danny (Lou Taylor Pucci) – spent some idyllic childhood days. Together with Brian's feisty girlfriend Bobby (Piper Perabo) and Danny's shy high-school friend Kate (Emily VanCamp), the antagonistic brothers drive through a parched, harshly lit landscape populated by the diseased and the desperate: a father and his infected daughter, a despairing children's doctor, a pair of gun-toting Christian women, vigilante rapists in anti-contamination suits.

Emphasising character conflict over generic horror, Spanish brothers Álex and David Pastor nevertheless employ some over-familiar scenarios. Armed with guns, bleach, rubber gloves and face-masks, the foursome struggle to keep the viral and human threats at bay, as familial ties and friendships are eroded by harsh life-or-death decisions. Sadly, this thoughtful, low-key exploration of our darker survival instincts is too conventional and unfocused to fully engage our emotions.

Release details
| | |
| --- | --- |
| Rated: | 15 |
| Release date: | Friday December 11 2009 |
| Duration: | 84 mins |
Cast and crew
Director:
Álex Pastor, David Pastor
Cast:
Lou Taylor Pucci
Chris Pine
Piper Perabo
Emily VanCamp

Average User Rating
2.5 / 5
Rating Breakdown
5 star:

0

4 star:

0

3 star:

1

2 star:

0

1 star:

0
I completely disagree with the reviewer's assessment. The dynamic between the two brothers is very complexed and intense. The evolution of characters is both believable and heart-wrenching. The film's landscape is stark and bleak but totally consistent . This is not a horror or action/adventure film, it is a apocalyptic drama on par with "Outbreak" but much more personal and minimal. Check it out and judge for yourself.
A nasty bug causes bleeding from the body and mouth and there's no cure. Two brothers and their girls are on the road making for Turtle Beach and home of their childhood innocence. To stay alive needs guts and a harsh set of rules that leave the most at risk to their fates. It's an emotional film and you'll end up debating if you would behave the same in their situation - probably not how could you be so heartless? Another disaster movie?Yep. Better than average? Yep. Worth seeing? Yep.