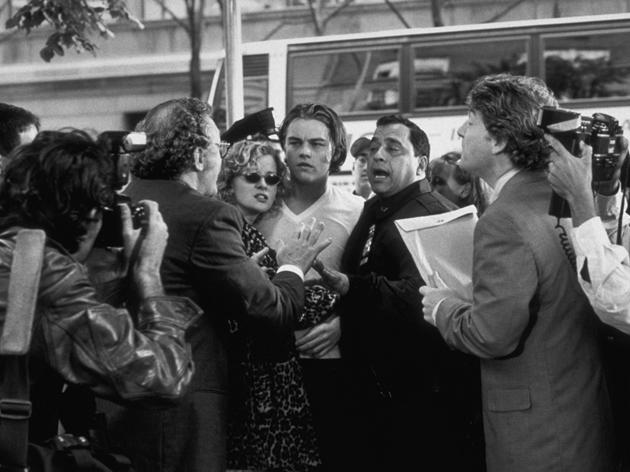 Robin (Davis) and Lee (Branagh) have recently divorced. Not surprising, since he's a scumbag journo so into fame, fortune and an easy fuck, he'll sell his integrity and ambitions down the line - not to mention the feelings of others - at the drop of a name. Not that Robin's so happy their marriage is over: short on self-confidence, she looks set to crack up, at least until she meets too-good-to-be-true TV producer Tony (Mantegna). Trying to start life anew in their own different ways, the estranged couple keep crossing paths on the ceaseless round of receptions, parties and previews that comprise NY life for those caught in - or keen to share - the hot glare of the limelight. If writer/director Allen's Deconstructing Harry was a sour rehash of Wild Strawberries, the even more jaundiced Celebrity (notwithstanding Sven Nykvist's lustrous b/w camerawork) could be his La Dolce Vita. With the exception of neurotic Robin and a handful of others, everyone here is either pathetically shallow and self-deluding in their enjoyment or pursuit of fame, or just pathetically deluded in their adoration of the famous. That said, it's often also very funny, as Allen takes an absurd phenomenon to ever more absurd limits. Agreed, Branagh is a problem - mimicking Woody's inflection and gestures, his Lee is too smug and self-centred to sustain our interest. But most of the others in the unusually large, cameo-packed ensemble (notably Davis, Mantegna, Charlize Theron's self-regarding supermodel, Michael Lerner's cosmetic surgeon, Leonardo DiCaprio's crazily indulged young film star) are cast with expertise and respond accordingly. By no means Allen's best - the humour's a touch too broad, some of the situations too implausible - but a consistently amusing call for help all the same.
Release details
Cast and crew
Director:
Woody Allen
Screenwriter:
Woody Allen
Cast:
Hank Azaria
Kenneth Branagh
Melanie Griffith
Judy Davis
Leonardo DiCaprio
Famke Janssen
Michael Lerner
Joe Mantegna
Bebe Neuwirth
Winona Ryder
Charlize Theron
Greg Mottola

Average User Rating
2.5 / 5
Rating Breakdown
5 star:

0

4 star:

0

3 star:

1

2 star:

0

1 star:

0
Just watched this again and to add to my previous review it was actually better the second time around.Judy Davis is a standout from the huge cast.Branagh`s Lee is pompous & pretentious,his performance has grown on me.The 90`s were a good decade for Woody,this is one to catch.
The above review is fairly spot on so i`ll be brief.I enjoyed it more than his last-Deconstructing Harry(the none widescreen dvd didn`t help that one though)-and i would definately watch it again.Branagh`s performance is at times a pretty desperate mimic but for me didn`t spoil the whole film & he still has some funny moments.All in all 3 1/2 stars.