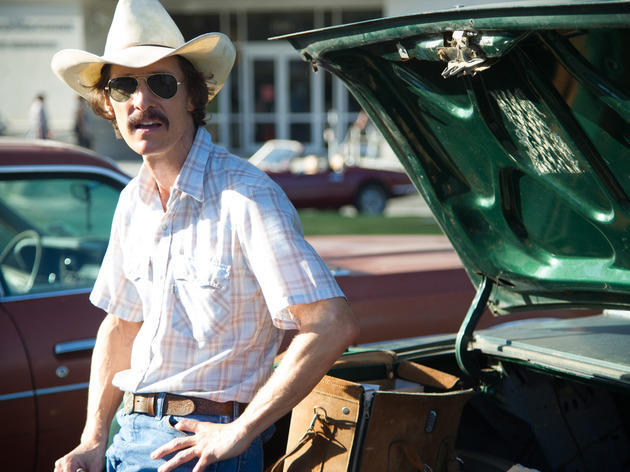 Time Out says
It's getting difficult (enjoyably so) to keep track of the many shades of life Matthew McConaughey is hell-bent on exploring these days. Conveniently – and a touch calculatingly – they're all on display in the stirring 'Dallas Buyers Club', a one-stop shop of the actor's newfound fluidity.
McConaughey starts off desperate and rascally, as his character, a Texan chancer named Ron Woodroof who's fond of drink and drugs, leaps rodeo fences to escape debts. It's a bleak, sunbaked 1986 and Woodroof is about to hear the death sentence of an HIV-positive diagnosis. The actor spits a volley of homophobic vitriol and then, tapping into his gift for comic timing, there's an unlikely trip to a library, where some disheartening medical research provokes an explosion of rage against the shushers.
Only 20 minutes in, and you can't think of another actor who could pull off this kind of character – tangy, furious and about to be whip-smart. The story is true: Woodroof shocked doctors not only by surviving for many years, but also by evolving into an illegal drug importer and a provider of hope. 'Dallas Buyers Club' fits our 'Breaking Bad' moment perfectly, offering a difficult hero whose personal code takes on an intriguing coherence.
Working from a script that can feel button-pushy, French-Canadian director Jean-Marc Vallée ('The Young Victoria') expands the drama in warm directions. He laces Woodroof's loose-limbed entrepreneurship with a strain of communal American grit. Jennifer Garner's by-the-book doctor and Jared Leto's flamboyant business partner might have felt like mere devices had their scenes with McConaughey not pushed the plot toward feisty complications.
Woodroof himself probably wouldn't call it a mission, but that's the special takeaway of this film: it shows how a higher purpose can sneak up on a low-life cowboy. He's reborn, ennobled by a crisis and in love with his new role. The change is both modest and monumental; we should all be so lucky as to have one.
Details
Release details
Rated:
15
Release date:
Friday February 7 2014
Duration:
117 mins
Cast and crew
Director:
Jean-Marc Vallée
Cast:
Matthew McConaughey
Jennifer Garner
Jared Leto

Average User Rating
4.6 / 5
Rating Breakdown
5 star:

5

4 star:

3

3 star:

0

2 star:

0

1 star:

0
excellent film - good to see McConn do something more challenging and serious. Great acting, interesting story, and somehow uplifting despite the subject.
Every bit as good as the reviews say. McConaughey and Leto are excellent and ably supported by Garner. Deserves to win at the Oscars though it may be acting rather than best film awards. Go see.
Yes, a fascinating film telling a story about the battle Aids, the FDA and AZT. Killer Joe, Mud and now this, what a fantastic set of films for Matthew McConaughey. Go see, this is what cinema is for.
Excellent. Absolutely excellent. Deeply moving and, of course, very sad. One I'll try to see again before it goes off-circuit.
wonderful movie , acting brilliant inspiring amazing perhaps best i saw in last year and i missed first 10 minutes too!!
"DALLAS BUYERS CLUB" is a good review 'true stories". 2 Golden Globes Winner for Drama: Actor-Mathew McConaughey & Supporting Actor: Jared Leto. And GOOD NEWS! Now nominated for 6 Academy Award was announced 6 hours ago, including "BEST ACTOR", "BEST SUPPORTING ACTOR" & "BEST PICTURE"! Just wait showing on Feb.7. And the envelope will be on March 2 telecast live!