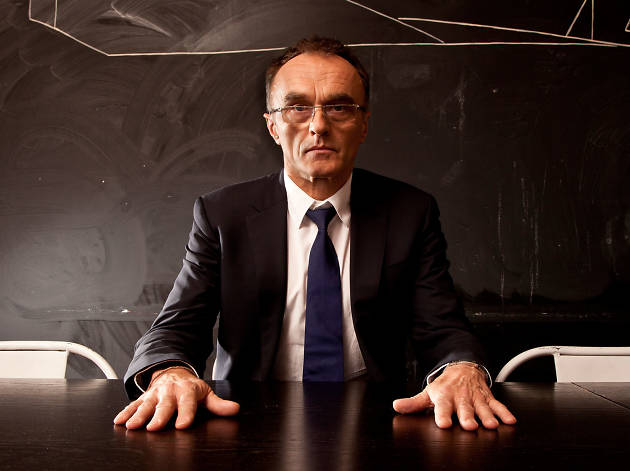 Danny Boyle: '"T2 Trainspotting" is saturated with images of disappointed men'
The unstoppable director has made a sequel to his cult Britpop classic 'Trainspotting'. What could go wrong?
Danny Boyle is a man who prefers to work under pressure. (You'd have to be a bit of a glutton for punishment to say 'yes' to directing the Olympics Opening Ceremony). His latest mad mission is 'T2 Trainspotting', a sequel to his 1996 smash hit. It goes without saying: expectations are high.
The film picks up two decades after Renton ran off with the drugs money. It's the B-side to the original, a Tuesday comedown to its Saturday night high. When I meet Boyle, he is still putting the finishing touches to 'T2', and drinking tea by the bucketload. His energy is infectious. He's also genuinely lovely; in 2009, when he won all those Oscars for 'Slumdog Millionaire', the first thing he said backstage was a quote from Plato: 'Be kind. Everyone you meet is going through the same struggle.'
It's been 20 years since 'Trainspotting'. What took you so long?
'We had a go at it a few times and it was never good enough. We knew the actors wouldn't do it.'
Did it feel like a suicide mission, knowing people would hate you if you messed it up?
'Yes, there was that. Everybody, including the actors, had a look in their eye: If this is not good, we're really fucked. When they saw the film, you could see the palpable relief that it's not terrible. They were so relieved they were almost in tears.'
'T2 Trainspotting'
'The actors had a look in their eyes: If this is not good, we're really fucked'
We're now 20 years down the line from the original. What's changed?
'It's not about boyhood anymore. "Trainspotting" was about how irresponsible you can be, taking risks with everything, including your life – with only occasional casualties. This film is about manhood. You get a bit older and you think: What is left? What have I done that's decent? The film is saturated with images of disappointed men. It's in every fucking scene.'
Is it fair to say that you enjoy working with your back against the wall?
'I like feeling under pressure, in terms of time and money. I've learned not to take too much money.'
Could you have got a bigger budget to make 'T2'?
'Yes, but we wouldn't have got the freedom. We'd have been forced to have a happier ending for all of them, stuff like that.'
'T2 Trainspotting'
'You get a bit older and you think: What is left? What have I done that's decent?'
Jonny Lee Miller and Ewan McGregor famously once turned up on set pissed on 'Trainspotting'. There was none of that on 'T2', I'm guessing?
'No, they were all very well behaved and sensible. They've all given up drinking. Any serious destructive behaviour they've put behind them.'
You have a reputation for not shouting at people. You're not a diva. Where does that come from?
'I don't know about the diva. But I don't shout, no. John Hodge [the writer on both 'Trainspotting' films] is very good on this. He says that I've got the cunning of getting my own way without shouting. Basically it's the same end product as a shouter.'
People loved the Opening Ceremony because it showed the best of us. It feels like we live in a different country today. Would you have second thoughts about doing it now?
'No. I love sport. I live in the East End; the stadium was just up the road. I've not really contributed much to society. My sisters were both teachers. I thought I should do this. And I love my country and its values. That's why I did it.'
Trainspotting is in UK cinemas January 27.
Read our review of 'T2 Trainspotting'
'T2' is a sequel, but it's not just about continuing a story. It knows how much is riding on our nostalgia, and it wants to prod and play with it. That 'T2' tag could easily stand for 'take two': a second look at the story of friendship and betrayal.