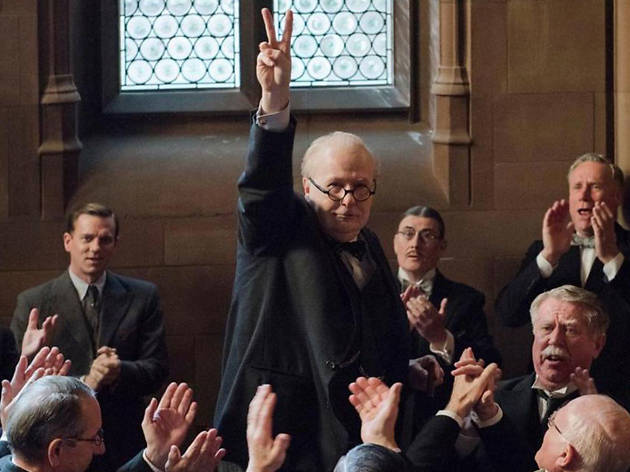 The year's most shocking cinematic transformation arrives in the form of Gary Oldman's Winston Churchill, a creation for the ages
Sure, Christopher Nolan's 'Dunkirk' blew us away with its immersiveness. But if you prefer your WWII movies to have a little dialogue, some shapeliness and a bit of powerhouse acting, director Joe Wright's tense profile of the rising prime minister Winston Churchill is the war film to beat. Wright, it's worth remembering, has been on those gory French beaches before with 2007's ''Atonement', capturing the whole of the British evacuation and its surrounding chaos in a legendary five-minute tracking shot. As if pulling a been-there-'Dunkirk'-that, he now shifts to the tense strategy sessions, bunker hand-wringing and political gamesmanship that fed into England's finest hour. 'Darkest Hour' is a film of verbal ammunition, and its calibre is high.

At first you won't believe your eyes, seeing Gary Oldman – still, in some perverse way, the alive presence from 'Sid and Nancy' – buried under what must be pounds of prosthetic facial architecture. (The radical makeup work is by artist Kazuhiro Tsuji.) But your mind quickly gets you where you need to be, as we watch Oldman's Churchill roughing up our expectations: crouching on his bedroom floor to capture a wayward cat, downing a breakfast of Scotch and cigars and mixing it up with his cowed, dutiful secretary Elizabeth (Lily James). The performance is a marvel, not merely leaping over what could have been a stunt, but deepening into a soulful portrayal of wartime leadership, tinged with ego, doubt and the demands of a terrible moment.

Churchill's showdown with Parliament is well-trod ground – even depicted recently on TV's 'The Crown' – but 'Darkest Hour' manages to make it fresh, particularly in one civilisation-defining phone conversation the prime minister has with the disembodied voice of President Franklin Roosevelt, with Oldman sweating out the request for military aid. Scenes between Churchill and an icy King George (Ben Mendelsohn, superb) are the film's heart, as royalty bends to support the man in the hot seat. There is one misstep: a fictionalised crowd-pleasing sequence set in the London Underground, in which Churchill appeals to the advice of everyday citizens – everyone's too well spoken. But the movie survives it, leaving you with a dizzyingly emotional sense of history in the making. Where are today's Churchills? 'Darkest Hour' calls out to greatness; hopefully that call will be heard.
Release details
Rated:
PG
Duration:
125 mins
Cast and crew
Director:
Joe Wright
Screenwriter:
Anthony McCarten
Cast:
Gary Oldman
Lily James
Ben Mendelsohn

Average User Rating
4.3 / 5
Rating Breakdown
5 star:

4

4 star:

1

3 star:

2

2 star:

0

1 star:

0
Gary Oldman is completely unrecognisable & totally inhabits the character of Winston Churchill- truly an Oscar worthy performance. Kristen Scott Thomas is sublime as ever & although a supporting part stole every scene she was in. She gave Clementine a real warmth, humour & intelligence that complimented & tapered her husband's gruff & impatient manner. The relationship shift between the King & his unexpected new prime minister was beautifully played out. This is classy stirring stuff & not ashamed to admit by the final speech there was a tear in my eye. Wonderful historical piece & made me proud to be British.
An extraordinary central performance, but a rather ordinary film that often looks staged and contrived. The use of light and shade is clever, and there is a nice soundtrack, but the movie adds nothing new to all the other Churchill dramas that have gone before it and feels like a Sunday evening TV period piece. The visit to the London underground was corny as hell but at least it brought some much needed humour into a rather tedious 2 hours. Disappointing.
Happy days indeed for this moviegoer as my local multiplex, only a 5-minute walk from home, is showing some genuinely worthwhile films rather than its usual menu of almost total tripe.
After "The Post", "Three Billboards" and "All the Money" comes the best of the lot, covering Churchill's appointment as Prime Minister during World War II while the seemingly unassailable Nazi war machine closes in on Dear Old Blighty.
It was never doubted that Gary Oldman (almost unrecognisable here) is a fine actor and possibly his excellent Smiley portrayal in "Tinker, Tailor…" was a rehearsal for this rumbustious but sympathetic take on the Old Warrior.
Director Joe Wright has assembled a fine cast, not least Kristin Scott Thomas as his wife and muse Clemmie, who knows how to handle his moods ranging from elation to despair.
As the title tells us, Churchill took the reins when the country was at its lowest ebb and not much later, after the miraculous rescue coup at Dunkirk, the tide is beginning to turn.
Historical films naturally take liberties with the truth to enhance a good story.
One scene where Churchill catches an underground train to gauge the mood of the citizenry definitely falls flat.
But there are many good one-liners and amusing moments to lighten the monochrome and muted colour gloom, one of which depicts a prim secretary being harassed into telling the PM that his original V for victory sign is used by the lower orders to mean "up your bum". Probably not true but Churchill found it uproarious and thenceforth reversed the gesture.
i loved it very well done , such a fascinating man warts and all