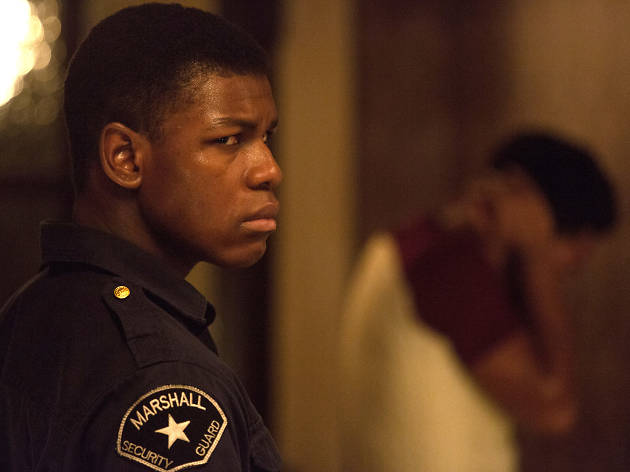 Time Out says
The director of the Oscar-winning 'The Hurt Locker' has made an electrifying, troubling and relevant drama set in the heat of the violent 1967 Detroit riots
Over her last three features – 'The Hurt Locker', 'Zero Dark Thirty' and now the electrifying 'Detroit' – Kathryn Bigelow has become America's most accomplished director of war movies. They're not the glacially styled, ultra-heroic combat epics that make grown men cry (though Bigelow has won her share of awards) but films about the way we fight right now. Hers is a trilogy loaded with confusion, stress and the secret unease that lingers long after the battlefield is empty. 'Detroit' is set in the late 1960s, primarily during the racially fraught riots that tore the city apart on a televised stage in the summer of 1967. But to watch Bigelow's expertly calibrated chaos during the riots' escalation – nothing short of block-by-block guerilla warfare – is to witness something depressingly familiar to anyone who has seen the videos of today's police brutality, of violently botched arrests and furious community responses, and worried that it would never get better. (It never did.)
Almost shockingly, 'Detroit' cuts away from the riots to a glorious Motown concert happening mere blocks away from the fighting – how could such heavenly harmonies survive the night? (Mark Boal's well-researched screenplay draws on actual events.) We meet a rising young combo, the Dramatics, waiting offstage for their moment to win the crowd. But they never get their chance, and the gig is cancelled out of nervousness. Dodging street skirmishes, lead singer Larry (Algee Smith) finds himself at the Algiers Motel – first partying, then sweating out the night – with an impulsive cop-baiting provocateur (Jason Mitchell, a live wire), two scared white women from Ohio, a wary black security guard (John Boyega in a performance of Denzel-like dignity) and, terrifyingly, a loose cannon from Detroit's police force (Will Poulter, burning with rage).
The standoff at the Algiers Motel has entered legend (if not widely known history) as a notorious incident of injustice. Bigelow makes it the centrepiece of 'Detroit' and, simply put, in doing so has crafted her most harrowing piece of filmmaking. It consumes more than an hour and scrapes the far edge of a nightmare: the handcuffed suspects emitting naked fear, the officers leaning into self-righteousness with horrible consequences. To the movie's enormous credit (and displaying an ambition that feels slightly overstuffed), it doesn't end there but with a criminal trial. But the point of 'Detroit' – easily among the most essential films of the year – is the aftermath: the blood was washed away, but the guilt stuck around.
Details
Release details
Rated:
15
Release date:
Friday August 25 2017
Duration:
143 mins
Cast and crew
Director:
Kathryn Bigelow
Screenwriter:
Mark Boal
Cast:
John Boyega
Will Poulter
Anthony Mackie
Jason Mitchell

Rating Breakdown
5 star:

3

4 star:

4

3 star:

1

2 star:

1

1 star:

0
This cinemagoer has admired film director Kathryn Bigelow since seeing her weirdly brilliant 1995 movie "Strange Days" which took us into a world where you can be a murderer, a robber, a sexual athlete, or just name it, buddy. All you had to do was attach a video of someone else's real experience to your cerebral cortex and away you go.
Since then she has wowed the critics with "The Hurt Locker" and "Zero Dark Thirty", amongst others. And has now topped it off with a brilliant account of dirty deeds and racial tensions in 1967 Detroit - a riot waiting to happen.
Anyone who thinks female OAPs aren't tough enough to handle some of the blood-curdling incidents in this tale should quickly remind his or herself that 65-year-old Ms Bigelow is the only woman (so far) to have won an Academy Award for best director with "The Hurt Locker".
The film covers an incident where racist white police beat and murder some of a group of blacks holed up with a pair of white girls in a seedy hotel.
Gunshots from inside the hotel with a starting pistol precipitate rioting and civil mayhem on a massive scale and this viewer found the dark introductory scenes of shooting, shouting and total confusion hard to follow but the action moves relentlessly on until the violence is being shown on national TV networks.
After the hurly-burly is done and a few red herrings swim around, the Detroit police accused are brought to trial and found "not guilty" of all charges by (guess what?) an all-white jury. Sorry for this spoiler if you were unaware of the background.
On most levels this is among Ms Bigelow's finest films with its narrative skills, breadth of vision, top-class cinematography — all backed by some terrific acting from an accomplished cast.
One final point. I try to keep my mini-reviews as mini as possible as my undoubtedly few readers would be even fewer if the temptation to go into greater detail was indulged.
But for a movie based on factual events which graphically depicts dreadful beatings and three murders, the accused were found innocent. A legal minefield for the surviving characters, one would think?
Ignore the negative review below - who clearly walked into the wrong screen by mistake and then sat down on his elbow. One of the best films of 2017 and so timely in its politics that will make you more than a little angry. Wonderful editing takes the viewer from a documentary style over-view right into a dramatic close-up of real life events during the Detroit Riots of 1967 (hardly the summer of love). This is cinema at its most powerful that tells a piece of (African) American history crying out to be heard.
I loved Hurt Locker, and thought it deserved more awards than it got. Zero Dark Thirty was a bit of a let-down by comparison, though still good. But Detriot is dire: Leaden plot; lazy dialogue; mediocre footage; and not particularly good acting - I didn't find myself interested in any of the characters. Despite getting to the three-quarters-way-through mark, I still walked rather than sit through more of the same. Where her other films deserved awards, this doesn't, and I doubt will get them. Two stars (and I'm being fairly generous).