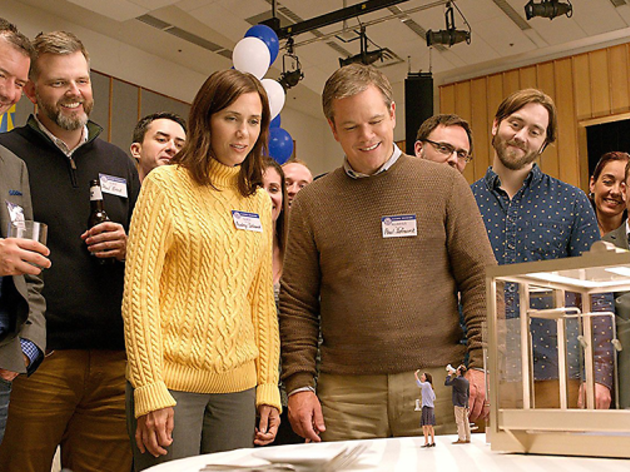 Time Out says
Matt Damon and Kristin Wiig co-star in a stature-challenged future-shock comedy that reduces Alexander Payne's bite to a pinch.
'I am big – it's the pictures that got small,' Hollywood's Norma Desmond spits out in 'Sunset Boulevard'. Now, 'Sideways' and 'Nebraska' director Alexander Payne (working with his longtime cowriter Jim Taylor) has found a way to make both the stars and the pictures small. 'Downsizing' is a self-satisfied sci-fi nothingburger that shies away from its early suggestiveness and goes as deep as your average 'Black Mirror' episode. Worse, it saps this usually formidable writing duo of its penchant for tartness. Miniaturisation – shrinking yourself down to enjoy a dawning new economy for the 'community of the small' – may be the way of the future in an equity-poor world, in which one can finally afford a McMansion or diamond earrings provided they're roughly two-thousandths of the typical size. But the vicious satire you have in your head about diorama-dwelling haves versus huge have-nots never materialises. Downsizing your expectations will help.
Payne still loves skewering middlebrow banality (at least I hope that's what he's doing) and, after an early lab sequence that plays like a dorky update of 1966's 'Fantastic Voyage', the filmmaker brings on his best joke: the boyish face of Matt Damon. Damon's sweet-natured Omaha dweller, Paul, already seems like an uncomfortably grown-up kid, so what difference is five more feet going to make? After watching an old school friend get wheeled into a class reunion in a fancy hamster cage (the guy's just as chatty and popular), Paul and his wife Audrey (Kristin Wiig, not given enough to do) decide to investigate.

The strengths of 'Downsizing' echo some of the Borscht Belt gags of Woody Allen's wryly anti-future 'Sleeper': Even after Paul makes the technological leap (which culminates grandly with the ding of a microwave), the doctors in his new eco-friendly luxury community of 'Leisureland' still mispronounce his last name. Later, while working a job as a phone salesman, Paul takes offense at a customer's 'Don't get short with me.'
As medium-grade satire (hardly another 'The Truman Show'), 'Downsizing' works fine enough. But it makes a series of wrong moves that throw off the delicate tone, raising the pretension levels to toxic. Two Eurotrashy neighbors (Christoph Waltz and Udo Kier, the latter playing a former yachtsman who purrs over his new toy boat) blur Payne's critique on social climbing; they're way too gaudy. Later, the introduction of a cringeworthy Vietnamese cleaning woman and ex-dissident ('Inherent Vice''s Hong Chau) borders on broken-English caricature. The movie wants to get at bigger ideas about human extinction and the sustainability of 'perfect' communities, but it forgets the simplest thing, which is to show how the outside world would interact with these tiny jerks. Where's the wider perspective? Lost up its own minuscule navel, 'Downsizing' is a film that gets around to a toothless variation on 'size doesn't matter,' but Payne ought to know that's the most boring idea imaginable, big or small.
Details
Release details
Rated:
15
Release date:
Wednesday January 24 2018
Duration:
135 mins
Cast and crew
Director:
Alexander Payne
Screenwriter:
Alexander Payne, Jim Taylor
Cast:
Matt Damon
Kristen Wiig
Christoph Waltz
Udo Kier
Hong Chau

Average User Rating
2.4 / 5
Rating Breakdown
5 star:

1

4 star:

0

3 star:

2

2 star:

6

1 star:

1
At first seemed like a good storyline but slowly became quite boring. I've found it hard to keep my full attention on the screen.
The only things downsized here are Joshua Rothkopf's critical faculties - he tries so hard to give us a few trite puns and flip platitudes he must be straining them very hard. Don't believe a word of this or other lukewarms like Peter Bradshaw's 3-starrer which he claims the film 'collapsed under the weight of its implications'. This was thoroughly enjoyable, frequently very funny satire, a new spin on old Malthusian hogwash about 'over-population', and stands up very well alongside The Truman Show. The 'what-if' implications opened out satisfactorily and surprisingly. (If 'tastemaker' GirlAboutLondon thinks weird directions or being big are problems, that rules out much interesting cinema, and wasn't it all about ;saving the world?). Great performances too from force of nature Hong Chau and scientist / small-founder Ralf Lassgard (Swedish movie Wallander). Another winner from Alexander Payne!!