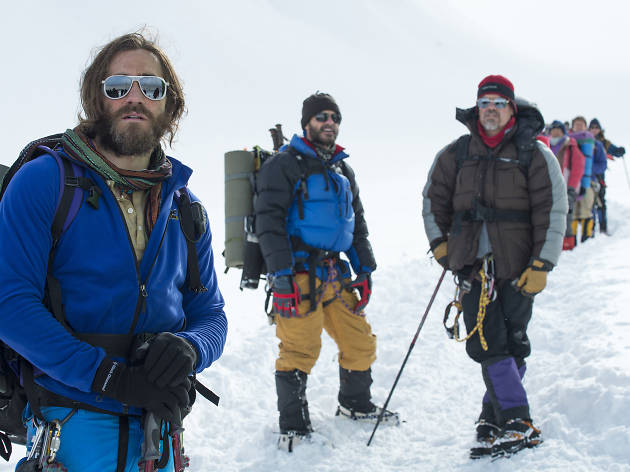 Baltasar Kormákur's disaster movie is a physical experience that will leave you breathless – and possibly suffering vertigo
'Everest' is an unrelenting real-life disaster movie that strands you near the top of the world's tallest mountain and dares you to imagine what it must be like to be part of an expedition to the top going horribly, horribly wrong. Its screenwriters, William Nicholson and Simon Beaufoy, respectively have 'Gladiator' and '127 Hours' to their names, and 'Everest' combines the muscular, sometimes sentimental force of the former with the sense of being party to an extreme physical endurance that made the latter so successful.
Like 'Gravity', another spectacle involving a conflict between humans and a hostile environment never meant for us, 'Everest' relies heavily on awe, special effects and 3D. As director Baltasar Kormákur's camera appears to glide just above the highest ridge of Everest, this mass of rock, snow and ice is just as terrifying and mysterious as the vast blackness of outer space itself.
Based on an actual trip to the summit in 1996 that ended in tragedy, an air of doom hangs over 'Everest', forcing you to wonder which of its endearing ensemble cast will make it down alive. The inevitability of death makes it all the more tough to watch. Who, as mountaineering jargon has it, will finish up 'gone'? Maybe John Hawkes's gentle, unassuming postman, whose trip is part-funded by school kids? Or Josh Brolin's millionaire family man from Texas? Or Jason Clarke's affable team leader? Or Jake Gyllenhaal's extreme-sports dude? He's emblematic of the mid-1990s globetrotting outsider culture, which still saw Starbucks as cool and partly led to an explosion of commercial outfits operating on a crowded Everest.
When we're not squirming at the sight of deathly drops or feeling whipped by the weather, we're plunged into the emotional distress of those left behind – wives played by Robin Wright and Keira Knightley, and base camp coordinator Emily Watson, who's manning a satellite phone halfway down the mountain. The film crosses into soppy territory when it forcefully begs our tears, but Kormákur creates such a convincing world – the craft of this film is astonishing – that you're willing to forgive its less delicate touches in favour of its totally compelling depiction of what it must be like to ascend into a place that's heaven one moment and hell the very next.
Release details
Rated:
U
Release date:
Friday September 18 2015
Duration:
121 mins
Cast and crew
Director:
Baltasar Kormákur
Screenwriter:
Simon Beaufoy, William Nicholson
Cast:
Keira Knightley
Jake Gyllenhaal
Robin Wright
Jason Clarke

Average User Rating
3.8 / 5
Rating Breakdown
5 star:

1

4 star:

11

3 star:

2

2 star:

1

1 star:

0
a great film - I was lucky enough to see it in at Working Titles head office in their ultra plush screening room. If you see it make sure you go for the full 3d experience as there are some amazing camera shots that leave you feeling quite scared.

I applaud Working Title for breaking new ground and not sticking to the 'Into Thin Air' version of the 1996 Everest tragedy, which is maybe why this book is not in this film's Credits, something that has not gone unnoticed by some professional reviewers.
Working Title/the Director referred to Jon Krakauer as 'a writer who just happened to be on the mountain at the time'. To learn more about what actually caused this seminal event you will need to read 'A Day to Die For' and 'After the Wind'. Well done Working Title and Baltasar Kormakur for daring to break the mold!
Write a review...I think this subject is much too complicated to be properly explored in the feature film format. As such anyone familiar with the already widely reported events of that day will find the film superficial and unsatisfying.
I also question the filmmakers' decision to completely whitewash the story of fellow climber Gau Ming-Ho (Makalu) from the film and find it hard not to believe that this decision was based on the fact that he is not a westerner. This kind of cultural imperialism is deeply troubling as anyone viewing the film, without being aware of the larger story, will not even know that such choices have been made.
David Breashear's 2008 documentary remains the essential filmic account of the disaster.
Excellent realistic effects (watched in 3D but not IMAX) and some tough scenes. Unlike some previous comments, I DID feel emotionally involved with the characters. Would love to know how they made it.

To echo one or two of the earlier contributors, please do see this in IMAX 3D, if possible. The visuals are breathtaking. Other than that, the telling of this powerful true life tale is disappointingly pedestrian. The characters are sketched too thinly for the viewer to truly care whether or not they survive; the family scenes of a couple of the climbers seem tacked-on; and no overall momentum is built up. Certainly one to view on the Big Screen but could have been so much better.
IMAX 3D definitely aided the immersive experience of the film and as someone who enjoys climbing mountains.............well I might not be so keen on the next climb! I loved every minute of it and Jake Gyllenhaal as the mad mountain man is brilliant. Cinematography, scenery, visuals - just beautiful and I am keen to find out more about how they went about filming the movie.