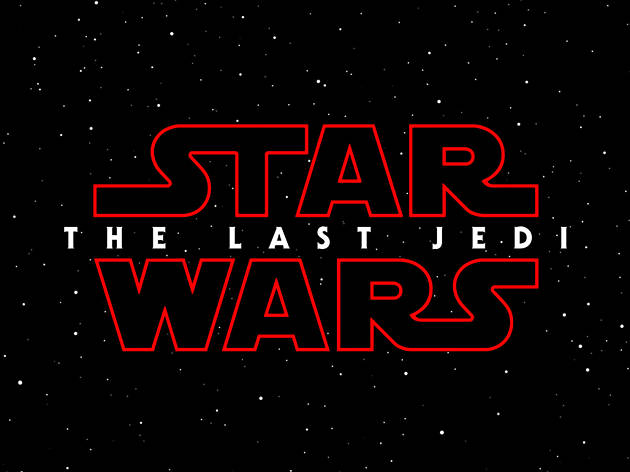 Everything we know about 'Star Wars: The Last Jedi'
Your guide to Rian Johnson's 'Star Wars: Episode VIII', from rumours and fan theories to cast, plot details and trailers
Who are Rey's parents? Why did Luke go into hiding? What does the title mean and when are we going to get a trailer? Will Finn wake up from that coma and get it on with Poe Dameron? All these questions and more will be… okay, not exactly answered, but explored in depth here, as we take a close look at the next episode in the Star Wars saga.
What's it called, and when can I see it?
'Star Wars: The Last Jedi'. It's a classic title, slightly old-fashioned, a little bit mysterious but basically pretty approachable. You don't get the feeling anyone stayed up all night racking their brains for the best title ever – in fact, writer-director Rian Johnson has gone on record saying it was on his very first draft – but neither does it make you squirm, like when 'The Phantom Menace' was announced and everyone wondered if it was going to be a '40s haunted house comedy with Abbott and Costello.
Of course, 'The Last Jedi' throws up loads of questions, but that's part of the fun. When the title was announced the internet immediately exploded with theories that Luke was going to have to die, leaving Rey to be the titular final warrior. What they were overlooking is that the word Jedi works as a plural: 'Rey and Luke are the last Jedi' is a perfectly good sentence. Hell, they could even throw a few more in there (Finn? Leia? A rescued-from-the-dark-side Kylo Ren?) and they could still collectively be 'the last Jedi'.
We also have a confirmed release date: December 15 2017. Yes, it's a long time to wait. There should be a trailer much sooner, though. Producer Kathleen Kennedy said we'd see some footage 'towards spring'.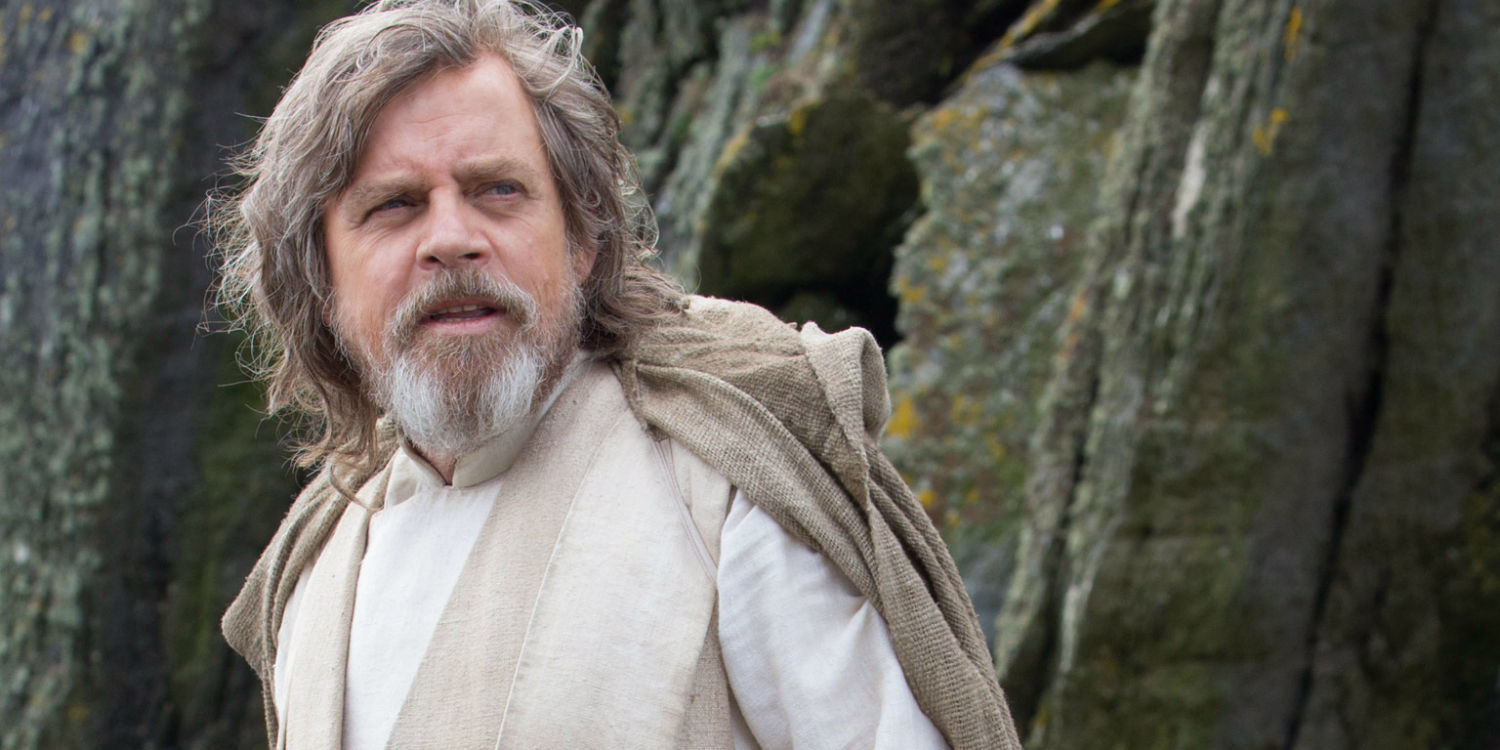 Mark Hamill in 'The Force Awakens'
Who's making 'Star Wars: The Last Jedi'?
Kathleen Kennedy and her Lucasfilm team are in charge again, as they were on 'The Force Awakens' and 'Rogue One'. But the creative team is – virtually – all new.
Directing and scripting is Rian Johnson, a bold and promising choice. He's the guy who made hit high-school thriller 'Brick' when he was just 32, and in 2012 made a big splash with his sci-fi drama 'Looper'. We know he's great at creating striking characters and intense situations .('Force Awakens' co-writer and Star Wars veteran Lawrence Kasdan predicted that Johnson's movie would be 'some weird thing'). But we've no idea if he can handle the kind of spectacular, effects-heavy action a Star Wars movie requires.
Johnson's bringing a lot of his own people on board for 'The Last Jedi', including cinematographer Steve Yedlin and editor Bob Ducsay, both of whom worked on 'Looper'. Happily, though, composer John Williams will be back to sprinkle his singular magic.
Who's in it?
The cast from 'The Force Awakens' is all returning – with one obvious exception (and you never know, he might pop up in a vision or a flashback). So that's Daisy Ridley as Rey, John Boyega as Finn, Adam Driver as Kylo Ren, Lupita Nyong'o as Maz Kanata and Oscar Isaac as Poe, plus Mark Hamill as Luke, Anthony Daniels as Threepio and Peter Mayhew doing at least some of the Chewbacca scenes (knee trouble prevents him from doing anything too strenuous). Gwendoline Christie will hopefully have more to do this time as Captain Phasma, and we'll hopefully learn a lot more about Andy Serkis's CGI villain Snoke.
The film will, of course, also mark the final ever screen appearance by Carrie Fisher as Princess Leia, who'd shot all her scenes for 'Episode VIII' – and won't be digitally resurrected in future instalments.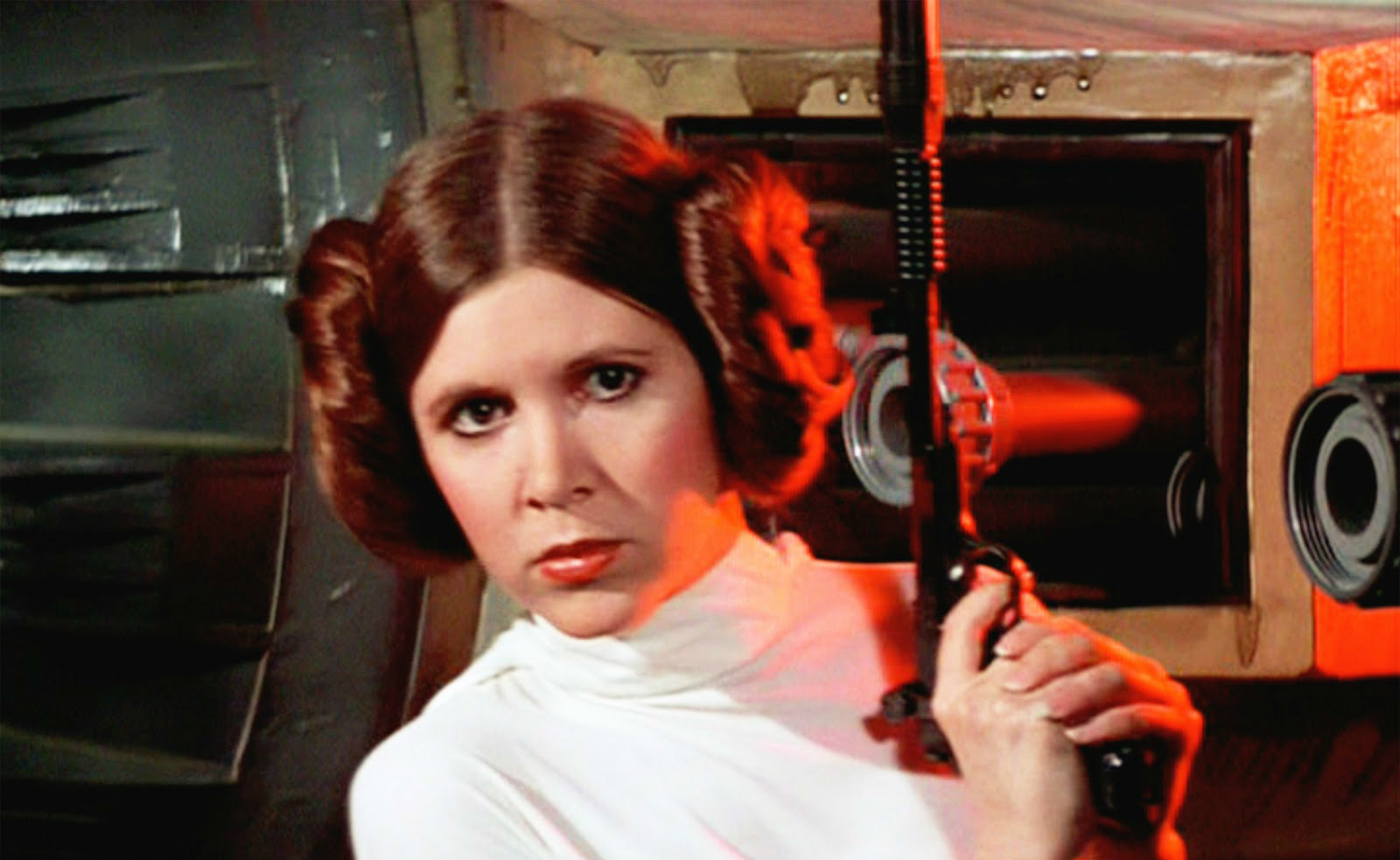 Carrie Fisher as Princess Leia
That leaves us with the newcomers – and they're an impressive bunch. Benicio del Toro has been hauled in to play an as-yet-unspecified baddie ('I'm, like, the villain' he blurted out to a Spanish news site). Relative unknown Kelly Marie Tran is also rumoured to play a key role (still, that's what they said about Gwendoline in the last one). Laura Dern will also play a part, perhaps as a politician at odds with Princess Leia (talk about a battle of the screen titans).
On the rumour front, we've heard that 'Belle' star Gugu Mbatha-Raw may be playing a part that ties to John Boyega's Finn (another recovering stormtrooper, perhaps?), while 'Young Ones' legend Adrian Edmondson is one of the more bizarre picks for a supporting role. Oh, and everyone reckons Tom Hardy's going to pop up as a stormtrooper, the way Daniel Craig did in 'The Force Awakens'.
When and where was it filmed?
Shooting on 'Episode VIII' lasted roughly from February to July last year, in locations including Skellig Michael (the island off the Irish coast that featured at the end of 'The Force Awakens') and Dubrovnik in Croatia, the spectacular walled coastal city that also doubles for King's Landing in 'Game of Thrones'. Interiors and blue-screen photography also took place at Pinewood studios just outside London.
What's the plot?
Now we're into trickier territory. We know exactly how the movie will start – in an unprecedented move for the saga, it'll pick up at the very moment 'The Force Awakens' ended, with Rey holding a lightsaber out to Luke Skywalker on a remote island. That's all we know for sure – but we can guess plenty more.
Several cast members, including Boyega, have commented on the film's 'dark' qualities, which would make sense if 'The Last Jedi' is intended as the hard-hitting 'Empire' to the first film's 'Star Wars'. Oscar Isaac added that the film 'is definitely going to places and investigating things that haven't really been done in the Star Wars universe', which also sounds pretty promising.
But actual plot specifics are still thin on the round. Sneak on-set pics of a lightsaber battle between Luke and a gang of black-clad warrior types strongly suggest that Kylo's mysterious comrades the Knights of Ren will play a big role. Reports of a casino set in Dubrovnik suggest we're in for another room-full-of-crazy-aliens set-piece (some rumours also suggest the place might be run by Benicio del Toro's character).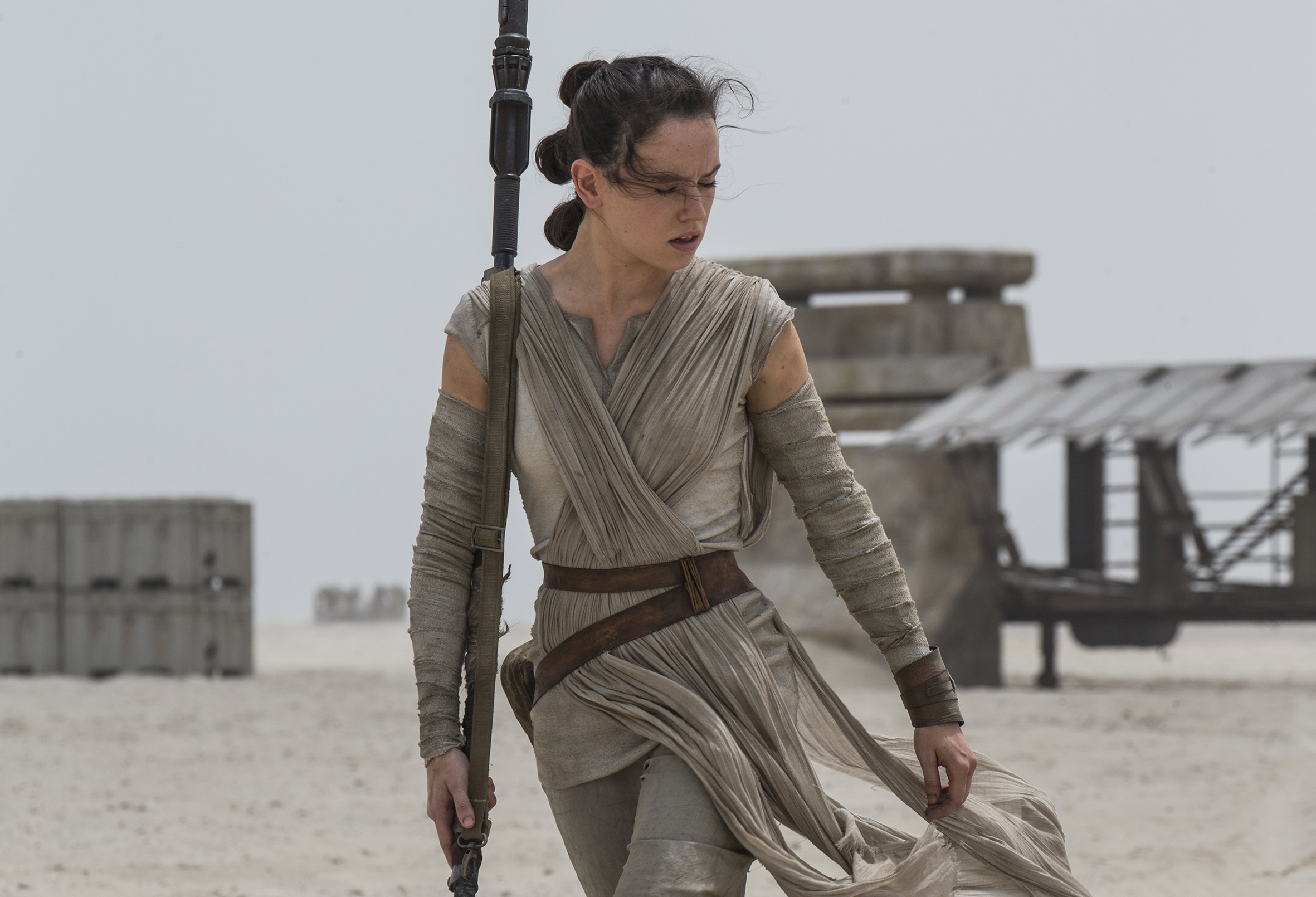 Daisy Ridley in 'The Force Awakens'
There are some major lingering questions from 'The Force Awakens' that we expect to get answers to. Rey's parentage has to be clarified, as does the real identity of Supreme Leader Snoke. We have to know why Luke ran from his responsibilities, and what he's found at the site of the first Jedi Temple. The filmmakers could postpone this information until Episode IX – but that would be a bit cruel.
Will there be romance?
Probably… but not between Finn and Rey. John Boyega was quick to quash any ideas of a Han 'n' Leia style get-together: 'We didn't establish a romance in (film) seven,' he told Variety. 'We never played it that way. Finn and Rey – they're just friends… So the romance thing is something that's going to be interesting in the next instalment. It's not going to go the way you think it's going to go.'
That's not strictly a denial, but it might suggest that each of them could find someone else. Could Finn end up with Tran's character, or Mbatha-Raw's? And might Rey find herself inexplicably drawn to a certain tousle-haired master of evil? Now that would be dark…
We'll be updating this page as and when new discoveries are made – notably, when that long-promised trailer finally shows up. And in the meantime, why not pass the long hours between now and December by taking a look at our list of the 50 Best Star Wars Characters.
Read our interview with the late Carrie Fisher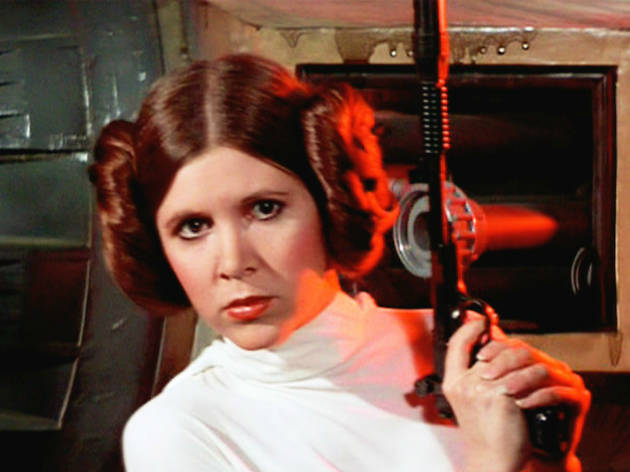 It was summer 2014, and during a day off from filming 'The Force Awakens' at the Star Wars bunker she chatted over Skype...
Support Time Out
We see you're using an ad-blocker. Ad revenue is Time Out's main source of income. The content you're reading is made by independent, expert local journalists.
Support Time Out directly today and help us champion the people and places which make the city tick. Cheers!
Donate now