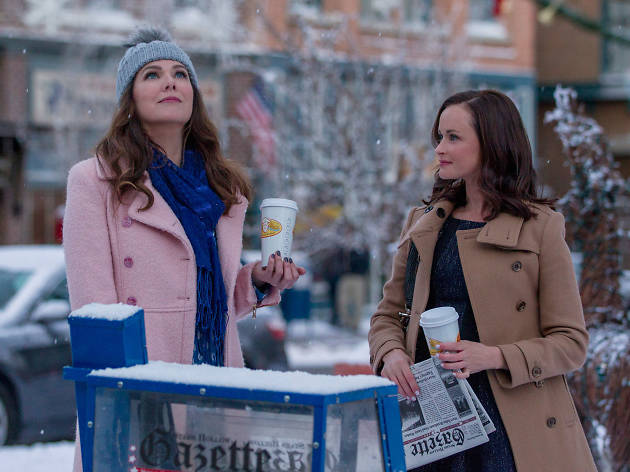 Everything you need to know about 'Gilmore Girls' before the Netflix revival
Never watched? Need a refresher? Catch up with our essential binge guide to 'Gilmore Girls' and the new Netflix episodes 'A Day in the Life'
After ten years, 'Gilmore Girls' is finally back on our telly screens… and we've missed it like Lorelai missed Luke's coffee at the beginning of season seven.
All the key characters are back, and the town of Stars Hollow, with its strange traditions and kooky residents, is still standing. The world is as it should be again. And if don't have a clue what I'm talking about, you need to catch up sharpish. Here's everything you need to know.
So what is 'Gilmore Girls'?
Here's the premise of the original show: 32-year-old hotel manager Lorelai Gilmore (Lauren Graham) lives in a small American town, Stars Hollow, with her sweet, clever 16-year-old daughter Rory (Alexis Bledel). Since becoming pregnant, Lorelai has had little to do with her wealthy parents. But that all changes when she's forced to borrow money from them to pay the fees at Rory's fancy new school and the weekly Friday night dinners begin.
So what's so great about it?
Don't go thinking 'Gilmore Girls' is another cheesy American sitcom. It's quick and clever. It's about family, female friendship, feminism and Lorelai and Rory's epic mother-daughter relationship. It's the funny, endless quotable stuff telly dreams are made of.
Why is it back?

Netflix
is reviving the series, and that's exciting because the original showrunner Amy Sherman-Palladino is back. She left the series at the end of season six after disputes with television network The CW. 'Gilmore Girls' did return for a seventh and final season, but it didn't end the way Sherman-Palladino planned for it to. And season seven, with its unfortunate plot twists, is something of a contentious subject with die-hard 'Gilmore' fans…
What do we know about the new season?
A decade has passed on and off screen since we last saw the Gilmores. Edward Herrmann, who played Lorelai's dad Richard Gilmore, passed away in 2014, so the new episodes will deal with his character's death.
Rory was dating fellow Yale alumnus Logan Huntzberger until the end of season seven, but she also has history with Stars Hollow drip Dean, and Luke's nephew Jess. They are all appearing in the revival.
Lorelai has had an on-off relationship with both Rory's dad Christopher and diner owner Luke for years. We very much want her and Luke to be together. It looks like they are.
Oh, and comedy genius Melissa McCarthy is back as Sookie St James, Lorelai's BFF and business partner at the Dragonfly Inn.
Okay you've convinced me. Which old 'Gilmore Girls' episodes should I watch to catch up?
Obviously we'd recommend you watching it all, but with four new feature-length episodes set to drop on Netflix in less than a month, time is of the essence. Here are the absolute essentials…
'Pilot' (season one, episode one) because it's where it all began.
'Rory's Birthday Parties' (season one, episode six) for the mother-daughter love.
'Christopher Returns' (season one, episode 15) because it suddenly all makes sense.
'Love, Daisies and Troubadours' (season one, episode 21) for the flower-filled proposal.
'There's the Rub' (season two, episode 16) for the Vicious Trollop.
'I Can't Get Started' (season two, episode 22) for the romance (and lack of it.)
'Those Lazy-Hazy-Crazy Days' (season three, episode one) because of all the drama.
'They Shoot Gilmores, Don't They?' (season three, episode seven) for the costumes, the dancing and the love triangle.
'A Deep-Fried Korean Thanksgiving' (season three, episode nine) for the food and the friends.
'Those Are Strings, Pinocchio' (season three, episode 22) because you'll cry at Rory's speech.
'The Lorelais' First Day at Yale' (season four, episode two) because it's bittersweet. And also the mattress.
'Raincoats and Recipes' (season four, episode 22) for the kiss and the sex and the fact that it might be the best episode of all time.
'Written in the Stars' (season five, episode three) because they finally got together.
'You Jump, I Jump, Jack' (season five, episode seven) because Rory leaps out of her comfort zone.
'Wedding Bell Blues' (season five, episode 13) for the scheming and the surprises.
'The Prodigal Daughter Returns' (season six, episode nine) because we couldn't deal with Rory and Lorelai not getting on.
'Friday Night's Alright for Fighting' (season six, episode 13) for an epic Friday night dinner.
'I Get a Sidekick Out of You' (season six, episode 19) for Lorelai's drunken speech.
'Bon Voyage' (season seven, episode 22) because it's where it all came to an end.
Should I have snacks?
Piles of them, the junkier the better. Lorelai and Rory never cook or eat vegetables – they live on Pop Tarts and drink far too much coffee. So basically nothing with any nutritional value.
Congratulations. You've been Gilmored.
'Gilmore Girls' seasons 1-7 are available on Netflix UK. 'Gilmore Girls: A Year in the Life' is available from November 25.
More TV to look forward to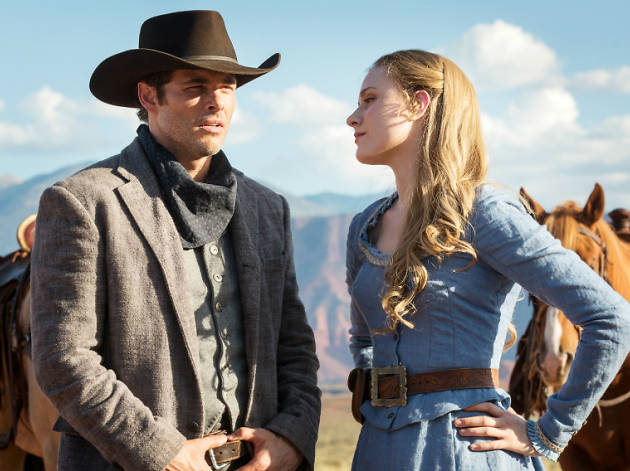 Our pick of the best series coming to Netflix, Amazon Prime, Sky and good old-fashioned terrestrial TV before the end of the year.