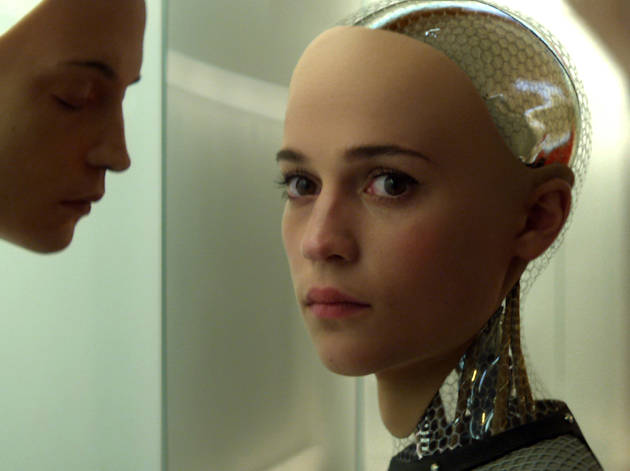 Stephen Hawking has warned us that the growing power of artificial intelligence could spell the end of the human race. Technology has not yet reached the point where a robot has passed the Turing test—fooling people into believing they're talking to a human. But screenwriter and novelist Alex Garland's debut feature takes us to the very moment of that technological birth. What might it look like when we get there?
Pretty damn slinky, as it happens. Caleb (Domhnall Gleeson) is an ace computer programmer who wins a competition to visit the remote home of his Silicon Valley company's charismatic billionaire founder (Oscar Isaac). Caleb's task is to test his boss's new invention: Ava, a robot whose glowing LEDs and whirring servos combine with a lithe feminine form and the angelic features of actor Alicia Vikander. Caleb isn't just convinced, he's smitten, but the more he learns about the relationship between Ava and her volatile, hard-drinking creator, the more concerned he becomes for her future.
There are elements of romance and dystopian thriller here, though Garland's art-house pacing keeps us waiting for these threads to emerge, lining up thoughtful dialogue exchanges between man and machine. Vikander's spellbinding, not-quite-human presence (her synthetic skin is silky yet creepy) keeps us watching. But an obvious twist and some clunky developments—how about those sudden power cuts?—drain much of the credibility from a story that promised so much. A bit more intelligence wouldn't have gone amiss.
Release details
Release date:
Friday January 23 2015
Duration:
108 mins
Cast and crew
Director:
Alex Garland
Screenwriter:
Alex Garland
Cast:
Domhnall Gleeson
Oscar Isaac
Alicia Vikander

Average User Rating
3.2 / 5
Rating Breakdown
5 star:

0

4 star:

6

3 star:

1

2 star:

0

1 star:

2
Like almost everything Alex Garland is involved in, this is brainless, derivative junk masquerading as smart cinema. The time is right for a brave and groundbreaking take on AI, but this film takes the easy route at every conceivable opportunity. This is a textbook example of a dumb movie that's just smart enough to make stupid people think it's really clever. Avoid.

Interesting: I half-expected accusations of misogyny from Time Out and three stars from them is a good result (and well-deserved).
Intelligent, enjoyable, well acted, well shot and well paced - solid 4 stars

It's a pretty good movie. But I am writing to say how annoyed I become at critics that toss off remarks like 'obvious twist'. Trust me, I've seen a great many movies and literally thousands of twists. Part of the denouement of this movie was indeed obvious - but one of its strengths was that the overall resolution of the story was anything but obvious, and, indeed, imposible to predict.
Intelligent science fiction drama set in a beautiful location. Three and a half stars.