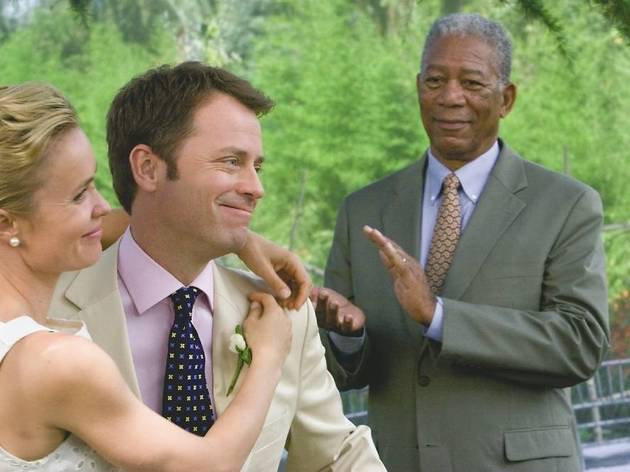 This romantic drama gets off to a promising start. Unhappily married Kathryn (Selma Blair) has attracted the attention of Jenny (Stana Katic) during a game of softball. The warning bells should have rung there for Kathryn's husband, Bradley, but he's played by Greg Kinnear, so he's blissfully ignorant, and fails to notice when Jenny seduces his wife under his very nose. Not so inattentive is his professor friend Harry, who is played by Morgan Freeman, so he's deeply wise and observant. Throughout the film, Harry regales the audience with platitudes about love as he watches coffee shop owner Bradley and his young employees form new relationships. It's a pity the film strays from Kinnear and Blair – free-spirited waitress Chloe (Alexa Davalos) and ex-druggie Oscar (Toby Hemingway) make an unconvincing couple, not helped by his performance and a clichéd script. But Kinnear offers likeability and laughs, and Radha Mitchell brings some depth to a morally ambiguous estate agent. It's a pretty, occasionally witty love-fest, with a surprising amount of flesh on display. But its increasingly mawkish tone means it's for softies only.

Release details
| | |
| --- | --- |
| Rated: | 15 |
| Release date: | Friday October 5 2007 |
| Duration: | 102 mins |
Cast and crew
Director:
Robert Benton
Screenwriter:
Allison Burnett
Cast:
Morgan Freeman
Jane Alexander
Radha Mitchell
Greg Kinnear
Selma Blair
Toby Hemingway
Alexa Davalos
Billy Burke
Stana Katic

Average User Rating
2.5 / 5
Rating Breakdown
5 star:

0

4 star:

0

3 star:

1

2 star:

0

1 star:

0
After watching this film I thought, at long last, I would agreee with a TIME OUT review. Not to be. I read with HORROR when I got home the TIME OUT review and noted they gave it 3 stars. This film is the BIGGEST rubbish I have seen all year. I am giving it 1 star only because they turned up and the pop corn good. Totally unconvincing acting of a shallow plot with forgetable music in a desolate location. I would love to have seen the pitch to the studio because this must have taken some skill. As the old men in the Muppets used to say, "There's one way they could improve this film...bring the end closer to the beginning!"
I watched this film in Singapore and i think the sex part is great but this is a rather floppy movie because it doesn't have a complete story telling power. True that there are about love but what is the highlight that tha dircetor is trying to tell? I can only think that the part where Oscar is dead is a sad reality that life is short and when life is lost, love still goes on and on and the i think this film is going nowhere. If you are looking for sex and Billy naked body, you are in for a treat. He is a real hottie in this film and you can see a lot of nudity . I love the sex part but the ending is terrible and where is the focus of the story?