The top ten female action heroes
Stand in the way of these screen women at your peril…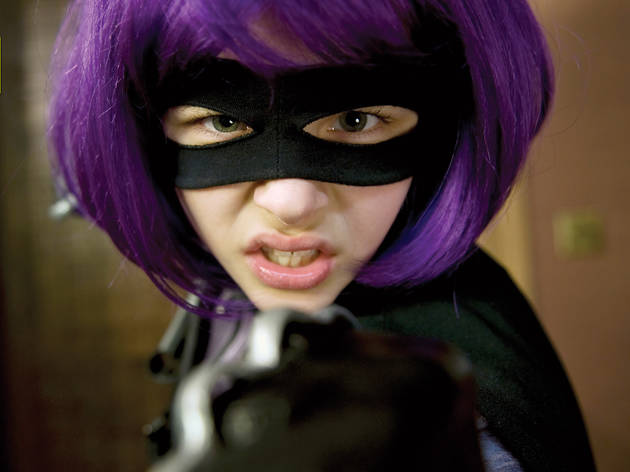 1/10
Chloe Moretz as Hit Girl in 'Kick Ass' (2010)
Who is she?
A little girl who lets rips with the c-word and sends knives flying without mercy. Hit Girl has been home-schooled in the art of assassination.

Deadliest move
Rescuing Kick-Ass from a drug dealer's flat, she picks her foes off one-by-one. To be fair, she has the element of surprise to her advantage: no one expects a killer 11-year-old girl in a mask and purple wig to come a-knocking.

Killer line
'Okay you c***s. Let's see what you can do.'

Training
Moretz spent three months training with Jackie Chan's personal stunt team.

Read more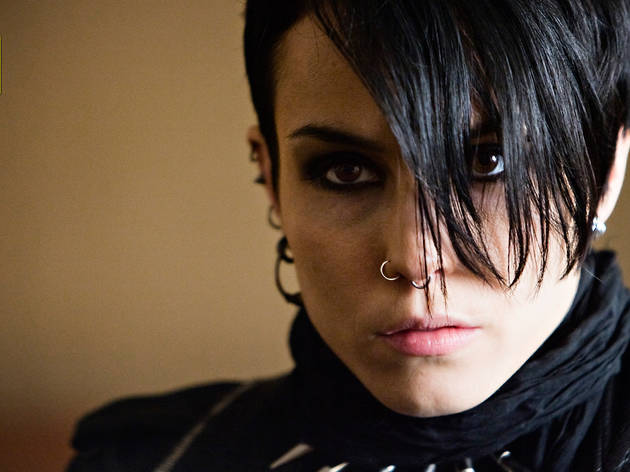 2/10
Noomi Rapace as Lisbeth Salander in 'The Girl with the Dragon Tattoo' (2009)
Who is she?
A lethal avenger and computer hacker with a photographic memory, she's the best thing in the Scandi films of Stieg Larsson's Millennium trilogy. A total dark heart.

Deadliest move
Lisbeth's street justice on her rapist tormentor, culminating in her tattooing 'I am a sadistic pig and rapist' across his chest.

Killer line
During that tattoo scene: 'I've never done this before. Hold still, or it'll get messy.'

Training
Rapace learned kickboxing, how to ride a motorbike, got piercings and dyed her hair black. She drew the line at tattoos; they washed off.

Read more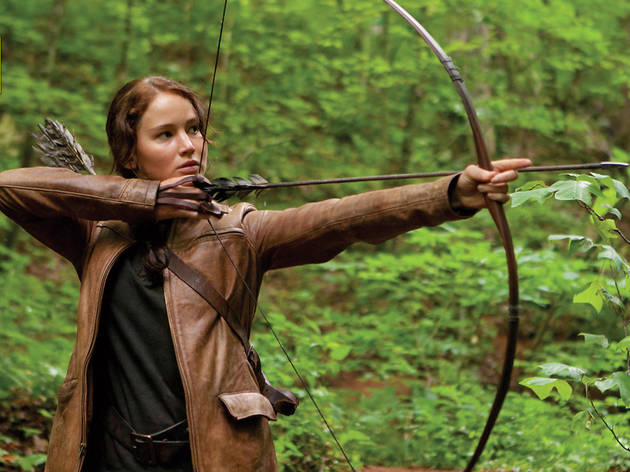 3/10
Jennifer Lawrence as Katniss Everdeen in 'The Hunger Games' (2012)
Who is she?
A tough, resourceful kid from a dirt-poor neighbourhood, she becomes the symbol of the revolution against The Capitol (at least she will do if the movies ever get round to the actual revolution, that is).

Deadliest move
With ice-cold precision, Katniss shoots an arrow straight through an apple into the mouth of a huge roasted pig. Okay, she faces off against more lethal opponents, but context is everything: this is the moment that The Capitol sits up and takes notice.

Killer line
'I'm an open book, everybody always seems to know my secrets before I know them myself.'

Training
Lawrence learned archery, rock climbing, combat, running and – less likely – yoga ('to stay catlike').

Read more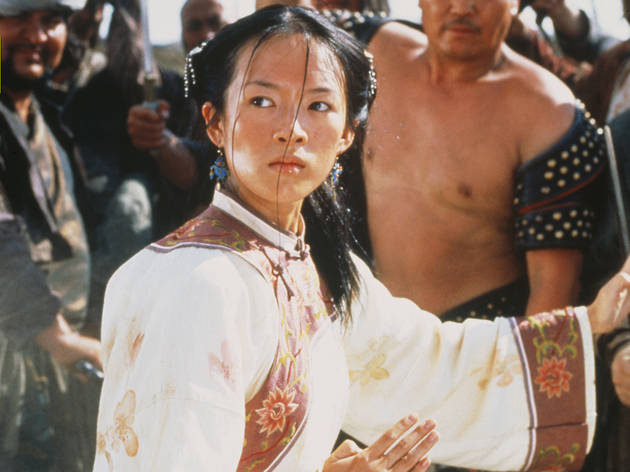 4/10
Zhang Ziyi as Jen Yu in 'Crouching Tiger, Hidden Dragon' (2000)
Who is she?
The daughter of a wealthy district governor in nineteenth-century China who dreams of an outlaw's life.

Deadliest move
Her ability to handle a breathless, exhilarating sword fight in a bamboo forest, perched on branches that sway high above the ground.

Killer line
'You want to know who I am? I am... I am the Invincible Sword Goddess.'

Training
Zhang said that years learning traditional Chinese dance and ballet laid the groundwork for the choreography of the stunning dance sequences.

Read more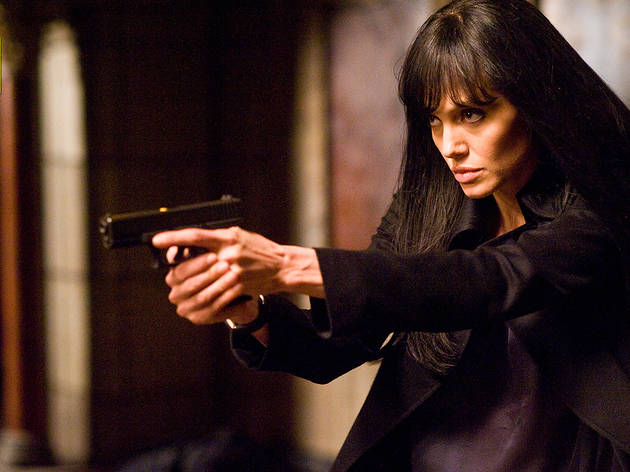 5/10
Angelina Jolie as Evelyn Salt in 'Salt' (2010)
Who is she?
A CIA special agent accused of being a Russian spy. Famously, she was very nearly a he. The role of Evelyn Salt was written as Edwin Salt for Tom Cruise.

Deadliest move
Killing a man while handcuffed. Salt spots her target and, lightning-fast, wraps her chains around his throat, leaps over a bannister and chokes him to death. Smooth.

Killer line
'I'm not a goddamn Russian spy.'

Training
Jolie learned krav maga, the Israeli Defense Forces's martial art of choice, and took espionage lessons from a former US intelligence officer with 14 years experience undercover.

Read more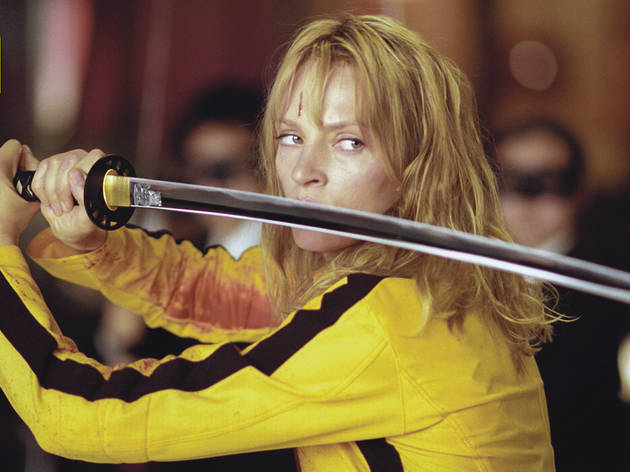 6/10
Uma Thurman as The Bride in 'Kill Bill' (2003)
Who is she?
A deadly assassin and killing machine. Now The Bride is attempting to go straight. But her former associates have got other plans and she takes a bullet in the head on her wedding day.

Deadliest move
The Bride hacks her way through all 88 members of the black-suited yakuza gang the Crazy 88s with her samurai sword, pausing momentarily to rip a man's eyeball out of its socket.

Killer line
'I'm the deadliest woman in the world – but right now, I'm just scared shitless about my baby.'

Training
Thurman – just three months after giving birth – learned three styles of kung fu, sword fighting, knife throwing, hand-to-hand combat and how to speak Japanese.

Read more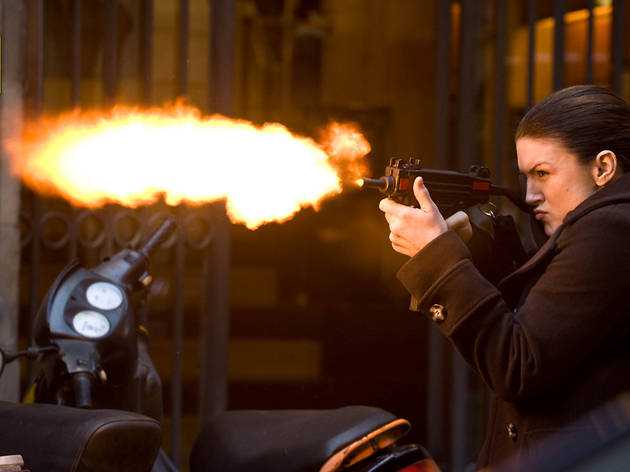 7/10
Gina Carano as Mallory Kane in 'Haywire' (2011)
Who is she?
A CIA-trained mercenary who goes after the bosses who betray her, impressively butt-kicking Hollywood alpha men Channing Tatum, Michael Fassbender, Antonio Banderas and Ewan McGregor. Steven Soderbergh wrote the part for martial arts fighter Gina Carano after spotting her on TV.

Deadliest move
Taking out Michael Fassbender in a hotel room while wearing a cocktail dress. Classy and deadly.

Killer line
'Urr-rah'. Mallory Kane doesn't say much. Too busy battering.

Training
A little muay thai (fists, elbows, knees and feet). All in a day's work for Carano, who appeared on TV's 'American Gladiators' and earns up to $35,000 (£22,000) a fight.

Read more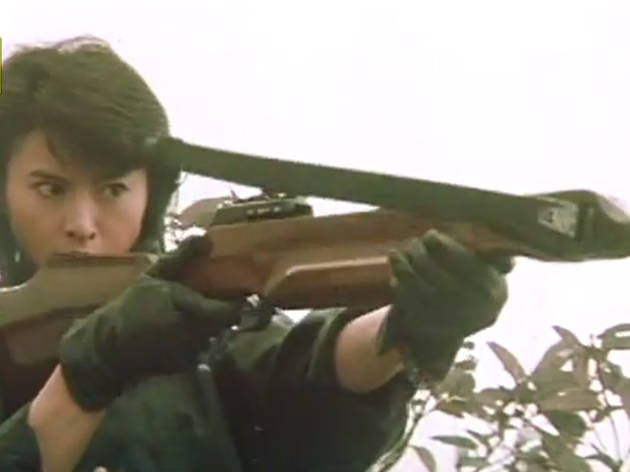 8/10
Moon Lee as Moon in 'Iron Angels' (1987)
Who is she?
One of a trio of outrageously badass kung-fu fighting females who take on the gangsters running Thailand's opium trade. As the title suggests, this takes a few nods from the old 'Charlie's Angels' TV series – but Moon could eat Farrah Fawcett for breakfast.

Deadliest move
In the film's factory-fight finale, she single-handedly takes out about 30 guys with a length of lead pipe before going on to pound the living hell out of sneering supervillain Yukari Oshima.

Killer line
It's not really a chatty movie, but she does say 'Ha!' a lot.

Training
This star of well over 100 movies and TV shows trained first as a dancer, which shows in her spectacularly graceful and balletic martial arts moves. After retiring from acting she went back to her first love, and now runs a prestigious dancing academy in Hong Kong.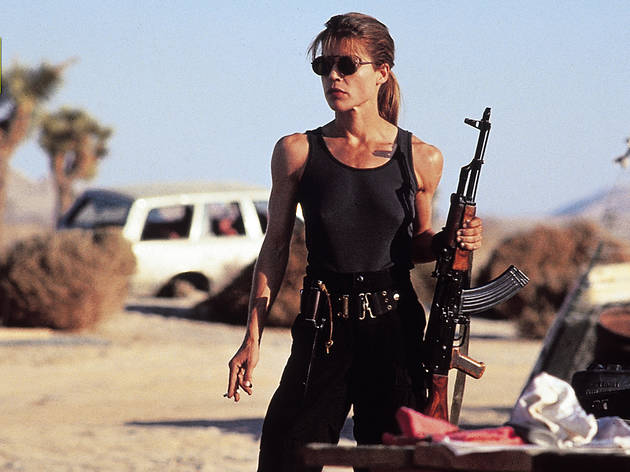 9/10
Linda Hamilton as Sarah Connor in 'Terminator 2: Judgment Day'
Who is she?
Like the Virgin Mary, Sarah Connor gives birth to the saviour of humanity. Her son John is the future leader of the human resistance to Skynet. And just like the baby Jesus, dark forces want him dead.

Deadliest move
Busting out of a psychiatric hospital by breaking the arm of her smugly sexist doctor.

Killer line
After the arm-breaking episode: 'There's 215 bones in the human body. That's one.'

Training
Three hours a day, six days a week before the shoot and for six months during. An Israeli commando taught her judo and military training.

Read more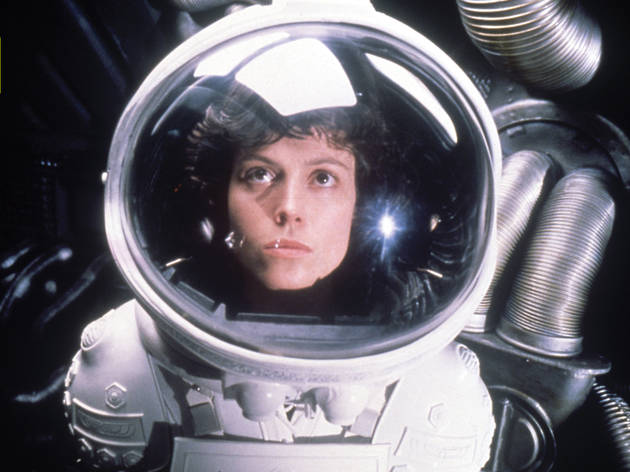 10/10
Sigourney Weaver as Ellen Ripley in the 'Alien' franchise (1979)
Who is she?
One of seven astronauts working on a commercial space tug, the Nostromo. It was director Ridley Scott's idea to make Ripley female. Sigourney Weaver came in to audition for the role of lesser astronaut Lambert, but as soon as Scott clapped eyes on her, he knew. 'Bang, there was Ripley. She was six foot two in high heels. A giant. That was it.'

Deadliest move
Taking out the alien queen in 'Aliens' in the mother of all smack-downs.

Killer line
'We blow it the fuck out into space!'

Training
No time. Sigourney Weaver was the last character to be cast. By the time of 'Aliens', though, we reckon she'd spent a few evenings in the gym.

Read more