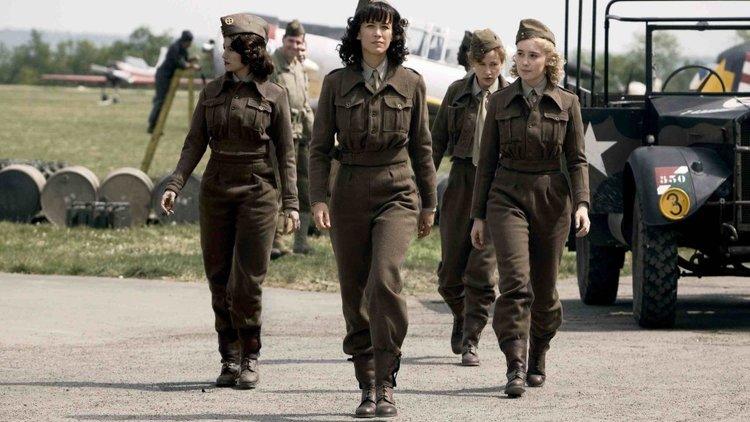 Or 'Band of Sisters'. 1944: a team of female French evacuees, led by Sophie Marceau's battle-weary resistance fighter, are hired by the Special Operations Executive to infiltrate a Nazi hospital and retrieve a geologist who holds information key to the impending Normandy landings. But, following possibly the least subtle rescue attempt in espionage history, the mission is compromised and this well-scrubbed half-dozen are forced to flee to Paris, evading the Gestapo and plotting the murder of villainous Oberst Heindrich (a sneering Moritz Bleibtreu).

'Female Agents' is a proud throwback to the classic wartime spy thriller, tossing in all the expected plot twists, double crosses and foot chases. But it never manages to capture the spirit of its forebears thanks to a plodding script, uninspired direction and some unintelligible narrative convolutions. The (notably male) filmmakers' attitude towards their heroines is oddly skewed: Marceau's ball-busting Louise cuts a fine figure, but her sister agents are a useless bunch.

Variously weak, flighty and treacherous, they tend to spend much of their time stripping off and being tortured– there are some troubling scenes, culminating in a tasteless naked suicide loaded with redundant religious symbolism. There's a fair amount to appreciate here, much of it cosmetic: the period recreation is superb, and the striking central cast carry off their dashing '40s couture with aplomb. But one can't help feeling that the heroines who inspired the story deserve a more spirited tribute than this coarse, derivative girl's-own adventure.
Release details
| | |
| --- | --- |
| Rated: | 15 |
| Release date: | Friday June 27 2008 |
| Duration: | 117 mins |
Cast and crew
Director:
Jean-Paul Salomé
Screenwriter:
Agnes Claverie
Cast:
Sophie Marceau
Julie Depardieu
Marie Gillain
Déborah François
Moritz Bleibtreu

Average User Rating
3.8 / 5
Rating Breakdown
5 star:

0

4 star:

2

3 star:

0

2 star:

0

1 star:

0
Yet again, a Time Out review provides a completely misleading impression.. The shallowness and lack of taste attributed to the film is really that of the reviewer, who responds with the head rather than the heart . . . a common fault in young `up-themselves `reviewers with little experience of the world outside the wine-bars of Islington. Admittedly the female agents are an attractive bunch, also unforgivable in the eyes of feminist reviewers, who prefer their female heroes to be ugly and cerebral. The film is fast-moving with graphic realistic action scenes . .. . and ironically it is these actions scenes with their strong doses of violence, death and torture which are the most effecting in that they highlight the extreme suffering undergone by so many women during the Seoond World War. Women are not as physically strong as men, and cannot as easily harden themselves for the ruthlessness needed in conflict situations. There is then a poignancy in the film which goes deeper than those war-films overloaded with aesthetic artifice and `auteur' sensibilities. The `posturing` in the Time Out review is nowhere to be seen in the film and the film is the better for it.
This is a far better movie than the reviewer suggests. There's nothing gratuitous about the tiny amount of nudity shown and the symbolism criticized here is actually a very well explained aspect of a character's personality which makes sense in context. It's a shame that an adult treatment of sexuality in film is viewed with a pseudo feminist puritans eye. Rape has long been used as a weapon against women and this film avoids that issue entirely. There's nothing exploitative here at all. The movie's not quite as stirring as it might be, 'Black Book' was both more visceral and plausible than this very traditionally constructed piece. Sophie Marceau and Julie Depardieu are well worth the price of admission. Anyone who wonders where all the good female roles are will enjoy it hugely.