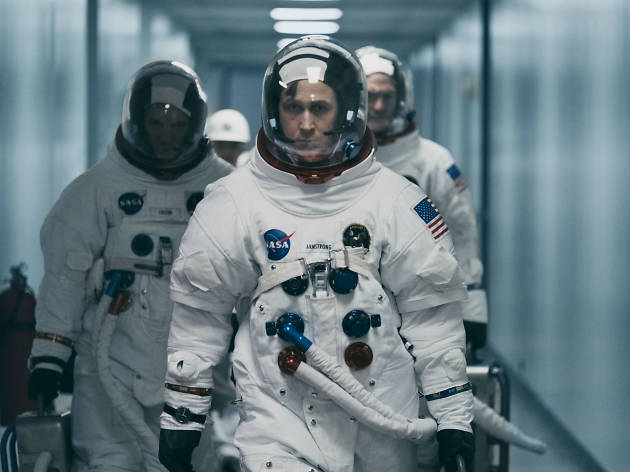 'La La Land's Damien Chazelle turns the epochal 1969 lunar landing into a piece of breathtaking visual poetry.
A stellar injustice: Hollywood has made a movie about a faked Mars landing—1977's deliriously silly 'Capricorn One'—but has never given the historic first moon landing its due. That's not so hard to explain. While inspiring on a global scale, the 1969 accomplishment was pretty straightforward, dramatically speaking. Cool competence ruled the day and made it happen. The real thing was better than any film could be.
Thrilling when it escapes the gravity of drab living rooms and offices, 'First Man' does an admirable job of complexifying a well-told tale. It presents Neil Armstrong (Ryan Gosling, suitably square) as a guy who, in 1961, was both puncturing the barriers of human knowledge by flying experimental planes 140,000 feet over the Mojave Desert, as well as someone who was banging his head against the finite limits of a medical science that couldn't save his daughter from a malignant brain tumor.
Faced with that pain, Armstrong (if we're to believe Josh Singer's script, sourced from James R. Hansen's authorised 2005 biography) did what many military men of the '50s and '60s did: shut off emotionally and turn inward. 'First Man' makes Gosling colder than he was in 'Blade Runner 2049' as a replicant, itself a NASA-level achievement. Claire Foy, already stranded in one of those underwritten astronaut-wife roles, has so little to work with from Gosling, her big meltdown scene takes on a desperate grandeur.
But you come to appreciate Gosling's reserve, his shirt-and-tie starchiness and the way he solemnly shakes his young son's hand at the dinner table instead of verbalising that it may be their last meal together. 'First Man' rides this idea, that Armstrong's cool-headed stoicism was required to accomplish the impossible. It's a concept that somewhat hamstrings 'La La Land' director Damien Chazelle from unleashing what he usually can do with actors, but he gets at emotions through alternate means: He's made another dance movie, the spacecraft waltzing in Kubrickian harmony, the stars glinting.
That's the main event you're coming to see, and Chazelle adds layers of historical complexity to his already stratospheric technique. Before the lunar attempt, he cuts to rioting hippies, not thrilled with the colossal expense of the mission, as well as archival footage of Kurt Vonnegut suggesting that an 'inhabitable New York City' might be a worthier goal. By the time Chazelle hits his 'Right Stuff' moment, the astronauts striding down the platform toward destiny, the launch has come to mean a million different things – including, ominously, an opportunity for a worldwide funeral. (We hear William Safire's unused presidential speech, written in case it turned out to be a disaster.)
And then it happens: the eeriest, most heart-stopping sequence of the year. (You can't understate the importance of composer Justin Hurwitz's suspenseful John Barry-ish score and – you feel the freshness of this – an utter lack of cheering crowds back home.) 'First Man' is comfortable in Armstrong's quietude, his internalised grief put to cosmic purpose. Let those who come to the theatre counting American flags get incensed over nothing. They'll miss something more provocative: a moment when the nation pursued excellence and, in turn, was celebrated for how smart it could be, and how big it could dream. That's the statement Chazelle has made, one that deserves trumpeting.
Release details
Release date:
Friday November 2 2018
Duration:
0 mins
Cast and crew
Director:
Damien Chazelle
Screenwriter:
Josh Singer
Cast:
Ryan Gosling
Claire Foy
Jason Clarke

Rating Breakdown
5 star:

1

4 star:

2

3 star:

3

2 star:

2

1 star:

1
We all know the story so the emphasis here is on the power of the visuals, the imagery and the score. These all work wonderfully (it is shot beautifully) but the film is just a tad over-long and its emotional engagement is as cold and distant as the moon. Other than that, top notch. Great to see such a poetic piece of film-making packing them in.
Good film.
Neil Armstrong life and his struggles before becoming the 'First Man' on the moon.
This film seemed to fall into the trap affecting so many recent films; way too long, mumbled dialogue & poor script. The repetition of some of the special effects was so unnecessary. His first flight in an X-15 shows him being shaken and rattled about for a good 10 minutes, and then this is repeated on numerous other occasions, We get it - flying in a spaceship is loud and shaky ! we don't need 30 minutes of it.
There's nothing wrong with explaining things more clearly, a lot of the technical stuff is just brushed over, or they might be explaining it, but it's lost in the mumbling.
It was very difficult to draw empathy with the characters - we know that Neil Armstrong was a brilliant aeronautical engineer who could think on his feet and improvise solutions to what was real 'fly-by-seat of pants' technology, and not necessarily a charismatic screen star, but the dourness and drabness seemed to be way overplayed.
I was surprised to see that Steven Spielberg was an Executive Producer, I would have thought he'd have intervened on some of the main criticisms, his films have really crisp dialogue and don't waste screen time on non-essentials.
It certainly wasn't Apollo 13, and actually there's nothing wrong with films that make you want to cheer the outcome, rather than be reliant on your neighbour to nudge you in the ribs to wake you up.
I agree that the movie is a bit overlong and at times difficult to read but I found it beautiful, moving and gripping.
It is not your standard moon mission film. It shows how dangerous and risky the missions were, I had no idea. Every time they go into one you are transported inside the little rudimental spaceship and it is incredibly tense, The technology is really old and you realise things could - and have - turned out badly.
It also shows Neil Armstrong as a man stricken by grief by the loss of his small daughter and the fact that maybe he signed for the moon mission to go away from earth and his pain.
The film wants to be poetic about one of the most incredible feats of human enterprises - with grief and loss at the heart of it.