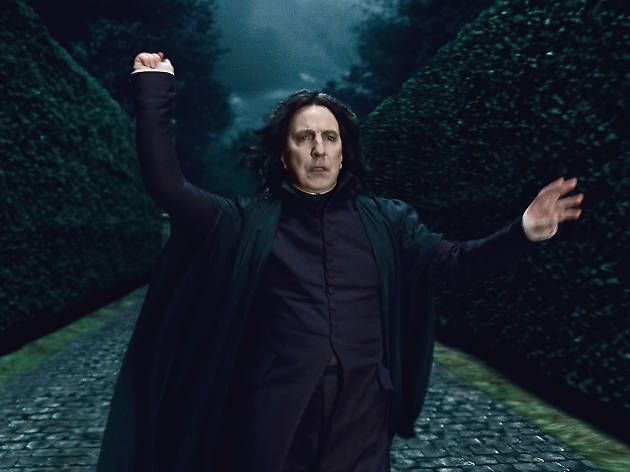 Five great Alan Rickman moments in the Harry Potter movies
The versatile, acclaimed 69-year-old British actor has died. A titan of screen and stage, Alan Rickman won over a whole new generation of fans by playing Professor Snape. We salute the character's finest hours
Alan Rickman, who died this morning at the age of 69, was far from a one-note actor: his turns in everything from 'Truly, Madly, Deeply' to 'Die Hard' prove that. But in recent years, he was best known for one performance in particular: as Professor Snape in the 'Harry Potter' films. But what could easily have become a moustache-twirling pantomime villain became, in Rickman's hands, the most nuanced, complex and, in the end, the most sympathetic character in the entire eight-film series. Spoilers abound as we take a look back over Rickman's most remarkable moments as the sneering, black-wigged educator.
1. Any of the times Snape said 'Mr Potter…'
As seen in: Most of the movies
From the very first film, Snape was unable to hide his contempt of young Harry. For Rickman, this generally expressed itself in a growing tendency to leave as much time as possible between the first and second syllables of the word 'Mr' every time he addressed the Chosen One.
2. Putting Hermione in her place
As seen in: 'Harry Potter and the Prisoner of Azkaban'
Rickman's way with a putdown had been world-famous since 'Robin Hood: Prince of Thieves', but there's something particularly delicious when those perfectly enunciated barbs are directed at a bunch of plucky upstart kids. His takedown of Hermione – calling her an 'insufferable know-it-all' – has to be our particular favourite.
As seen in: 'Harry Potter and the Order of the Phoenix'
For at least the first five films, Snape was written as little more than a shady creep – but Rickman's performance added light and shade in every scene. This iconic line could have been delivered bluntly or even cruelly – but there's an undercurrent of pity there too. The fact that's it's absolutely true (as this morning's events only go to prove) makes it all the more affecting.
4. The murder of Dumbledore
As seen in: 'Harry Potter and the Half-Blood Prince'
At the time, it seemed shocking. But somehow, we knew Snape's hand was forced when he flung the killing curse at his old friend, the Hogwarts headmaster. His actions may have been brutal, but there was something just under the surface of Rickman's face that told us he was really on the side of the angels. It's so rare that a murder can be depicted as heartbreaking for everyone concerned, even the killer.
As seen in: 'Harry Potter and the Deathly Hallows Part Two'
The full tragedy of Severus Snape only becomes clear in the final film, when his death at the hands of Lord Voldemort leads to his final, tearful revelation. Rickman plays the death scene beautifully – you're right there with him as he speaks his final words to Harry – but the moment is given even more weight in retrospect, after we've seen Snape's despair at the death of his beloved Lily Potter. It's the most powerful scene in the entire series, a moment of heartbreaking pathos from a truly great screen actor. He will be missed.