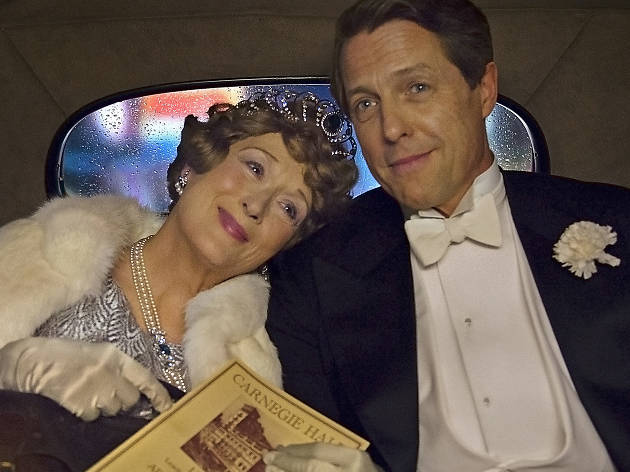 Time Out says
Meryl Streep squawks and warbles through this amusing biopic of a legendarily awful singer
Meryl Streep continues her screw-the-Oscars, life-affirming run of movies with this ridiculously watchable comedy, playing filthy rich socialite Florence Foster Jenkins. In the 1930s, the deluded diva sang at private recitals in New York, warbling opera, blissfully unaware that her hilariously awful singing voice might shatter the chandeliers at any moment. (David Bowie put one of her records on his list of favourite albums.)

Wearing comically vile dresses that look like they're made out of cushion covers and doilies, Streep is clearly having a blast. To sing this badly must stretch as many acting muscles as all that Oscar-winning emoting. When tone-deaf Florence opens her mouth it's like opening the door on a barn full of on-heat foxes. Protecting her from the truth is Florence's younger second husband, St Clair Bayfield (played by Hugh Grant, who has transformed into a silver fox overnight). His mission in life is to keep the 'mockers and scoffers' at bay, bribing audiences and paying off critics. He pampers and fusses over Florence, indulging her every whim (we all need a St Clair in our lives), but comes unstuck when Florence dreams big: hiring Carnegie Hall in 1944.

You could get a bit sour about 'Florence Foster Jenkins'. What would her modern equivalent look like? A Russian oligarch's little princess paying call centres in China to buy her songs on iTunes? But director Stephen Frears sketches out her tragic backstory, and Streep in grande dame mode is not to be missed. 'We're artists. We'd rather go without bread than Mozart,' she trills, like a modern Marie Antoinette.
Details
Release details
Release date:
Friday May 6 2016
Duration:
110 mins
Cast and crew
Director:
Stephen Frears
Screenwriter:
Nicholas Martin
Cast:
Meryl Streep
Hugh Grant
Rebecca Ferguson
Simon Helberg

Average User Rating
3.4 / 5
Rating Breakdown
5 star:

1

4 star:

4

3 star:

2

2 star:

2

1 star:

0
A beautifully well told story of the beloved life of Florence Foster Jenkins. A woman and a human being who never gave up on her everlasting dreams, even if her life depended on it. I believe Meryl Streep performed, acted and created her Florence with absolute truth, with pride and with dedication. She gave her utmost to act an exquisite, flamboyant figure of the 1930s-40s. Streep portrayed a character that deep down everyone fell in love with. I didn't once feel any pity for this spectacular character because I knew that she would surpass the unfortunate events of her life and move forwards to be the best that she can.
She would never let anyone contradict her dreams of achieving.
Yes I agree that she probably didn't have the faintest idea of how incredibly grotesque she sounded while singing opera, but it's her drive, her passion, her love, and her kindness that shines through to make this film a masterpiece.
St. Clair (Hugh Grant) played a very peculiar role. He was indeed a player, but he cared so much for Florence that he didn't want her to be unhappy. He did everything in his power to make her life an unforgettable, memorable one. A life where she accomplished her goals.
I truly believe that this is what he wanted for her. To see her content, which I found quite emotional.
Cosme McMoon (Simon Helberg) was indeed a splendid, magnificent character in the film. This was a blast of a comedic film, but Cosme made me laugh the most.
His facial expressions, his manner, his tone really added the special touch to make this film what it is. A honourable tribute to a powerful woman. He stood by her side and that was quite admirable.
I absolutely adored and fell in love with the use of art being displayed throughout the film. It had this decadent, artistic setting to the look.
It is glamorously attractive and completely seductive to the eye.
Let Florence Foster Jenkins intoxicate you in this dramatic ensemble.
#TOTastemaker
Love MD.
American society dame can't sing, she is totally unaware, and none of her chums tell her. This thin story has been expanded into a two hour film.
Stephen Frears is a brilliant director, so this is especially disappointing.
I'm sure the film will be a great success, but will only be appreciated by an older audience who don't get out much.
Hmm..A rather old fashioned film which is has a little too much slapstick for my taste..The joke of her not being able to sing and being unaware of her limitations is stretched too far..Grant plays his usual debonair cad.Overall it is a mild,watery film that pensionaires would find hilarious.Others might find it a bit lame.3 stars