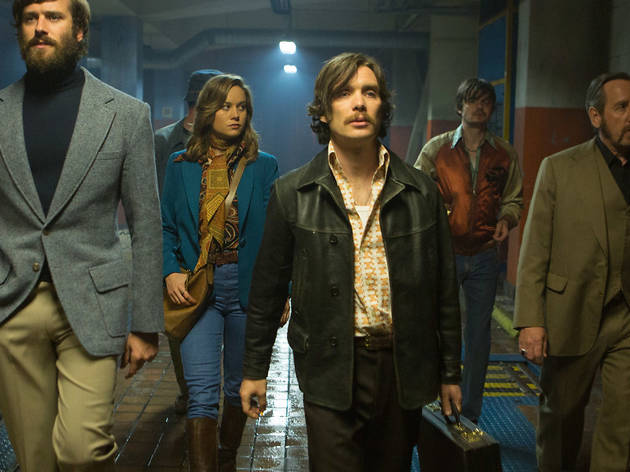 Brie Larson, Cillian Murphy and a dazzling cast assemble for Ben Wheatley's blistering, bullets-flying action movie set in 1970s Boston
A prodigiously talented cast is drowned out by a cacophony of gunshots in 'High-Rise' director Ben Wheatley's entertainingly absurd riff on a 'Reservoir Dogs'-style crooks 'n' quips caper. It's the kind of guns-blazing free-for-all that might be described as a 'bullet ballet'. But this is more like bullet fringe theatre: a bold, stagey, intentionally repetitive and borderline experimental attempt to strip the crime flick down to its absolute bare essentials: criminals, cursing, double-crosses and lots and lots (and lots and lots) of shooting.
Set in Boston in 1978 (but shot, weirdly, in Brighton), the opening half-hour is a riot of cool tunes, hot threads, big hair and vintage motors, as IRA operative Chris (Cillian Murphy) cruises along to an arms deal hosted by brokers Justine (Brie Larson) and Ord (Armie Hammer). The seller is Vernon (Sharlto Copley), a touchy South African with a van full of Beretta machine guns. As the parties convene at a remote dockland warehouse, it turns out that they've each brought along at least three friends – the cast expands to include Michael Smiley, Sam Riley, Noah Taylor and Jack Reynor (channelling Seth Rogen as a bearded stoner). But when it turns out two of these jokers have an existing beef, everything goes to hell very quickly. And stays there.
The last hour of 'Free Fire' is one long, noisy and increasingly bonkers shootout, as treachery is uncovered and allegiances shift, and the characters get picked off one by one. Wheatley stays close to his actors, hurling us neck-deep into the mayhem until it becomes hard to know exactly what's going on – who's alive, who's dead and who's bleeding noisily on the concrete.
It doesn't entirely hold together; the relentless din and repetition flips from thrilling to exhausting and back again more than once. But in those moments when everything clicks – when Copley's nasal bitching ricochets off Smiley's grizzled obscenities and slams into Larson's perfect poise – this is absolutely joyous.
Release details
| | |
| --- | --- |
| Rated: | 15 |
| Release date: | Friday March 31 2017 |
| Duration: | 91 mins |
Cast and crew
Director:
Ben Wheatley
Screenwriter:
Ben Wheatley, Amy Jump
Cast:
Brie Larson
Sharlto Copley
Armie Hammer
Cillian Murphy

Average User Rating
3.5 / 5
Rating Breakdown
5 star:

1

4 star:

3

3 star:

1

2 star:

0

1 star:

1
Sadly I have to say that massively talented Ben Wheatley and his equally brilliant collaborator and partner Amy Jump seem to be going totally down the proverbial pan.
After such a promising early succession of great movies, "Down Terrace", "Kill List", "Sightseers" and "Field in England", he well and truly hit the bumpers with "High Rise" which utterly mangles Ballard's fine novel and wastes a fine array of actors with confused and pointless drivel.
But worse was to come with this silly and trivial film which, again, starts with a nice idea and then chucks it away with utter nonsense.
After establishing the late '70s period with hair styles and clothing, it goes downhill very quickly.
To emulate a Tarantino "Reservoir Dogs" scenario (Villains in a closed area after a gone-wrong situation and a possible grass) you have to have some sort of shape, form, plot and sense of character and drama all of which are totally lacking.
After the initial obscene dialogue from the low-life arms sellers and IRA thugs most of the action is a ridiculous and interminable shoot-out and ear-splitting gunshots and ricochets. Despite implausible injuries none of the characters actually dies. That is unfortunate because it might have spared us earlier what seemed like ages of pointlessness.
If you like intelligent, well thought out drama stay well away from this load of rubbish.