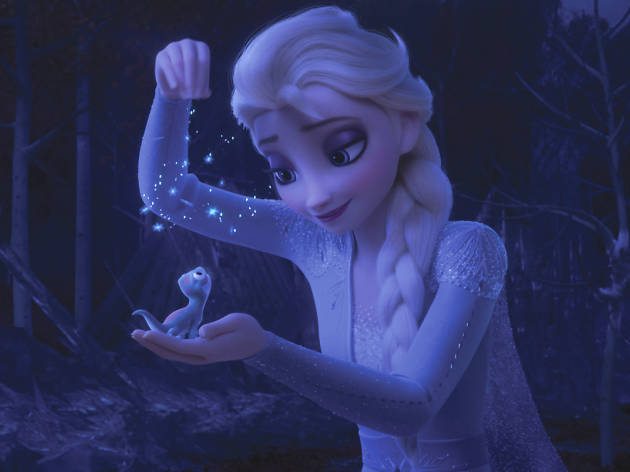 Time Out says
Elsa, Anna and co return with another irresistible mix of big laughs, killer tunes and operatic moments.
It's pretty weird to think that Disney used to recycle its own animations to save a few bucks. So, Baloo from 'The Jungle Book' magically became Little John in 'Robin Hood' with a little sleight of hand by its toiling animators. Of course, that was long before the Mouse House became a world-conquering animation behemoth on the back of Pixar's success and smash hits like 2013's 'Frozen'. That made $1.3 billion, so around one dollar for every time your kids have made you watch it. Happily, this long-anticipated sequel feels entirely fresh. The world it creates is charming, the wit sparkles and – one brief burst of 'Reindeer(s) Are Better Than People' aside – the songs are all new. So let go of 'Let It Go' and clear some room for a new batch of earworms.
As you'd expect, the self-contained Elsa (voiced by Idina Menzel) remains at the heart of the story, but 'Frozen 2' also belongs to her exuberant sister Anna (Kristen Bell). She's very much a co-conspirator here, sharing 'When-Harry-Met-Sally'-ish tiffs with lovestruck Kristoff (Jonathan Groff, blessed with a genius '80s-style power ballad from songwriters Kristen Anderson-Lopez and Robert Lopez) and helping to guide the scene-stealing Olaf (Josh Gad) through a very funny coming-of-neige plotline. The hilarious 'When I Am Older' and some philosophical musings on the nature of existence are an absolute delight.
If there's a flaw, it's the slightly fiddly plot that has more folky symbols and elemental runes than a Hoxton tattoo parlour. One or two of the (admittedly charming) new characters feel designed to drive merchandise sales rather than the story. There's a mist-shrouded forest, a sort of generic indigenous people, some rock giants and a mystical spirit calling Elsa north to an uncertain fate. The quest itself is stirring, if a little Tolkien-lite.
While 'Frozen' was about coming to terms with who you are, 'Frozen 2' is about transformation. Does it offer further evidence for those who saw 'Let It Go' as Elsa's covert coming-out anthem? Sadly not, though she remains an intriguingly elliptical canvas on which to project genuinely groundbreaking ideas about empowerment and identity. There is nothing recycled about this Disney icon.
Details
Release details
Rated:
U
Release date:
Friday November 22 2019
Duration:
103 mins
Cast and crew
Director:
Jennifer Lee, Chris Buck
Screenwriter:
Jennifer Lee, Allison Schroeder
Rating Breakdown
5 star:

0

4 star:

0

3 star:

1

2 star:

0

1 star:

0
I saw this animation yesterday. And it was not bad but not good also. Like so many of the flicks that the film's gloomy title character seems to review, this kind of anti-romantic comedy proves a mediocre brew. In this case I recommend this service https://essayreviewexpert.com/best-reddit-essay-writing-service/ in order to choose the best paper writing service reddit. For the last 4 years I was working on an immersion English program with the University in Granada where I taught more than 300 students each year and in this cooperation we made some translations for many movies.