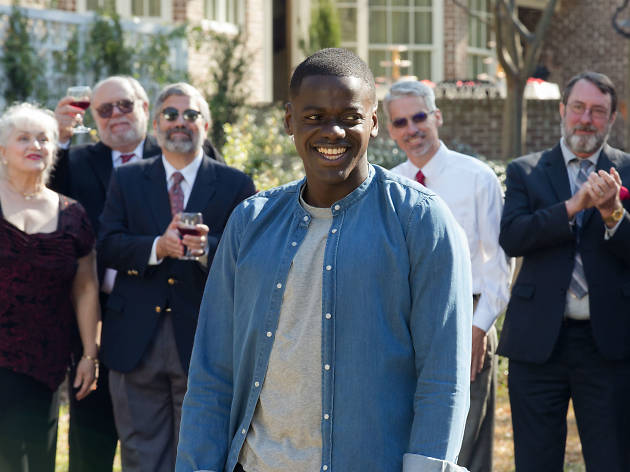 Time Out says
This American horror film has more fun playing with racial tensions than with scaring us to death, which for some will be a bit of a letdown. The problem with 'Get Out' is that it is perhaps a touch too in love with its big idea: that for a young African American man, meeting your white girlfriend's parents might be hazardous to your health. (Even if they do say that they 'would have voted for Obama a third time').
Serious young photographer Chris (British actor Daniel Kaluuya), clearly adores Rose (Allison Williams, Marnie from 'Girls'). Still, their trip out of the city to her family's secluded mansion in the suburbs fills him with dread. That deer they crash into on the drive up doesn't help Chris's fraying nerves – and the way the animal stares him down during its last gasps feels like a warning.
'Get Out' is sharp and cutting during its build-up. Rose's parents (Catherine Keener and Bradley Whitford) are awkwardly ingratiating, making a comic meal out of white liberal privilege ('Hug me, my man!' Rose's neurosurgeon dad exclaims meeting Chris). Meanwhile, the family's black servants disquietingly look on like wide-eyed zombies.
The writer-director of 'Get Out' is Jordan Peele, one half of the defunct Comedy Central show 'Key & Peele'. While you can't help but cheer his debut film's ambitions, the discipline he found in skit-writing is lost here. Many of the brightest moments in 'Key & Peele' were miniature nightmares in themselves – like their classic sketch 'Continental Breakfast', a 'Shining' parody. 'Get Out', on the other hand, reveals its dirty little secret a bit too broadly. Still, Peel deserves another shot to get it perfect.
Details
Release details
Rated:
15
Release date:
Friday March 17 2017
Duration:
103 mins
Cast and crew
Director:
Jordan Peele
Cast:
Daniel Kaluuya
Allison Williams
Catherine Keener
Bradley Whitford

Rating Breakdown
5 star:

6

4 star:

14

3 star:

2

2 star:

2

1 star:

0
I went along out of curiousity - I am not usually a horror-film fan, but this looked like it might be something slightly different. Unfortunately, I ended up feeling that the film was too long, which is never a good sign. A bizarre plot didn't really hold up over an hour - it felt like a strangely extended Black Mirror episode (perhaps this feeling was influenced by the protagonist - who was a star in the series), which didn't really work. Black Mirror's power lies in making you consider something afresh, or by pushing you into an alternate reality and immersing you for a powerful hour, Get Out on the other hand felt like it was trying to build upto something for a long time, which then fizzled out like a disappointing firework. The finale was neither as grand, nor as scary as it ought to have been, even for a horror-film novice!
Unexpectedly good film. Sceptical as not really a fan of thriller movies - but the subtle humour and jumpy horror moments made for an interesting film, which kept you intrigued!
I had never been to the cinema to see a movie where the audience have clapped their hands both during and after the movie (credits). The missus was entertained and she's usually hard to please.
It's slickly done - but ultimately this felt like a 10-minute sketch from a comedy show expanded into 1 hour and 40 minutes of a movie. The underlying joke - and rather confused satire - is fun but as a cinematic experience it all felt a bit slight. White girls who see this at the cinema with their black boyfriend will feel very uncomfortable. On DVD doubtless set to become a cult classic and I do think it will probably work better on the small screen. White Anglo Saxon Protestants - be afraid, be very afraid!
This film is excellent in its sharp satire of white liberal racism, ingeniously using a 'Stepford Wives' format - it makes a good homage to those sorts of 70s socially engaged films. I don't buy the TO line that it wore its message too much on its sleeve, it was very sharp and enjoyable, so full marks from me and the packed house I saw it with!
This loose remake of the Sidney Potier classic "guess whose coming to dinner" with a horror twist is a well crafted thriller from the word go. The suspense kicks in within the first fifteen minutes when certain strange behaviour of the girlfriend's parents hired help is noticed. I'm not keen to give away any spoilers and the well written fresh plot will keep you guessing till the end bits and leaves you with the chilling realisation that such disturbing incidents could be a possibility in today's world. For those who like their thrillers definitely go see this.