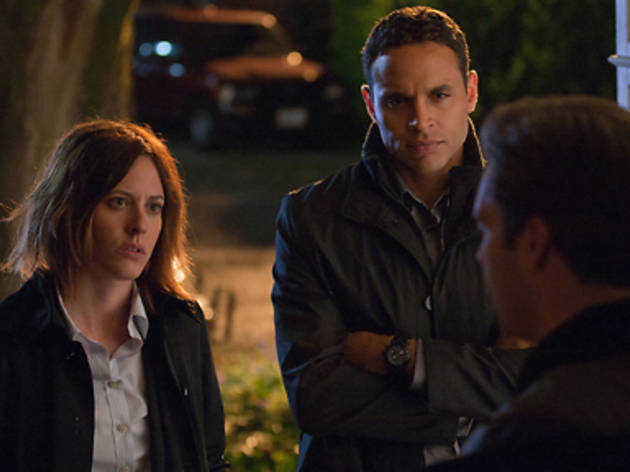 Everything about 'Gone' has the plasticy, leatherette feel of an imitation thriller. Amanda Seyfried stars, scrunching up her Bambi features into a troubled face to play Jill – who 12 months ago escaped a serial killer whose MO is abducting cute blondes and stashing them in the woods.
The police think she's a hysteric and say serious cop things like, 'You need help, Jill' or 'Let it go, Jill'. But when her big sis vanishes, Jill knows the killer is back. 'I'll sleep when he's dead,' she says, clutching her manila folder of missing women.
Luck would have it that after a couple clicks on Google Jill finds a suspect, whose neighbour confirms her suspicions: 'My girlfriend says he has rape-y eyes.' Well, that solves that. Or does it? You wouldn't put a spot of blonde-snatching past the detective (Wes Bentley) brooding about in black and disappearing shiftily every time things hot up.
Not that anything really hots up. Whenever it hungers for a plot development, the script throws in a red herring or an action shot of Seyfried: Look she runs! Look she takes a shower! (Possibly the naffest softcore shower scene ever).
Poor Seyfried. It's fast looking like the highlight of her career was 'Mamma Mia!' As for poor Jill, she makes the classic schoolgirl error of allowing herself to be lured to an abandoned cabin in the woods – needless to say this is not the cabin in the woods you'll be wanting to see this weekend.
Release details
| | |
| --- | --- |
| Rated: | 15 |
| Release date: | Friday April 20 2012 |
| Duration: | 95 mins |
Cast and crew
Director:
Heitor Dhalia
Screenwriter:
Allison Burnett
Cast:
Jennifer Carpenter
Amanda Seyfried
Wes Bentley

Average User Rating
2.5 / 5
Rating Breakdown
5 star:

0

4 star:

0

3 star:

3

2 star:

0

1 star:

0
Yeah,kind of lazy and bitchy review but I would agree it wasn't a great film but it was watchable nonetheless.Something about the direction or the way the film was put together didn't quite ring true.Entertaining enough though.
Perfectly enjoyable "Friday night" flick. Tedious snobbery above....we would be shocked at anything else. 6/10
What a lazy, lazy review, possessed of all the original thought of a lemming.