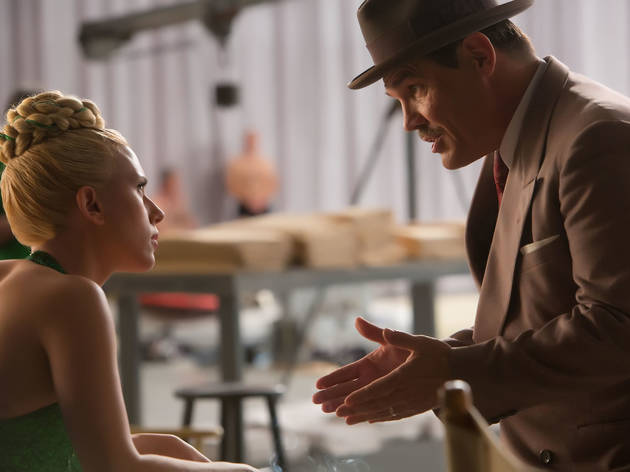 The Coen brothers re-unite with George Clooney and haul in an all-star cast for this typically leftfield comedy set in early-1950s Hollywood
It couldn't have been easy for the Coen brothers to just be silly again, especially after such recent soulful triumphs like 'Inside Llewyn Davis' (2013) and 'A Serious Man' (2009) – both of which followed their big Oscar win for the dark, brooding 'No Country for Old Men'. But you've got to love Joel and Ethan Coen for insisting on being playful: their new movie 'Hail, Caesar!' weds the backstage Hollywood shenanigans of their 1991 gem 'Barton Fink' to a more manic pace. It doesn't exactly feel new for them. Yet, as super-polished, mannered and slightly surreal comedies go, it feels as rare as a unicorn.
As ever with these siblings, it's the details that win us over. 'Hail, Caesar!' is set within the unusually rich seam of transitional early-1950s showbiz, a moment when swimming sirens (Scarlett Johansson) and singing cowboys (Alden Ehrenreich, deceptively sharp under his ten-gallon hat) rubbed elbows with finicky European directors (Ralph Fiennes, extending his sublime comic run from 'The Grand Budapest Hotel') and secret Communist 'study groups'. At the top of the food chain is Baird Whitlock (George Clooney), a Kirk Douglas-like A-lister who's been drugged and smuggled off the lot of his epic Roman picture. Enter Eddie Mannix (Josh Brolin), the studio's fixer, worried about the fallout.
The plot never runs out of steam. But you'll soon see the story as a handy excuse for dazzling bits of business: a strand of spaghetti turned into a lasso; an excruciatingly funny piece of on-set dialogue direction (some cowboys will never become urbane smoothies); and Channing Tatum in a screwy-sailor dance number that plays like a reason to make the film. Purring over it all is that great wizard Michael Gambon, whose stuffy, orotund narration supplies a self-mockery that's our cue not to take any of this very seriously. Is Josh Brolin's Mannix, occasionally seen in a church confession box, actually in pursuit of something higher than all this? Don't be fooled by the backdrop.
Release details
Release date:
Friday March 4 2016
Duration:
106 mins
Cast and crew
Director:
Ethan Coen, Joel Coen
Screenwriter:
Ethan Coen, Joel Coen
Cast:
Channing Tatum
Scarlett Johansson
Tilda Swinton
Ralph Fiennes
George Clooney
Josh Brolin
Frances McDormand

Average User Rating
2.4 / 5
Rating Breakdown
5 star:

1

4 star:

1

3 star:

6

2 star:

8

1 star:

3
I can sympathise with many of the negative sentiments directed at the Coen Brothers' latest offering, however there are also enough truly stunning set pieces to warrant praise in equal measure. Like many here, Channing Tatum's sailor scene rivals anything from the golden age of cinema, and it's just a shame the rest of the film falls flat in comparison. It's also another example of a Coens film that ends abruptly, and feels more like a showreel for their talents, than a satisfy feature. A missed opportunity overall.
If you are still planning on seeing this movie (even after reading other viewers reviews) you should definitely do some research before seeing it; there are many inside Hollywood jokes that I found very difficult to understand because I was completely unaware of Hollywood's history. Apart from that, there are some really great scenes with Scarlett Johansen and Channing Tatum that were very impressive.
It doesn't live up to the expectations raised by the trailer. There are some funny moments, but George Clooney is not generally in them which is a problem if he is the star. The cast are comically good though especially Alden Ehrenreich and Ralph Fiennes but the narrative feels episodic and disjointed. The film ending is non-existant. I would not recommend forking out to see this in the cinema.

Hail Caesar skillfully set up the main religious lines that are put forth in the dying minutes of the movie when Caesar approaches Christ on the cross and the words should be set into stone...packaged within levels of the reality of Hollywood, communism, and a director who lives to make a positive+difference in this world....