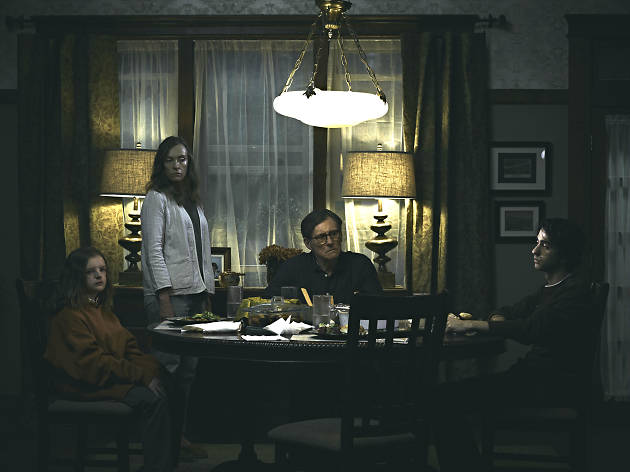 Time Out says
Catastrophe rains down on a beleaguered family, in a horror movie that brews an impressive amount of dread
Never take pity on a film critic. Instead, let it suffice to say that I look forward to you seeing 'Hereditary' and then joining me in having several sleepless nights peering into dark corners and gnawing your fingernails off. A harrowing story of unthinkable family tragedy that veers into the realm of the supernatural, 'Hereditary' takes its place as a new generation's 'The Exorcist' — for some, it will spin heads even more savagely.
As with so much inspired horror, from 'Rosemary's Baby' to 2014's psychologically acute 'The Babadook', the movie gets its breath and a palpable sense of unraveling identity from a fearless female performance, this time by Toni Collette, the revered Australian actor capable of sustained fits of mania. (To watch her in 'The Sixth Sense' or 'Velvet Goldmine' is to only get a taste of how deep she goes here.) Collette plays Annie, an artist who constructs uncannily realistic dioramas: miniature rooms that embody the film's theme of a larger, malevolent entity playing with human toys.
We zoom into those rooms, where Annie is keeping it together after the recent death of her by-all-accounts severe mother. Dressed in funeral blacks are her husband, Steve (Gabriel Byrne), her oldest child, Peter (Alex Wolff), a teenage stoner, and distracted young Charlie (the awesomely concentrated Milly Shapiro, a Tony winner for 'Matilda: The Musical'). Something is wrong with Charlie. Every head cock, tongue cluck and eerie stare into the middle distance will have you more concerned. 'Who's going to take care of me?' she asks her mom — not an unusual question after a death in the family. 'But when you die?' she adds, with vacant foreboding. A bird crashes into Charlie's school window leaving a bloody smear; she calmly collects its head with a pair of scissors and carries it away. Rattled yet? 'Hereditary' creeps forward with an inexorable sense of doom, and when the worst does happen — and so much more — you'll feel like you're watching the world crack open. Things fly out that you'll want to unsee.
Who the hell is debuting writer-director Ari Aster? (I mean the sentiment sincerely.) A maker of several ingenious shorts and, by his own oblique account, a survivor in a family that he came to believe was cursed, Aster has the gifts of exquisite camera placement and generous patience — not merely a summoner of Kubrickian chill but empathy. He seems to realise that his movie, which miraculously carries you over every leap of faith, will live or die on its acting. When Ann Dowd, chipper and beaming, shows up deep into 'Hereditary''s grief-ravaged middle section, you shudder with relief; rarely has compassion felt so desperately needed in a horror film.
Still, Annie, on a crazed quest that will leave you cowering, has resources of her own. Collette grabs 'Hereditary' by the throat and screams in its face. Monologue after monologue, scene after ruinous scene, she fills the movie with an incantatory energy pitched somewhere between confidence and psychotic breakdown. Perhaps only genre fans will recognise this unshakable film as the manna it is, but that would be a shame. 'We've made a pact with something,' Annie says, the fury and fear spitting out of her. You will make it too.
Details
Release details
Cast and crew
Director:
Ari Aster
Screenwriter:
Ari Aster
Cast:
Toni Collette
Gabriel Byrne
Ann Dowd
Alex Wolff
Milly Shapiro

Average User Rating
2.4 / 5
Rating Breakdown
5 star:

0

4 star:

0

3 star:

3

2 star:

1

1 star:

1
Not so groundbreaking after all and certainly not original. Gabriel Byrne seems to wander through his roles, career-wise and I am never quite convinced by him. The opposite can be said of Toni Collette, who once again stamps her brilliance on screen.
This Horror film is done pretty well but is not a five-star and certainly not as scary as say, The Exorcist. Towards the climax it almost becomes psychedelic; ridiculing what has taken place before.
Bizarre!
Not desperately keen on the "horror" genre but any film which some critics compare with "Rosemary's Baby" and "The Shining" must be worth a look, one thought.
But definitely a big mistake, so apologies to Polanski and Kubrick for being associated with a review of the debut work of new director on the block, Ari Aster.
No, I had never heard of him either but we all have to start somewhere.
The fine actors, Toni Colette and Gabriel Byrne co-produced this mess but they did their best and one hopes they make a few bucks although the lack of many bums on seats at my local multiplex hardly reflects much hope.
To cut a long and tedious story very short: Aged granny matriarch who dabbled in spiritualism and the occult, snuffs it and the legacy to her descendants, living in a creepy and creaking house in Utah, is a mounting mix of strange and frightening happenings.
Colette has a ball doing the Full Monty of total bonkers crazy while Byrne looks on impassively.
Their two children are deranged too; the girl makes clucking noises and cuts a bird's head off while the almost sane son goes crackers in a more refined manner.
After two hours spent trying to discern some sort of shape from the whole thing it was a relief to hear a Judy Collins version of "Both Sides Now" as the credits rolled.
But that made about as much sense as the rest of the whole muddled turgidity.
This film can't quite decide what it wants to be - a spooky 'things that go bump in the night' style horror movie, or an occult / psychological thriller in the vein of Rosemary's Baby and The Wicker Man. In the end it never succeeds at either and also suffers from pacing issues - a sagging middle would have benefitted greatly from losing 20-30 minutes or so. Parts of it are well done, not least the dread-laden soundtrack, and, like The Witch, there are some striking images that will stay with you, but in the end it's all just too silly to be genuinely scary. And Gabriel Byrne had very little need to show up on set for a wholly redundant part. Granted, Toni Collette is excellent. All rather disappointing though, considering the hype.