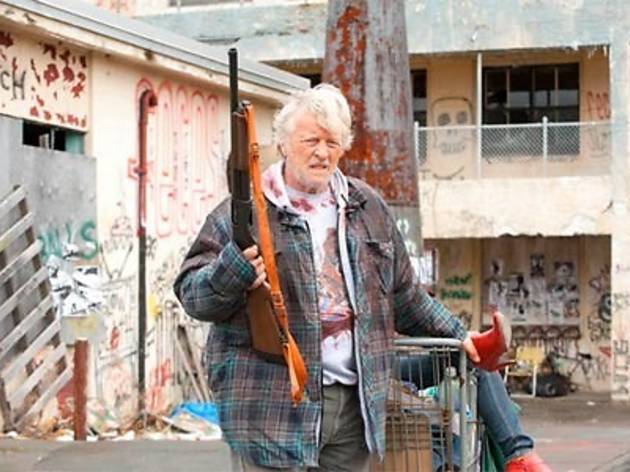 After all the hype and hoopla, the recuts and extended versions, the trailers and spin-offs, finally something decent has emerged from the wreck of Quentin Tarantino's disastrous 'Grindhouse' project. 'Hobo with a Shotgun' is no classic, but unlike its predecessors 'Death Proof', 'Planet Terror' and 'Machete', it's a watchable, lively, reasonably inventive take on old-school exploitation clichés. Inspired by a competition-winning trailer originally attached to the Canadian release of 'Grindhouse', 'Hobo' stars Rutger Hauer as the titular vigilante, an isolated drifter whose fury at the criminal scum infesting the slums of Hope Town sparks double-barrelled vengeance. It's clearly a low-budget affair, but first-time director Eisener compensates with super-saturated '70s-style colour, a cracking John Carpenter-meets-blaxploitation soundtrack, hyper-speed cutting and fountains of crowd-pleasing gore: heads roll, limbs fly, and one poor soul gets both barrels in the balls. But the trump card is Hauer, whose terse, growling performance anchors the film – though it does have the unwanted effect of making the rest of the cast look somewhat amateurish. Sick but fun.
Release details
Rated:
18
Release date:
Friday July 15 2011
Duration:
86 mins
Cast and crew
Director:
Jason Eisener
Cast:
Rutger Hauer
Pasha Ebrahimi
Robb Wells

Average User Rating
3.8 / 5
Rating Breakdown
5 star:

0

4 star:

1

3 star:

0

2 star:

0

1 star:

0
Up there (or down there) with 'Drag Me To Hell' for worst movie ever made. Crap and fake!! Worst 'Comedy Horror' of all time!!
Sick nasty pointless gore !! Im disturbed what a horrible film! Im no rom com bird, i have watched most horrors n scary films their r what i like, but this made me feel physically sick in the first 20 mins ! its degrading n sick n if you dont wanna see some kids burned to death on a bus ... dont watch it ! its seriously sickening.
awesome fun - over the top with blood-letting, so not for everyone, but those who like it, like it alot!