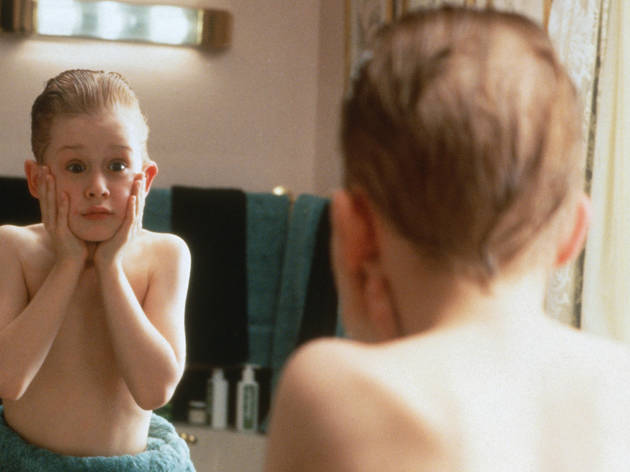 Time Out says
After Planes, Trains and Automobiles, writer/producer
John Hughes
turns once more to the nightmare of travel, this time from a child's perspective. Set to spend Christmas in Paris with parents and assorted relatives, young Kevin (Culkin) wishes everyone would just disappear, a desire granted when he is accidentally left behind by his preoccupied parents (Heard and O'Hara). But the novelty starts to wear off when a couple of burglars (Stern and Pesci, excellent) target the house. Hughes confidently mixes elements of precocious self-awareness with childlike wonderment: the boy truly believes his dream has become manifest, so he gorges on junk food and television until the reality of the situation brings loneliness and fear. Broader in humour, however, with an inconsistency of mood not helped by abrupt editing and Columbus' sometimes self-conscious direction, Home Alone lacks the sustained tension of the earlier film.
Details
Release details
Cast and crew
Director:
Chris Columbus
Screenwriter:
John Hughes
Cast:
John Candy
John Heard
Catherine O'Hara
Macaulay Culkin
Kieran Culkin
Joe Pesci
Roberts Blossom
Daniel Stern

Rating Breakdown
5 star:

12

4 star:

0

3 star:

0

2 star:

0

1 star:

0
I hate to say it but... I have only just watched this film (I am so ashamed!). What a great slapstick film, full of brilliant actors. Very easy going and a good laugh for the festive season. I still cant believe it has taken me 25 years to watch this! I'm ready for number 2!
Like a fine wine, this movie continues to get better over time. Now a Christmas classic, nothing makes me feel more festive or like a kid again than watching this! Who hasn't tried wanted to eat a bowl of marshmallows for dinner!
Ahahahahahhhh Will Macaulay Culkin be the Father in "HOME ALONe� 5 Kevin Takes A Bride? By WENN Has 27-year-old Macaulay Culkin flexed his considerable muscle with 20th Century Fox over the sequel to the Holiday hit "Home Alone"? Film executives, many of whom would open to debate, but that the negotiations between Macaulay represented 20th Century Fox star in the 1990 Hit "Home Alone". Will Macaulay be the Father in "Home Alone" Five, 20th Century Fox said that he came to Fame in a 1990 Holiday hit "Home alone'?, Now with a brand new Screen Play by Jamie P. a senior at Mesquite High School in Gilbert Arizona, Fox hopes the sequel will come out by next Christmas, The Film starts filming this June, will it be another gold mine? "Home Alone" Five is scheduled to start filming in Chicago\Kenilworth in June, the Director, "Chris Columbus", the lead actress, "Catherine O'Hara� , and some of the other cast and crew were already in place. Now, filming has been abruptly delayed for at least nine months, possibly longer, to accommodate Macaulay's schedule. Director Chris Columbus, & the head of Fox, said in an interview that they where casting Macaulay for the Fifth sequel of "Home Alone." Macaulay was given the script nine months before the Director Chris Columbus said, referring to "HOME ALONe" One. "We had a signed contract with him to do "Home Alone� 5 about four months ago. Culkin was the first respond to us about the script." Fox proceeded on the assumption that he didn't want the choice role. Then, Chris Columbus said, that Culkin read the script and said they wanted to do it. Chris Columbus said it was fortunate that Macaulay's representatives didn't wait long to respond to the script either But he added: "There are a dozen 6-year-old kids, auditioning To get the kid in a lead part. Look, Chris Columbus said that "The 'Home Alone' Series will go on, 6,7,8,9,10" one film executive said. "That it can make Fox hundreds of millions of dollars. �Macaulay may be contractually obligated to do the Series , Macaulay's agent & 20th Century Fox said that doing the series would make Him "Very Rich, and More Famous Too.�
Ahahahahahhhh Will Macaulay Culkin be the Father in "HOME ALONe� 5 Kevin Takes A Bride? By WENN Has 27-year-old Macaulay Culkin flexed his considerable muscle with 20th Century Fox over the sequel to the Holiday hit "Home Alone"? Film executives, many of whom would open to debate, but that the negotiations between Macaulay represented 20th Century Fox star in the 1990 Hit "Home Alone". Will Macaulay be the Father in "Home Alone" Five, 20th Century Fox said that he came to Fame in a 1990 Holiday hit "Home alone'?, Now with a brand new Screen Play by Jamie P. a senior at Mesquite High School in Gilbert Arizona, Fox hopes the sequel will come out by next Christmas, The Film starts filming this June, will it be another gold mine? "Home Alone" Five is scheduled to start filming in Chicago\Kenilworth in June, the Director, "Chris Columbus", the lead actress, "Catherine O'Hara� , and some of the other cast and crew were already in place. Now, filming has been abruptly delayed for at least nine months, possibly longer, to accommodate Macaulay's schedule. Director Chris Columbus, & the head of Fox, said in an interview that they where casting Macaulay for the Fifth sequel of "Home Alone." Macaulay was given the script nine months before the Director Chris Columbus said, referring to "HOME ALONe" One. "We had a signed contract with him to do "Home Alone� 5 about four months ago. Culkin was the first respond to us about the script." Fox proceeded on the assumption that he didn't want the choice role. Then, Chris Columbus said, that Culkin read the script and said they wanted to do it. Chris Columbus said it was fortunate that Macaulay's representatives didn't wait long to respond to the script either But he added: "There are a dozen 6-year-old kids, auditioning To get the kid in a lead part. Look, Chris Columbus said that "The 'Home Alone' Series will go on, 6,7,8,9,10" one film executive said. "That it can make Fox hundreds of millions of dollars. �Macaulay may be contractually obligated to do the Series , Macaulay's agent & 20th Century Fox said that doing the series would make Him "Very Rich, and More Famous Too.�
I love it home alone is my favorite holiday movie
I love it home alone is my favorite holiday movie