If Beale Street Could Talk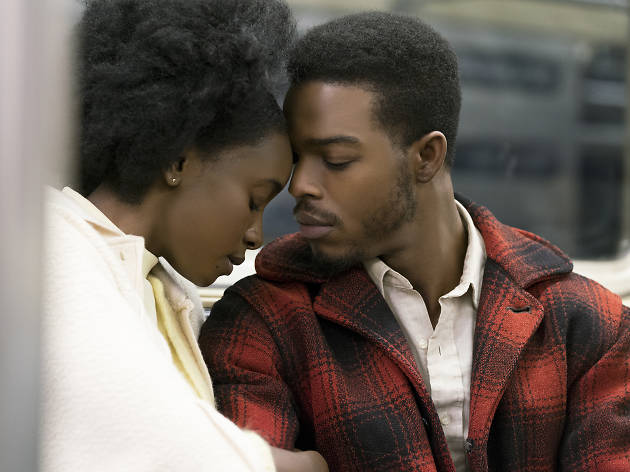 Barry Jenkins follows up 'Moonlight' with more evidence that he's a painter of emotional landscapes with very few equals.
'What I do is to read a story only once,' Alfred Hitchcock explained of his technique for adapting novels, 'and if I like the basic idea, I just forget all about the book and start to create cinema.' Barry Jenkins, it's fair to say, has a different MO. His adaptation of 'If Beale Street Could Talk' is so faithful, it's practically joined at the hip with James Baldwin's 1974 novel. From the opening moments, in which the author's words are recited in voiceover, Jenkins channels all of Baldwin's lyricism and anger into a story of love and injustice that burns with a gentle flame, occasionally blazing into a white heat. It's beautifully crafted and, despite what Hitch might have said, it's definitely cinematic.
As with 'Moonlight', his Oscar-winning breakthrough, Jenkins moves seamlessly through time in a single setting. He introduces Beale Street's young couple – the newly pregnant Tish (newcomer KiKi Layne) and Fonny (Stephan James) – living in Harlem and already deeply in love, before shifting back to show glimpses of their shared childhood and forward to a more uncertain future. The meat of the film takes place in a present where Fonny has been flung into prison on trumped-up rape charges thanks to a racist cop ('Deadpool's Ed Skrein, unrecognisable) who's taken against him.
At this point, we meet their wildly contrasting families, including Tish's powerhouse mum and bear-hug of a dad (Regina King and Colman Domingo, hands down the on-screen parents of the year) and Fonny's austere, disapproving mother. One of the film's best scenes brings both clans together for a mini domestic apocalypse over drinks and nibbles. News of Tish's pregnancy sparks a verbal melée in which Jenkins splices a wall-shaking argument with some killer put-downs.
There's great tenderness and an all-too-rare celebration of African-American family life in the story's bones, but there's fire in its eyes too. Baldwin didn't pull his punches and neither does Jenkins. When Fonny bumps into an old friend, Daniel (Brian Tyree Henry), fresh from the slammer, he hears ghost-of-prison-past warnings that turn out to be all too prophetic. 'The white man has got to be the devil because he sure as hell ain't no man,' spits Daniel as he clues Fonny in on just how stacked society is against him. The moment lingers. There's no message of racial reconciliation here, just the promise of more hardship ahead. With Jenkins's warm, humanist worldview in mind, you know love will win out at the end of this road. It'll be a hard journey, though.
Release details
Release date:
Friday February 8 2019
Duration:
117 mins
Cast and crew
Director:
Barry Jenkins
Screenwriter:
Barry Jenkins
Cast:
Kiki Layne
Regina King
Colman Domingo
Stephan James

We've found 65 cinemas showing 'If Beale Street Could Talk'
Rating Breakdown
5 star:

0

4 star:

1

3 star:

1

2 star:

1

1 star:

0
Covers very well trodden ground. Beautiful to look at but falls into trap of including references to characters and themes in the novel on which it is based, that simply cant be developed in the truncated medium of film. This renders it pretty average overall.
There is a lyrical beauty here to match the poetic quality of Baldwin's prose - along with some gritty kitchen-sink realism - but as a piece of cinema it never quite has the emotional power or coherence of 'Moonlight'. Making a novel into a movie is always difficult - and the dramatisation of the source material is perhaps a little clunky at times and tries too hard, telling rather than showing. Still, this movie cements the reputation of Jenkins as America's poet-director par excellence.
This is without doubt one of the slowest most boring films I have seen in a long time. Having been to the cinema three times is the last week and seen such a plethora of good films this really stands out. What a shame - the two stars are great but the story is so unoriginal.