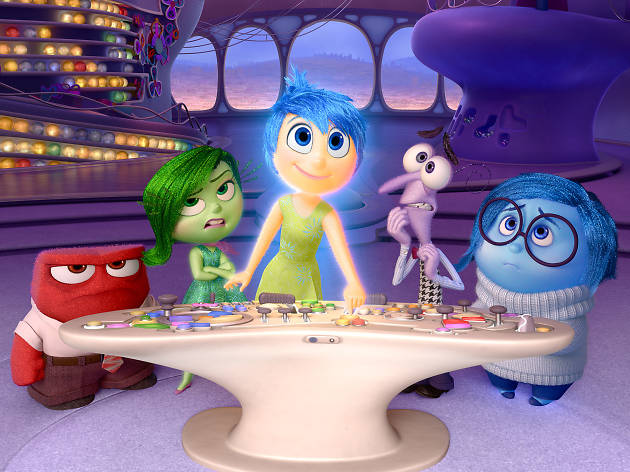 Time Out says
Pixar's latest wildly inventive family cartoon looks at what goes on inside the mind of an 11-year-old girl
It's all in the mind in Pixar's latest, a delightful, frenetic, near-experimental animated film from the makers of 'Up' and 'Toy Story'. Pixar fans will be in seventh heaven with the film's bold thinking—and kids will be straining to listen to imaginary voices in their heads—after diving into the mind of Riley, an 11-year-old girl whose tiny world is turned upside down when she moves from Minnesota to San Francisco with her mom and dad.

It's a simple story, featuring a new school and nervous parents. But the real drama goes on in Riley's head, where we meet Joy (Amy Poehler), Fear (Bill Hader), Anger (Lewis Black), Disgust (Mindy Kaling) and Sadness (Phyllis Smith), each of them sharing a physicality to match their temperament. Disgust gives great sneer, while Anger is red, squat and prone to shooting fire out of his head. We watch each of them fight for control over Riley's life, and when Joy and Sadness go AWOL from their psychological HQ, we take a tour of some crazy mental byways, including the Abstract Thinking Department, where Joy and Sadness briefly become 2D characters and then, momentarily, one-color squiggles.

There's too much to sponge up in one viewing. Blink and you'll miss a character saying, "These facts and opinions look so similar," when passing boxes marked FACTS and OPINIONS. We leave the subconscious ('where they take all the troublemakers') too quickly, and then it's on to the Dream Department, where we see the day's memories being adapted into drama. At times, you ache to put the brakes on the chaos, but still Pixar manages to do what it does best, turning the everyday rough and smooth of childhood experience into a thoughtful, inventive adventure, full of lurid and strange imagery yet still totally appropriate.

It'll be interesting to see how young kids react. I imagine they'll find it less confusing than their parents, and even if some of the more heady stuff goes right over their, well, heads, there's always the Imaginary Friend—part elephant, part cat, all pink—to enjoy while the parents give each other a side-glance of recognition.
Details
Release details
Release date:
Friday July 24 2015
Duration:
102 mins
Cast and crew
Director:
Pete Docter, Ronaldo Del Carmen
Screenwriter:
Pete Docter
Average User Rating
4.1 / 5
Rating Breakdown
5 star:

11

4 star:

13

3 star:

4

2 star:

0

1 star:

1
When your thinking which character reminds you of people you work with then you know the film isn't working for you, bored.
The first time I realised that this film was released was at breakfast one morning when my 4 year old pointed out the little red man to me. So I had no idea what to expect when I took her to see it. The story is essentially about an 11 year old girl having to leave her home city and friends for another city and the emotions that this upheaval created. Being a Pixar film, this emotional upheaval was depicted by 4 characters, Joy, Fear, Disgust and Anger (the aforementioned little red man). For me, it was mildly entertaining, pretty clever in the way they you were made to think about the decisions you take and your own psychological makeup. Although there were plenty of characters thrown in in an attempt at keeping younger viewers who would struggle to follow the story line happy, I'm not sure that they were quite interesting and memorable enough. Still, I didn't fall asleep and was mildly entertained and as for the 4 year old, she was just happy looking at the little red man.