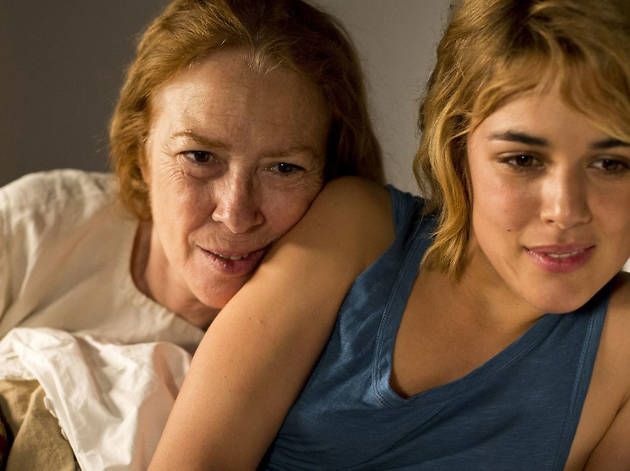 Pedro Almodóvar returns to female-focused filmmaking with a darker than usual drama
After the campy in-flight antics of 'I'm So Excited' and the creepy shivers of 'The Skin I Live In', Spanish filmmaker Pedro Almodóvar is back on familiar ground with 'Julieta'. A sombre, ravishing study of grief, guilt and burden, you could in all fairness sub-title the film 'all about my daughter' (a nod to Almodóvar's arthouse hit 'All About My Mother'). Told over 30 years, with two actresses (Emma Suárez and the younger Adriana Ugarte) playing one woman, this is the story of Julieta, who is facing a tragedy not dissimilar to those in Almodóvar melodramas like 'Talk to Her' or 'Volver'.
Based on three Alice Munro short stories, 'Julieta' doesn't soar as passionately as those earlier films – the emotions are more buttoned-up, the twists more maudlin. But the way the film's story is gradually pieced together through extended flashbacks offers a cumulative power that's finally extremely moving and teasingly free of easy resolution.
Suárez and Ugarte don't just play the same woman at different ages; they play the same woman on either side of two family crises that change her forever. We first meet Julieta (Suárez) middle-aged and living in Madrid, preparing to move with her partner (Darío Grandinetti) to Portugal. But a chance meeting with Bea (Michelle Jenner), a childhood friend of her daughter Antía, changes her mind about the move and she starts writing notes about her earlier adult life.
These memories lead us through the film. We meet Julieta as a punky young teacher in the 1980s; we witness a fateful train trip that leads to a death and introduces Julieta to her husband Xoan (Daniel Grao); we see how life gives her a daughter but later changes her in ways she's only now coming to terms with. In many close-ups of his two lead actresses, Almodóvar invites us to read Julieta as an emotional mystery. Once again he's supremely confident in the unexplained and maestro-like in the reveal. He plays one very special trick. The transition between the two actresses happens mid-scene: as Julieta's daughter dries her mother's hair with a towel and she momentarily covers her face. It's a striking metaphor for the complicated, claustrophobic love between a mother and her daughter as the mother changes appearance before our eyes.
Being distracted by the gorgeous fixtures and fittings is par for the course with an Almodóvar film, and he even makes light of this when Julieta moves to a new Madrid apartment that's blessed or cursed (depending on your taste) with some seriously busy 'oppressive' wallpaper. Elsewhere, the film has much to please Almodóvar admirers. Fans of his use of blood red (last properly seen in 'Volver') are in for a treat. On cars, clothes, ashtrays – it's everywhere. Alberto Iglesias's mournful jazzy score is affecting, and the rest of the film's craft – cinematography, design, costumes – is typically exquisite. It might be familiar territory for Almodóvar, but only a master of his art could make it look so easy.
Release details
Rated:
15
Release date:
Friday August 26 2016
Duration:
99 mins
Cast and crew
Director:
Pedro Almodóvar
Screenwriter:
Pedro Almodóvar
Cast:
Adriana Ugarte
Michelle Jenner
Rossy de Palma
Emma Suárez

Average User Rating
4.2 / 5
Rating Breakdown
5 star:

2

4 star:

2

3 star:

1

2 star:

0

1 star:

0
Looking back over some of my earlier reviews, some might think "miserable old git who doesn't like anything". But that's not really true. Honest. I have just been unlucky enough to see some really awful movies of late which is definitely NOT the case. here.
I have followed Pedro Almodovar on his long journey from rebellious young turk to big beast of the cinema. It is a shock to realise that he is now in his late '60s. With "Julieta" there's not even a hint of outrageous gay flouncing or cross-dressing. It is a tender and thoughtful essay on a woman's life and the mysterious disappearance of her daughter. Guilt, death and regret and not that many jokes but gorgeously shot in Madrid and north-west Spain.
A fine and beautiful film wnich should be seen by any lover of meaningful cinema.
3 star film..All the usual panache and beauty of Almodovar's film making is present,yet the main flaw is 60% into the film the script begins to wobble.It is like he has created a beautiful film but suddenly does not know what to do with film towards the end..He tried too hard to keep the melodrama going by creating one too many layers of sub plot which declines the films's credibility.In spite of this the film is wonderful too watch,but it is some way off his best film
"They fuck you up your mum and dad, they may not mean to but they do." Philip Larkin's words have become so ingrained in the popular consciousness that perhaps we take for granted the truth they contain.
Spanish Don of direction, Pedro Almodóvar, has spent most of his career dissecting the intricacies of one of the most allusive subject matters: the humble family. Now 66 years of age, Almodóvar's typical rose-tinted take on family life has not softened, but become darker in Julieta, the twentieth offering from the veteran director.
The eye-popping brightness and vibrancy of the colours, the fondly affectionate depiction of strong women and the novelistic, non-linear approach to the narrative are Almodóvar tropes that Julieta displays in droves. The sets simmer with Spanish sun. From the Andalusian harshness of the white light, to the softer ochre palette that defines Madrid's city-slicking, to the open expanse of the Atlantic ocean on the Galician coast, no one captures Spain like Pedro Almodovar.
His eye for a stunning set has lost none of its force. But a director famous for bringing household names like Penelope Cruz and Antonio Banderas into the limelight, has again unearthed some incredible Spanish talent for the world's screens. Having made her name on the small screen in Spanish period drama, La Señora, Adriana Ugarte, who plays the young Julieta, transfers to the silver screen with panache and an elegant ease.
The plot, based on a series of short-stories from Alice Munro's novel, Runaway, begins in the present day with Julieta played by Emma Suárez. Despite the stale mundanity of a generic Madrid apartment, what develops is an acute psycho-analytical portrait of a seemingly stable woman in a state of free-falling emotional collapse. As always in Almodóvar, it is the accident, the chance occurrence, that triggers the catastrophe.
When Julieta comes upon an old friend of her daughter's, Bea (Michelle Jenner) Julieta's veneer of strength dissolves. Having been estranged from her daughter for the past 13 years, the meeting awakens agonies buried deep in Julieta for the past decade. Bea has seen Julieta's daughter, Antía. She abandons plans to move to Portugal and moves into her old apartment where the pair had lived together, awaiting a letter from her daughter. Julieta lives for the past and writes unread letters telling everything to her daughter, dredging up the dark, untold pain of their past.
The narrative then dives back into Julieta's history as Adriana Ugarte becomes the face of our eponymous protagonist. For all the vivacity of Almodóvar's signature style, the quality of Julieta boils down to the haunting beauty of Ugarte's performance. She has the looks of a young Penelope Cruz, the English actress of stage and screen, Billie Piper and Keira Knightley. She is beautiful. But her beauty belies the tragedy of a truly terrible tale of heartbreak and loss, coupled with loss and more heartbreak.
Julieta is a sobbing melodrama that never drifts into meaningless melancholy. The film gives an honest, unfiltered depiction of the ways in which family inadvertently fucks you up, adding vital force to Larkin's hackneyed turn of phrase.