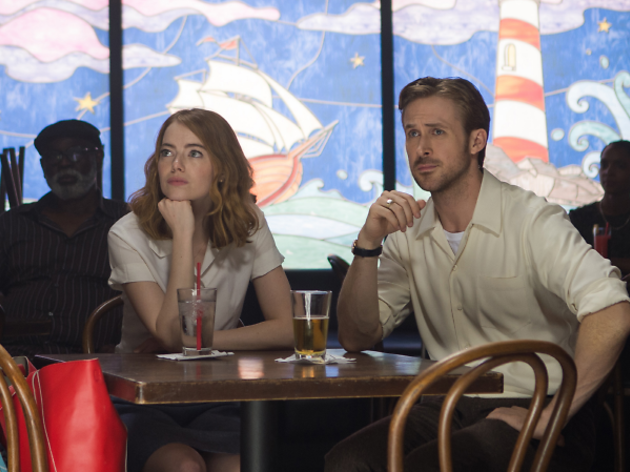 1/3
2/3
3/3
Emma Stone and Ryan Gosling sing and dance their way through a joyous modern-day musical about the ups and downs of love and life in Los Angeles
The young writer-director Damien Chazelle has followed his Oscar-winning drama 'Whiplash' with another entirely novel film steeped in the world of music. His soaring, romantic, extremely stylish and endlessly inventive 'La La Land' is that rare beast: a grown-up movie musical that's not kitschy, a joke or a Bollywood film. Instead, it's a swooning, beautifully crafted ode to the likes of Jacques Demy's 'The Umbrellas of Cherbourg' and Stanley Donen's 'Singin' in the Rain' that plays out in the semi-dream world of Los Angeles and manages to condense the ups and downs of romantic love into a very Tinseltown toe-tapping fable.
'La La Land' boasts stars to fall in love with: Ryan Gosling is Seb, a brooding pianist and jazz purist who dreams of running his own nightclub, while Emma Stone plays Mia, a more sunny studio-lot barista and aspiring actor who dreams of putting on her own plays. The film follows them from winter to fall and back to winter as they meet, argue, flirt, fall in love and face a growing conflict between their personal passions and romantic hopes.
There are tender and imaginative moments to die for: Stone mouthing along to a cover version of 'I Ran' at a pool party; the pair watching their legs discover the power of tap while sitting on a bench; the two of them flying into the stars and waltzing while visiting Griffith Observatory - a moment inspired by a trip to see 'Rebel Without a Cause'. There are songs, there are dances (and Gosling and Stone prove easy naturals at both), but there are plenty of straightforward scenes too, especially as the mood sours. Some of those can drag, as if they've floated away from the film's core, but there's usually a showstopper nearby: one late solo number by Stone - an unadorned, conversational singer and a hugely endearing presence throughout - is heartbreaking.
The look of Los Angeles in 'La La Land' could be called Demy meets Edward Hopper: all pastels, soft light, twilight and street lamps. It's set now, but only just, and the film somehow has a timeless 1950s vibe to it too, as if the golden age of musicals was playing out in our own time. The film's delirious, sideways, play-within-a-play view of Hollywood nods a little to the warped likes of David Lynch's 'Mulholland Dr' or Terrence Malick's 'Knight of Cups'. But this is a far sweeter, more generous film, offering up a place where artistic ambition and heady romance can co-exist, at least for a while, and breaking into song and dance can be both deadly serious and a whole lot of fun.
Release details
| | |
| --- | --- |
| Release date: | Wednesday January 13 2016 |
| Duration: | 0 mins |
Cast and crew
Director:
Damien Chazelle
Screenwriter:
Damien Chazelle
Cast:
Emma Stone
Ryan Gosling
J.K. Simmons
John Legend

We've found 18 cinemas showing 'La La Land'
View as map
View as list
Average User Rating
4.1 / 5
Rating Breakdown
5 star:

28

4 star:

26

3 star:

10

2 star:

1

1 star:

3
Granted, I loath musicals. But I loath empty cliched scripts more. The opening scene is a complete mediocre dud. Annoying in its forced cheeriness and absolutely stupid in its concept. What's next? An opera aria warbled from a series of iron lungs in a Walmart parking lot. The two leads are almost certainly two of the easiest people to work with in Sorrywood, where product is the name of the game. Neither is convincing. Their hammy posturing and preening got on my nerves quickly and stayed there. To make matters worse, neither sings or dances very well. That, ladies and Germans, is what they're paid to do for most of the film. Now. Everything old is new again. I get it. Fine and even the esteemed Cohn Brothers tried to rescuitate the moribund musical in parts of "Oh Caesar". And I get Howwywood likes to salute itself. But here's the irony. The final pointless sequence in the plot and film showed you that, had they wanted to, they could have made a visually stunning musical
Worthy of the phrase "made in Hollywood" placed in the final credits. They did not. Trite script, mediocre music, semi-passable dancing, and you don't care about a single person in the movie, including Emma Stone - who was the wrong choice for the part and can really act if given material and not the equivalent of intoxicated slurred ideas on a cocktail napkin. And Ryan Gosling learned piano for this. It's like learning swimming for Waterworld. Hate is too strong a word for this mediocre faux film.
The most overrated film I have seen in years. Comparisons with the the classic Hollywood musicals are laughable. Having watched "Paterson", "Silence" and "Manchester by the Sea" in succession, this movie was not even in the running whether it be musicals, dramas or any other genre. Apart from a stunning opening sequence, reminiscent of "West Side Story" all it offered was a confused plot line, amateurish singing and dancing and an odd take on jazz. What actually did the Gosling character see as pure jazz was never revealed and his piano miming was awful? But the LA cinematography was great. So disappointed.
i didn't like it.. dialog very messy, mix of slinding doors & a bad copi of fred & ginger. music , photography & costume very beautiful
"La La Land" is simply wonderful. It's a firework of joy and excitement that it's really hard not to fall in love with it. I'm already looking forward to "First Man".
Show More