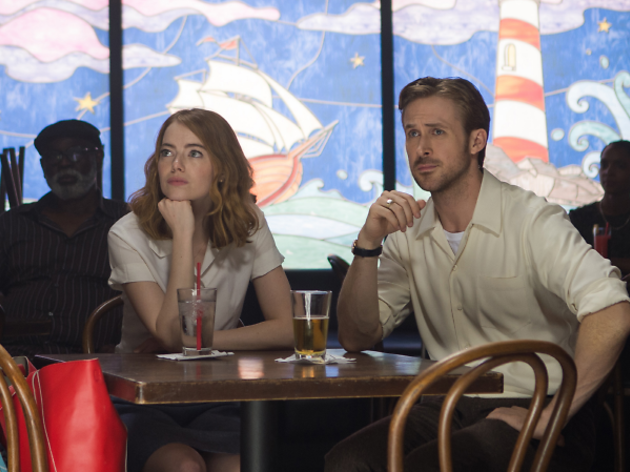 1/3
Dale Robinette
2/3
Dale Robinette
3/3
Dale Robinette
Time Out says
Emma Stone and Ryan Gosling sing and dance their way through a joyous modern-day musical about the ups and downs of love and life in Los Angeles
The young writer-director Damien Chazelle has followed his Oscar-winning drama 'Whiplash' with another entirely novel film steeped in the world of music. His soaring, romantic, extremely stylish and endlessly inventive 'La La Land' is that rare beast: a grown-up movie musical that's not kitschy, a joke or a Bollywood film. Instead, it's a swooning, beautifully crafted ode to the likes of Jacques Demy's 'The Umbrellas of Cherbourg' and Stanley Donen's 'Singin' in the Rain' that plays out in the semi-dream world of Los Angeles and manages to condense the ups and downs of romantic love into a very Tinseltown toe-tapping fable.
'La La Land' boasts stars to fall in love with: Ryan Gosling is Seb, a brooding pianist and jazz purist who dreams of running his own nightclub, while Emma Stone plays Mia, a more sunny studio-lot barista and aspiring actor who dreams of putting on her own plays. The film follows them from winter to fall and back to winter as they meet, argue, flirt, fall in love and face a growing conflict between their personal passions and romantic hopes.
There are tender and imaginative moments to die for: Stone mouthing along to a cover version of 'I Ran' at a pool party; the pair watching their legs discover the power of tap while sitting on a bench; the two of them flying into the stars and waltzing while visiting Griffith Observatory - a moment inspired by a trip to see 'Rebel Without a Cause'. There are songs, there are dances (and Gosling and Stone prove easy naturals at both), but there are plenty of straightforward scenes too, especially as the mood sours. Some of those can drag, as if they've floated away from the film's core, but there's usually a showstopper nearby: one late solo number by Stone - an unadorned, conversational singer and a hugely endearing presence throughout - is heartbreaking.
The look of Los Angeles in 'La La Land' could be called Demy meets Edward Hopper: all pastels, soft light, twilight and street lamps. It's set now, but only just, and the film somehow has a timeless 1950s vibe to it too, as if the golden age of musicals was playing out in our own time. The film's delirious, sideways, play-within-a-play view of Hollywood nods a little to the warped likes of David Lynch's 'Mulholland Dr' or Terrence Malick's 'Knight of Cups'. But this is a far sweeter, more generous film, offering up a place where artistic ambition and heady romance can co-exist, at least for a while, and breaking into song and dance can be both deadly serious and a whole lot of fun.
Details
Release details
Release date:
Wednesday January 13 2016
Duration:
0 mins
Cast and crew
Director:
Damien Chazelle
Screenwriter:
Damien Chazelle
Cast:
Emma Stone
Ryan Gosling
J.K. Simmons
John Legend

Rating Breakdown
5 star:

29

4 star:

28

3 star:

13

2 star:

3

1 star:

3
For someone who's not the typical musical fan (myself!) and usually avoids watching musicals, La La Land was a revelation. Better than its reviews, better than its trailer, better than all of its award nominations combined, it's restored my faith in good cinema and made me believe there is more to Hollywood!
It's real, it's powerful and the last 10 minutes will grab you by the throat unlike anything you've seen recently. A true masterpiece!
The most overrated film I have seen in years. Comparisons with the the classic Hollywood musicals are laughable. Having watched "Paterson", "Silence" and "Manchester by the Sea" in succession, this movie was not even in the running whether it be musicals, dramas or any other genre. Apart from a stunning opening sequence, reminiscent of "West Side Story" all it offered was a confused plot line, amateurish singing and dancing and an odd take on jazz. What actually did the Gosling character see as pure jazz was never revealed and his piano miming was awful? But the LA cinematography was great. So disappointed.
i didn't like it.. dialog very messy, mix of slinding doors & a bad copi of fred & ginger. music , photography & costume very beautiful
"La La Land" is simply wonderful. It's a firework of joy and excitement that it's really hard not to fall in love with it. I'm already looking forward to "First Man".
The film is a beautiful homage to Hollywood cinema and Los Angeles. Visually the film is stunning. However, conceptually the film seems to be also a homage to the American Dream. LA is presented as a colourful, welcoming city inhabited by a young and arty crowd. Mia's and Seb's journey to stardom seems smooth and pretty easy to follow, which again, is just an American Dream. The film also relies heavily on appropriation and intertextuality; at some point, the opening scene of Lynch's 'Mulholland Drive' is referenced, but only visually, without exploring its interesting subject of (dis)illusion and the American Dream as a nightmare. Still, the film's storyline, visuals and the emotional engagement that it involves the audience in are seriously skilful. The film is a perfect Hollywood propaganda product. It's Hollywood at its best and all that it has to offer. Nothing more.
I had higher expectations for this film because of the number of awards it had won at the Golden Globes. Ryan Gosling and Emma Stone were good actors, but I wouldn't say phenomenal enough for them both to have won best actor and actress. Nonetheless, more exciting and a change from your traditional film. I love me a good musical! Catchy songs, cute dancing (although I didn't really feel the chemistry), Gosling is a natural for singing and dancing and is as charming as always.
La La Land is one of those films for which you wait to come around. It is original, delightful and truly brings a smile to your face. Well, it did for me. The cast must have had some fun making it and that is exactly what I thought about 'Grease' so many years ago. The music was haunting and memorable unlike so many films where the music seems good at the time of the film but leaves you as you leave. Not so here. Ryan Gosling and Emma Stone had real chemistry which was a pleasure to watch. The storyline is the old one of boy meets girl...a few times in fact. Eventually the meetings become more than a glance or a trite exchange. We watch as their life paths develop through song, dance and some rather wonderful piano-playing by Ryan Gosling.
Would I watch it again? Definitely!
La La Land surprised me in a good way. As the story is quite standard, it was delightful to see such a great visual movie. The colours, the decors, the fashion... everything was making me think of the late 50s Hollywood and its great iconography, whereas the movie takes places nowadays. It can be confusing but that's what I loved.
I was also a bit reluctant to see a "musical" as I'm usually not a fan. This time, it was done in such a modern way, and most importantly, subtly, that it was cute and entertaining. And of course he soundtrack deserves its Golden Globe! Great jazz and melodies throughout the movie.
I totally recommend!
Does this live up to the hype? In my humble opinion yes- it's quite simply a joy. Nostalgic & classy yet still fresh & contemporary. It's glorious technicolour with winsome leads, beautiful cinematography & clever choreography set against an original score that I'm still humming 48hrs later. An instant classic & a film that I look forward to seeing again...
Tender, simple, colorful, funny, witty, nostalgic Loved it The music will stay with you for days; loved the strong opening number ANOTHER DAY IN THE SUN but the ballad CITY OF STARS still rings in my ears 3 days after watching the movie... Made by WHIPLASH director, watch this space; Damien Chazelle is going places. Both movies have jazz in common and JK Simmons, though he only has a 'cameo' role in this one. That's the kind of movie you'd want to watch over and over despite the sad ending... This movie is perfect pre-dinner because it raises so many interesting issues, that can be discussed afterwards.
For full review visit http://www.thesmartfashionistas.com/?p=1720
a good film but not a musical at best a semi musical , enjoyable but not the great film people were talking about i just give it 4 stars but am being generous
I'm more with Time Out with my star rating for this film, 4 rather than 5 stars. I liked this movie, a fun, fizzy, frothy piece with modern musical numbers and some tellingly intimate moments. But not quote the excellent classic everyone is crowing about. Still, one I would advise people to see. My review for more on my thoughts: http://bit.ly/lalalandfilm
Probably the sort of film one needs to see twice in order to fully appreciate. It's more complex than I anticipated.